Graham Reid | | <1 min read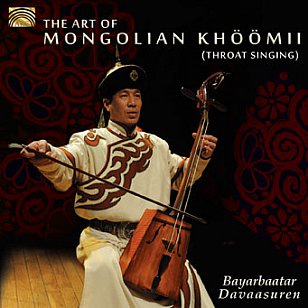 When I first witnessed a Mongolian throat singer some 30 years ago – and I did weirdly feel I was a witness at something beyond my comprehension – I asked someone where the feedback was coming from. Quite how a singer whose vocal range seemed to be in the lower register also managed that high whistling overtone sound remained a pleasant enigma.
This unedited recording by an acclaimed master of khoomii (throat singing) took place in an abbey in France – so has a real sonic breadth and resonance at higher volume – with Davaasuren also playing tovshuur (goat skin lute) and morin-khuur (two-stringed horse-hair fiddle). He is accompanied by the renown Chinbat Baasnkhuu on yatga (a bowed zither with adjustable bridges).
We'd concede an album of throat singing can be a hard listen – if sandpaper could sing in a bass baritone but also replicate a melodic and piercing whistle it might sound like this – but that doesn't deny the sheer emotional power here. Unless you are familiar with the style and quite a fan this intriguing but demanding album is probably is best enjoyed in small doses.
However, If you only buy one Mongolian throat singer album this month . . .
This album is on the very creditable Arc Music label out of Britain (see here) which Elsewhere commends. We have reviewed world music from the label frequently.