Graham Reid | | 2 min read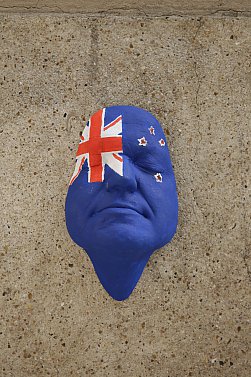 When Elsewhere first encountered Frenchman Ludovic Navarre (aka St Germain) some 20 years on the back of his breakthrough album Tourist, his English was virtually non-existent and the French at my command wouldn't allow for the nuances of questions about music.
So we spoke through a translator, not that it mattered.
My guess was few people cared what he had to say, they were just too busy enjoying his classy implosion of jazz, blues, dance and electronica where Dave Brubeck sat alongside house music.
His new album finds him working with musicians from Mali on traditional instruments, and he weaves in a sample of the late Lightnin' Hopkins on the summery dance vibe of Real Blues.
St Germain brings his unique and enjoyable sound to this year's Taranaki Womad so we thought it time he answered some questions, and his English has obviously improved more than our French.
The first musician whose music really affected you was . . .
Bob Marley, the album Exodus
Your first appearance on stage before an audience was . . . (And you were how old?)
With three musicians in december 1995, at Transmusicales de Rennes Festival in France, I was 26 years old.
If music was denied you, your other career choice would be . . .
From 6 to 15 years old I did windsurfing competition. My wish was to become a professional of course but I had to stop because of an accident. I stayed immobilised for two years and it was then when I started to get into computers and learning about them.
The three songs (yours, or by others) you would love everyone to hear because they are so emotionally moving are . . .
Lightin'Hopkins, "Trouble in mind"
Marvin Gaye, "What's going on - What's happening Brother"
Bonga and Cesaria Evora, "Sodade"
The most unusual place you have performed would be . . .?
Concert in Fabrik, in London, 2000. The stage was so small...
The most important book you have read is . . .? And why?
All books from Stephen King
If you could get on stage with anyone it would be . . . (And you would play?)
Mick Jagger singing blues on "Real Blues", the first track taken from my new album and played already on stage with the sample voice of Lightin' Hopkins.
The three films you'd like anybody watch because they might understand you better are . . .
Babel
One Flew Over the Cuckoo's Nest
Ice Age
The last CD, vinyl album or download you bought was . . .
City Boys Band
When you travel, what is it you most miss about your home country?
My recording studio at home
The artist you most admire would be . . .
Your favourite meal to share with friends would be . . .? (Care to share a simple recipe?)
Roast veal with a Roquefort cheese sauce with braised endive
Do you practice every day, and if so for how long?
I practice doing research on the Internet of traditional musics, instruments. I do it all night long because it is quiet to work
David Bowie sang, "Five years, that's all we've got . . ." If that were true, you would spend them where, doing . . .?
At home, doing water sports such as sailing catamaran everyday.
And finally, do you have any unrealised goals in music?
Not yet, I'm already thinking about my next project but it is a secret.
For more on other artists coming to the New Zealand Womad in Taranaki in 2016 go here.