Graham Reid | | 3 min read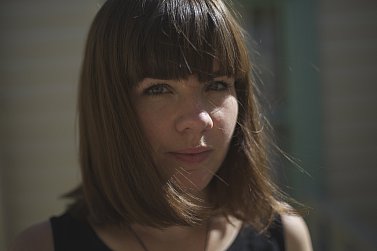 The New Zealand singer-songwriter Tiny Ruins – aka Holly Fullbrook – has appeared frequently at Elsewhere because her mature, thoughtful and folk-framed albums have always found favour . . . and increasingly so in the wider world we are pleased to report.
At Elsewhere she has been interviewed and reviewed, but she has never answered our Famous Elsewhere Questionnaire. Not even our "songwriter" version.
But because she is on the bill at this year's Womad we thought it timely to hand her our specially devised world music version of the questionnaire to see what she might make of it.
(The "recipe" sounds simple and useful!)
The first musician whose music really affected you was . . .
Around the age of three I was rather taken by Tanita Tikaram. Second place certainly goes to The Beatles, whose 'Red' and 'Blue' albums I listened to tirelessly from around the age of seven on a record player I'd commandeered. The song of theirs that really won me over was Fool on the Hill.
Your first appearance on stage before an audience was . . . (And you were how old?)
I think my first serious role was at the age of 10, performing a Morecomb & Wise comedy sketch at Titirangi Lopdell House Theatre with my friend Marama.
If music was denied you, your other career choice would be . . .
Maybe teaching English literature or primary-school aged children.
The three songs (yours, or by others) you would love everyone to hear because they are so emotionally moving are . . .
I Don't Wanna Grow Up by Tom Waits; Ne Me Quitte Pas performed by Nina Simone; Trudy Dies by Palace Music/Will Oldham
The most unusual place you have performed would be . . .?
There have been a few odd shows, it's hard to pick one, but a favourite of mine was the final show of a long stint touring Brightly Painted One last year. Cass, Alex & I were in Iceland after almost five months on the road together, and our last show was in a tiny, cramped dive bar packed to the gills with rowdy, drunken youths, and we kind of went all out and played super loud. It was a wild way to go out. My voice completely gave up on the last line of the last song - I could only rasp into the microphone, hanging on 'til the bitter end!
The most important book you have read is . . .? And why?
Nine Stories by J.D. Salinger - I was given it by someone I loved when I was around 19, & for whatever reason, those stories have always stuck in my mind. There is something kind of transcendental about them - for having been written in the 40s & 50s, they somehow break out of the confines of their own slightly dated style and still feel altogether strange and otherworldly to me.
If you could get on stage with anyone it would be . . . (And you would play?)
Space Oddity with David Bowie.
The three films you'd like anybody watch because they might understand you better are . . .
The documentary film by Sacha Gervasi 'Anvil! The Story of Anvil'; Federico Fellini's '8½'; and Ermanno Olmi's 'The Tree of Wooden Clogs'.
The last CD, vinyl album or download you bought was . . .
Sibylle Baier's Colour Green. It was played to us one morning by a woman who was a bookbinder. We met her on our first US tour last year, and she let us crash at her house in Iowa City after our show. I remember hearing this record the next morning, in the sunbeams drinking coffee - it sounded like Leonard Cohen. I since tracked it down again.
When you travel, what is it you most miss about your home country?
The Waitakeres, where I grew up - the beaches and bush walks.
The artist you most admire would be . . .
Nina Simone
Your favourite meal to share with friends would be . . .? (Care to share a simple recipe?)
The tradition of 'Birthday Pasta' started by my friend Emily - it's when the host makes a big pot of spaghetti, and everyone else brings one topping - like olives or cheese or sauce - and so you get a different surprise each time, and it always turns out pretty good. It's sort of like a novelty, much easier pot luck, and you can go as simple (parsley) or as fancy (fresh mozzarella) as you like!
Do you practice every day, and if so for how long?
Mostly…I aim for at least an hour or two. Sometimes before bed, I realise I haven't picked my guitar up all day - that makes me feel terrible, so I stay up later to play. I imagine it's a bit like meditation - I always feel a hell of a lot better afterwards.
David Bowie sang, "Five years, that's all we've got . . ." If that were true, you would spend them where, doing . . .?
I'd hurry the hell up & record a few more albums! Also, I owe the planet a fair few trees worth of carbon, so I'd get planting…
And finally, do you have any unrealised goals in music?
I want to learn to play the piano - to understand the way it works, at least. I'm planning on getting some lessons in 2016. There is always going to be room for improvement in my guitar playing, too.
For more on other artists coming to the New Zealand Womad in Taranaki in 2016 go here.