Graham Reid | | <1 min read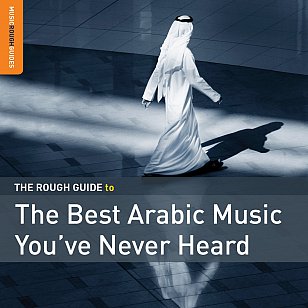 Here at Elsewhere we are suckers for such Rough Guide compilations as this, because -- if nothing else -- the title doesn't lie.
Although we've explored as much Arabic music (and that is a very broad definition) as comes our way, only three of the 12 artists featured here have been on our radar . . . and even then these -- Groupe Mazagan, Hijaz and Simo Lagnawi -- were faint blips.
We are all forgiven however because these artists were drawn from a World Music Network Battle of the Bands, although all of them appear to have albums under their own names from which these impressive tracks are sourced.
So here are rolling rhythms, oud and a commanding voice (Limor Oved's Blessed for Making Me a Woman), traditional songs made over into haunting ballads (Ya Mo by Dozan), thrashing metal guitars and punishing percussion with an Arabic melodic twist (the Arabic Rock Orchestra), music from the faultline between Spain, North Africa and India (Ilm by the British-based Jadid Ensemble) and more.
The fusion band Hijaz appear with a track from their album Chemsi, which was the bonus disc with the earlier Rough Guide to Arabic Jazz.
So here are gnawa influences (Gabacho Maronnection) alongside contemporary rock and music which sounds as ancient as the land of its origin (the Israeli musicians of Faran Ensemble with their meditative oud piece Rain).