Graham Reid | | 1 min read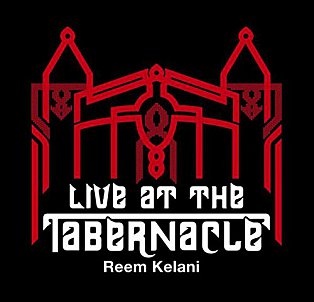 It has been a decade since Manchester-born Palestinian singer Reem Kelani announced herself with her exceptional debut album Sprinting Gazelle, which earlier this year Elsewhere entered into its Essential Elsewhere pages.
Since then she has been exceptionally busy -- performing in jazz and orchestral contexts, recording for radio and touring -- but a new album seemed long overdue.
This double live disc recorded at the titular Tabernacle in London in September 2012 more than fills the gap, the first disc comes with a five minute video of her speaking about the concert and how she sees herself as a musician. The second has a short film which is best seen rather than explained. It -- with Kelani's Yarmouk from the concert as the soundtrack -- is impossible not to be moved by.
On the night Kelani had her three piece jazz band (piano, bass, drums) and Palestinian oud player Tamer Abu Ghazaleh for a programme which embraced her arrangements of traditional songs and more contemporary work, and she explains the backgrounds with empathy and sometimes humour.
She sounds such an engaging performer that it's no surprise the audience not ony warms to her immediately but also joins in at times, at her invitation.
As with most live concerts there's always a sense you really had to be there but the sheer energy she and the band bring is infectious -- upright bassist Ryan Trebilcock bridging the gap between jazz and Palestinian music on the terrific, extended version of Sprinting Gazelle. And again on his solo which introduces two traditional songs of parting.
Pianist Bruno Heinen provides something similar on his intro-exploration to The Porter's Anthem written by the Egyptian composer Sayyid Darwish (1892-1923) whose work Kelani is making it a project to re-introduce. With librettist Badi Khayri (1893-1966) providing the wry political lyrics, the pair read like the Brecht-Weill of their region and period.
Their Preacher's Anthem is like a mad, political slice of Gilbert and Sullivan given a jazzy twist with a reference to It's a Long Way to Tipperary.
And there is the vigorous contemporary The Ship Sounded Its Horn (a tribute to the student and worker's revolution in France in '68) which has all the energy and urgency of a heated political conversation in a secret room.
At the other of the spectrum is 1932, dedicated to Darwish, which is a moving poem about Christ on the cross, reset as a spare piano ballad with oud.
Beautifully packaged with an extensive booklet of lyrics, stories behind the songs, photographs and a glossary, Live at the Tabernacle confirms Reem Kelani to be an important and compelling voice.
It is however to be hoped that, despite her busy schedule, she might get back into a studio soon where her attention might be more focused than distracted by the expectations of a live audience.
By the way, the sad but strident Galilean Lullaby must keep kids awake all over the land.