Graham Reid | | 1 min read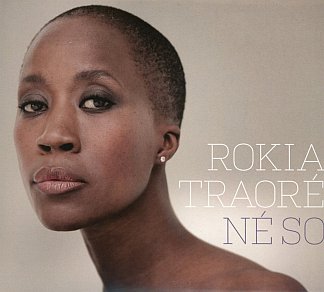 As Elsewhere has previously noted, the nation of Mali which was a hotbed for talent two decades ago has fallen into harder, political times in recent years. There has been a military coup, the incursion of Islamic fundamentalists in the North (who destroy musical instruments and have killed musicians) and Tuareg rebels declaring an independent state . . . among other things.
One consequence of all this is that many musicians now live in self-imposed exile and their often remarkable music has become more melancholy and reflective.
The exceptionally talented Rokia Traore – who broke with her family's noble tradition to become a musician and now lives in Europe — here brings her insights to this gorgeous sounding album, the title of which translates to Home.
The most daring piece on an album which affirms personal courage in the face of chaos is her delicate reading of Strange Fruit, the ballad made famous by Billie Holiday (on a previous album she sang The Man I Love, also associated with Holiday). Traore avoids melodrama in a straight treatment but it doesn't achieve the emotional resonance she perhaps hoped for.
Her gifts are evident elsewhere on this collection of songs in French and her native Bamara where the focus, sadness, optimism and sometimes — albeit brief -- celebratory tone transcends the barriers of language.
With subtle assistance from producer John Parish (P.J. Harvey), multi-instrumentalist John Paul Jones (Led Zeppelin), Devendra Banhart and poet Toni Morrison – the latter two on the English language Se Dan — alongside her excellent pan-African band, Traore leans towards a convincing and often mesmerising understatement which sacrifices nothing in intensity or emotion.
Doubtless this will turn up in many "best of" lists, and not just those compiled by world music enthusiasts.