Graham Reid | | 1 min read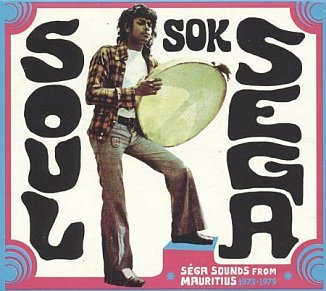 A couple of weeks ago we pulled a track from this thoroughly enjoyable (and not a little confusing) compilation to post at From the Vaults.
But this double vinyl (with a CD disc and useful liner notes in the gatefold) is so good we just want to bring it to attention again.
We could have dropped this into our catholic-taste Music From Elsewhere pages but it is kind of world music in its own weird way.
However let's not put you wrong.
Many who like "world music" prefer those artists to stick close to their traditions. If that's you, then this 20-song collection is not going to appeal to your sensibilities.
This collection is a revelation of the distinctive (and strange) sound of lo-fi pop, rock, funk and jazz-influenced music of out of Mauritius in the Seventies.
The once forbidden style of sega — baned by the Catholic church, a "blues" brought by slaves from East Africa and Madagascar – became popular in the Seventies when the players hooked it up with electric guitars, cheap electronics and soul-funk.
None of these songs — coloured by wah-wah, percussion, sometimes raucous vocals and in one case a siren — have been released outside the island. So they come as a revelation of a scene and style which only tried to please the locals.
In its own way it is as strange, unfamiliar and revelatory as the music out of Kinshasa which appeared a decade ot so ago.
The collection is for those who have broad musical taste, like pop-funk, and can live with the fact the raw sound of the recordings haven't been given a polish.
This is a repeat-play collection of unusual but engaging music thrilling, raw and immediate.
Dive in and enjoy.