Graham Reid | | 1 min read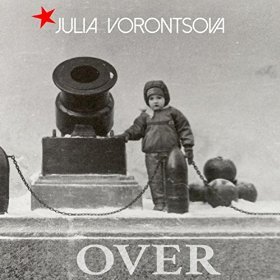 In the manner of television game show hosts from the Sixties, Elsewhere is going to . . . "flip all the card" (to reveal the quiz question answer) and say . . .
We've rarely been interested in music as therapy.
Want help?
Get thee to a physik.
Of course, there is a long and rather exceptional tradition of soul-scouring albums by artists whose lives seem troubled if not downright tortured: Marvin Gaye, John Lennon, Amy Winehouse, more recently Beyonce if we believe her Lemonade album) and . . .
However Julia Vorontsova -- a US-based Russian singer -- brings an uncommon intensity and focus to these songs (in Russian and Roma, explained in the liner notes ) on a collection which sound necessarily cathartic.
Her songs are an emotional cleansing (which we are a part of rather than being outside) and so here you can -- if you are prepared to go to her side -- experience a clearing house of coiled rage, fuck-you disappointment, dark passions and the bruising matters of relationships.
Which is not as bleak as that sounds.
Because we've been down such paths before with Polly Harvey and . . . Oh, just so many others.
However Vorotnsove is different because . . .
Here she and her band — electric guitar and strings -- place these songs in appealing and appropriate settings : Notably on the spare Prayer 2 and the childlike Air which pleasingly closes this hour-plus.
Sometimes the weakness in her vocal power fails on the more aggressive Oubliette and Alps, both pushed by sharp guitar from Zeke Zima.
But on the more insider songs -- the conversation between a young girl and a relative/friend who died, as on Gretchen, with disturbing ocarina and cello -- she pulls you into the vortex of her unnerving, dark place.
This – as with Marianne Faithfull, Marlene Dietrich, Scott Walker and others on the emotional precipice – is not for the passer-by.
Not everything works, but mostly this is an commanding collection of self-analysis and observations given empathetic musical contexts.
This is music -- engagingly dark -- which confronts, heals and is therapeutic.
And believe me, Elsewhere is rarely persuaded that therapy is the purpose of music: But Vorotnsove is one of those rare exceptions.
She is in the higher level of company and probably a bloody uncomfortable dinner guest
But, as with those illustrious others mentioned above, this is not an easy ride.
As the song says, "Only the strong survive".