Graham Reid | | 1 min read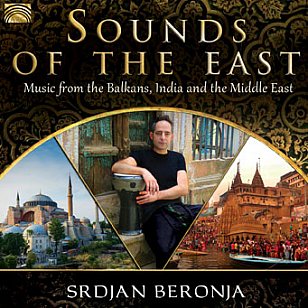 This seductive album by Serbian composer/percussion player Beronja – with thorough and informative liner notes typical of the ARC label – follows his similarly conceived Sounds of Varanasi album of '15 which he programmed to include ambient sounds, field recordings and original compositions alongside traditional pieces.
It really did evoke that holy city.
This one has a broader reach, across India and into the Middle East and the Balkans.
Given the songlines which link those vast locations, it still makes sense.
S before he opens with a scene setting field recording of birds in the morning and closes with a night piece (a traditional Middle Eastern lullaby improvised on the zither-like qanun by fellow Serb Stefan Sablic).
Throughout Beronja – who arranges traditional pieces, contributes original work and plays various percussion instruments like tabla and daf – offers centrestages to performers on violin, bansuri, oud, sitar and so on to build an intricate evocation of music and place, the pieces al being recorded in situ (halls, temples, streets).
Which means when the snake charmer plays his brusque double reed flute you can be transported back to a place where you might have witnessed and heard such an event, right there on a dusty street in Rajasthan.
The one minute field recording of a water wheel sounds like an alt.rock band chugging to a feedback-infused wind-up.
There is a mesmerising and transporting quality right through this album – the Turkish traditional piece by Sablic with Beronja on darabuka drum – sounds like it was somehow recorded centuries ago in a souk.
As before, Beronja creates a fascinating and astutely integrated arc to this album, and the liner notes give excellent explanatory information.
If the Varanasi album might have limited audience as we suggested, this one feels much more inclusive towards it potential audience.
Well worth seeking out.