Graham Reid | | 1 min read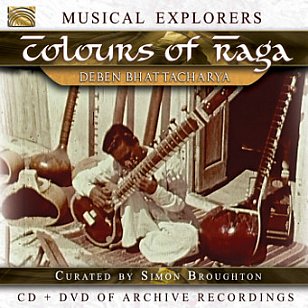 Elsewhere has previously introduced the excellent double CD set The Rough Guide to Indian Music which, on release in 2014, immediately went into our Essential Elsewhere albums list.
For those more familiar with Indian classical and folk traditions, or now ready to take the next step after that Rough Guide, this CD/DVD curated by the founder of Songlines world music magazine Simon Broughton, is where to go.
Dedicated readers of Elsewhere's world music pages will perhaps recognise the name of the late Deben Bhattacharya here, the archivist and film maker who documented music from around the globe but also brought fine focus to Indian music.
This debut release in ARC Music's imprint Musical Explorers hopefully sets the tone and quality for what might follow because in addition to the CD of music from Bhattacharya's field recordings in Benares/Varanasi there is the '69 film Raga which he made and was presented by Yehudi Menuhin.
To contemporary eyes and ears Raga is like some educational public service film, but half a decade ago – Ravi Shankar, and the enthusiasm of George Harrison and Menuhin himself notwithstanding – this music was largely unfamiliar and required such explanation and introduction to Western audiences.
Call Raga a primer or Indian Music 101 if you will, but even now its black'n'white or slightly washed-out colour footage is evocative of an another era but has – with the music, both classical and folk – a timeless quality. And it shows folk dances in villages, the making of a sitar, live classical performances in modest settings . . .
It is real delight to have such an important 30 minute film readily available again (and to be reminded that Anoushka Shankar was certainly not the first woman sitar player).
The music on the CD is perhaps more of a challenge to those coming new to this music: the opener Kedara features two shenai (harsh woodwind) recorded in '54. It can be the "cat strangling" sound for some.
But there is also the magesterial sound of the surbahar (the big daddy of the sitar) on a morning raga Todi; the rudravina (finger-plucked zither) on the rainy season raga Miyan ki Malhar; a more straight ahead sitar and tabla duet; a vocal, sarangi and tabla piece on the beautiful evening raga Rageshri (Elsewhere's favourite so we are more than a little bias); and a bansuri (bamboo flute) tune.
This is decent sweep of music across one disc (again, that Rough Guide offers a larger and deeper landscape) but when combined with the Raga film, and the liner notes by Broughton and Bhattacharya, this is a valuable collection in itself . . . and whets the appetite for what might be to come in this new Musical Explorers series from ARC.