Graham Reid | | <1 min read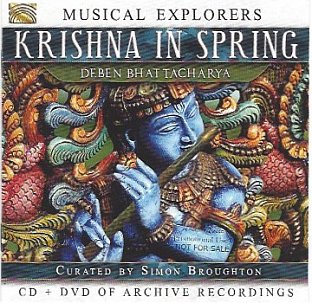 The excellent archival reissue series of music and films by the late ethnomusicologist Deben Bhattacharya (1921 – 2001) continues with this, a CD of field recordings and a 25 minute film by Bhattacharya from '69.
As a note attached observes, at time of the film in the commentary mentions 500 million Hindus in India, today there are about twice that number.
The film in gloriously grainy colour, tells some of the Krishna story, turns the camera onto rituals, the Holi festival and people on the streets . . . most of which is much the same today.
The celebrations of Krishna's life are also as alive now as they are in the film which spotlights temple artwork, sculpture and re-enactments of episodes.
The eight track CD picks up ragas, field recordings and temple songs.
This may well appear to be one for those with a passion for Indian music, but as with the previous volume, the DVD opens the door into this world and the CD keeps you inside.
Curated, as before, by Simon Broughton the editor-in-chief of Songlines magazine and with typically informative liner notes we have come to expect from ARC releases, this is another important release which looks to the ancient past through the lens of the recent past and yet is ever-present.