Graham Reid | | 1 min read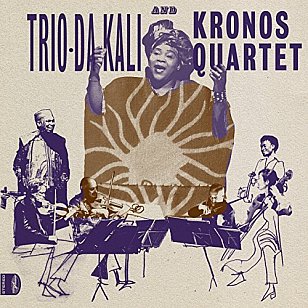 Everybody's favourite hipster string quartet, Kronos – once referred to as the Talking Heads of the classical world – here further their many explorations into world music (previous encounters with Chinese, Eastern European and Indian musicians, and Tanya Tagaq, among others) with more African adventures, here with an acclaimed trio from Mali.
Trio-Da-Kali are rightly hailed as griot supergroup as its members are balafon player and musical director Lassana Diabate from Toumani Diabate's Symmetric Orchestra, singer Hawa Diabate is the daughter of griot singer Kasse Mady Diabate and ngoni Mamadou Kouyate is the eldest son of Bassekou Kouyate and plays in his father's famous band Ngoni Ba.
These 10 pieces – mostly commissions for the collective ensemble – are sublime crossovers between the elevated and sometimes dramatic Kronos strings, the mesmerising sound of balafon and ngoni, and the extraordinary voice of Hawa Diabate whom Kronos founder-leader David Harrington considers akin to the late Mahalia Jackson.
Jackson's recording of God Shall Wipe All Tears Away gets an emotional treatment here over a moving drone, and you'd love to hear Hawa Diabate with something like the gospel standard His Eye is on the Sparrow too.
The title track is also based on another in Jackson's early repertoire (I'm Going to Live the Life I Sing About in My Song) but here giving a respectful nod to Jackson before addressing the dire political situation in Mali today over declamatory strings, the instrumental Samuel is an understated showcase for the melodic qualities of the balafon (and some swooping cello) and Eh Ya Ye has an almost minimalist quality in its arrangement behind that remarkably expressive voice.
Although nothing here is sung in English it hardly matters because this music transcends language, cultural divides, race and religion.
The Kronos Quartet have recorded and performed some quite extraordinary collaborations in their almost 45 year career (dedicated to performing works of living and contemporary composers) and this stands among their finest.
Largely because this trio from Mali are quite extraordinary.