Graham Reid | | 3 min read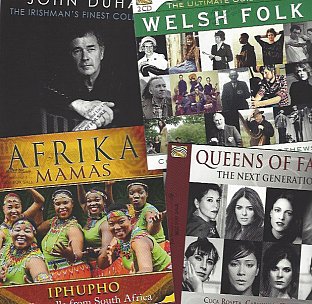 Here's a frequent flyer/transit lounge/vicarious listening music column for those at home who want to get their musical passport stamped.
Elsewhere has so many CDs and downloads commanding and demanding attention that we run occasional columns which scoop up releases by international artists (IN BRIEF), in much the same way as our SHORT CUTS column picks out New Zealand artists.
And of course Yasmin Brown picks up EPs in her column.
But we also go international . . .
.
Various Artists: Queens of Fado, The Next Generation (Arc Music)
Released late last year but lost in the pre-Christmas kerfuffle, this excellent 16-song collection should delight those who have been seduced by the dark, emotional and moody sound of 2am Portuguese fado . . . not the least by the astonishing Gisela Joao whose Meu Amigo esta Longe with vibrant acoustic guitar is an absolute showstopper of emotion and power.
And that is just the second track on this 16-song compilation on which she returns a few songs later with with the traditional fado-folk tune Bailarico Saloio which isn't quite the slam-dunk of that first song but confirms an exceptional contemporary talent of historic depth.
Carla Pires here has more of an overtly emotional quiver (Noites Perdidas) and a somewhat familiar and slightly bland Latin shuffle (Ha Samba nas Colinas de Lisboa)
But do stick around for the torch style of Yolande Soares whose subtle emotional ballad Lianor opens this but returns at the end for the melodramatic cabaret of O Nosso Povo.
And despite the pop-fado elsewhere (Cuca Roseta with Amor Ladrao who sounds deeper and more emotionally engaged on the recent Quem es tu Afinal) all non-Porto ears may be turned by the remarkable Gisela Joao.
Meu Amigo Esta Longe, by Gisela Joao
.
Various Artists: The Ultimate Guide to Welsh Folk (Arc Music)
Elsewhere would admit to many yawning gaps in its musical knowledge, but few as wide and as deep as Welsh folk. A glance at the credits on this expansive double disc (48 songs) confirms that: there is only two names are familiar, that of compiler and performer Cerys Matthews who came to attention in the rock band Catatonia, and the excellent 9Bach who have appeared at Elsewhere and a Womad.
Oh, and Mary Hopkin whom a well-intention Paul McCartney tried to turn into an all-round family entertainer in the late Sixties but quickly reverted to her Welsh folk roots.
Given the earlier Ultimate Guide to English Folk (among many Arc releases) was so persuasive we are going to sidestep opinion here out of ignorance but presume that this is probably just as good and useful. And it does have a male voice choir as well as a version of Men of Harlech and Catrin Finch with Seckou Keita, and traditional old recordings alongside more recent names, so that's quite some reach.
The liner notes are helpful as always, there are wonderful voices scattered around (and harp playing) but you are on your own if you don't speak Welsh.
Lisa Lan, by Heather Jones
.
John Duhan: The Voyage of John Duhan (Arc Music)
John Duhan is of the great melancholy voices out of Ireland. The string-soaked opener Just Another Town here on this 17-song collection starts "the old spinster is goin' insane, her next door neighbour is in church, two drunks are fighting down the lane . . . it's just another town."
His songs have been covered by the likes of Mary Black and Christy Moore but he began life in the Sixties as the singer with the Beatle-era band Granny's Intentions from Dublin who moved to London and were signed to Deram (alongside the Moody Blues) but quit pop by the time was 21.
He moved into singer-songwriter/poet and this album – subtitled The Irishman's Finest collection – collates autobiographical material from his four best known albums so there is reflection and romance (Just Another Town, the timeless The Voyage about a strong marriage), doubts and uncertainty (The Blight), optimism and faith (After the Dream, Face the Night, To the Light) and more about life's long journey.
Accompanied by stellar players – Nollaig Casey, Davey Spillane among them – these songs in his weather-beaten voice take you to important places in his life but have a universal and metaphorical quality.
Song of the Bird, by John Duhan
Afrika Mamas: Iphupho/The Dream Song (Arc Music)
Part of a long a cappella vocal tradition in Zulu culture, the six member Afrika Mamas from Durban (all single mothers) here present their fourth album of close harmony vocals, chants, ululations, stridently soulful singing (Ntombi Lushaba's powerful projection could drive in nails on the far side of a large hall) and sing of their struggles in a male dominated society and music industry.
Inspired by the example of Ladysmith Black Mambazo, they were delighted to record this in a studio owned by Sibongiseni Shabalala, one of the sons of Ladysmith's leader Joseph Shabalala.
Producer Maghinga Radebe has done them proud in keeping their sound sonically present but also bringing in subtle beatbox and percussion (and some male voice) to add extra diversity to the sound.
Tata Madiba, a song of thanks to Nelson Mandela, is the soulful standout.
But let it be said, you do need to like a cappella singing of this kind to undertake it.
Tata Madiba, by Afrika Mamas