Graham Reid | | <1 min read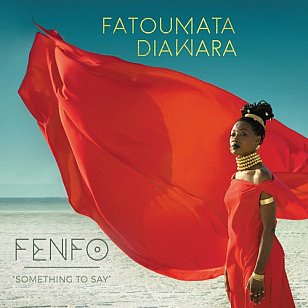 The album title here might be a joke, it means "something to say". But this outing by one of Mali's finest singers and songwriters comes a full seven years after her stunning debut Fatou which was in our best of that year's list.
Admittedly she has been busy recording with other artists (among them David Crosby, Herbie Hancock and Snarky Puppy, which is indicative of her range) but this one doesn't have any thing like the frisson of that debut.
The desert blues of the title track is so dialed down musically that despite her soaring vocal it simply never gets any momentum let alone engagement, and elsewhere you sense that someone thought it would be a good idea to constrain her into appeasing pop (albeit with tickling guitars and kora).
Material like the supple Kokoro and the upbeat ba-ba-ba pop of Bonya simply strike familiar chords, Kanou Dan Yen rides a polite rhythm and while Negue Negue sounds more energised with its funky groove and pop smarts it also hardly allows her to reach the depth and breadth she has been capable of.
The ballad Mama and the thoughtful Don Do (with cellist Vincent Segal) right at the end are high points, but unworthy material such as the lightweight Dibi Bo (which barely keeps the interest despite being just over two minutes) suggests this album suffered from a paucity of material and clear direction.
Enjoyable enough, but also disappointing.