Graham Reid | | <1 min read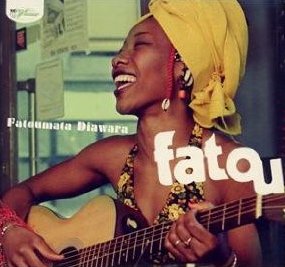 Yet another artist out of Mali who confirms that country -- alongside only Jamaica perhaps -- seems to have more gifted and distinctive performers per head of population than any other country on the planet.
This debut from the ear-pleasing, hypnotically melodic and folk-framed Diawara is given subtle, warm and clean studio production by label boss Nick Gold in conjunction with Diawara and it delivers her guitar and vocals (sometimes multi-tracked backing vocals) over liquid electric guitar (mostly by Guimba or Moh Kouyate) and a small band of bass, drums (sometimes UK jazz player Seb Rochford) and occasional keyboards and ngoni (thumb piano).
The result is mesmerising, gently swaying and quite lovely collection of 12 songs which are of pop length, sometimes yearns with genuine feeling (Kele in which she pleads for African leader to set aside self-serving conflicts, Makoun Oumou for the politically charged singer Oumou Sangare) but at other times offers soft emotional uplift (Kanou).
This is an exceptionally impressive debut and the lyrics (in translation) can be alarmingly frank, emotionally naked and pointed. Yet couched in musical setting such as these they manage that rare balance between singing and saying, seducing and informing.
This really is something special. Highly recommended.
Like the sound of this? Then check out this artist from Mali.
FOR OTHER 'BEST OF ELSEWHERE 2011' ALBUMS GO HERE.