Graham Reid | | 1 min read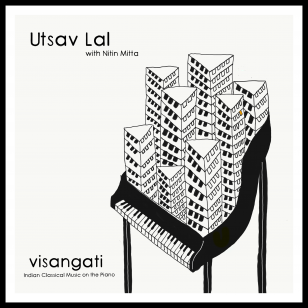 When we reviewed a previous album by this Indian pianist playing Indian classical music we did note the obvious limitations which the instrument imposes: no ability for melisma and microtones as can be found in classical Indian instrumental and vocal music.
Yet we also concluded that the album would appeal to more people than many might first think. The slowly unfurling raga form is quite engrossing and emotionally engaging.
So we are pleased to hear from this source again under a title which "anomaly" in Hindi, which seems apt.
For almost two decades Utsav Lal has been pursuing his singular path and this looks to be his sixth album in his self-defined genre.
As before he opens with a lengthy raga, Raga Lalit usually played in the morning, which opens with a 20 minute-plus exploration of the melodies available before he is joined by tabla player Nitin Mitta and the mood darkens a little and the intensity slowly goes progressively up to the fast closing passages.
The shorter (12 minute) Raga Bihag which follows – also with Mitta, as are the rest of the pieces – starts as a beautiful, romantically evocative piece before it progresses through its various changes, and even those with only passing acquaintance of Indian music would recognise the form and melody as being distinctively of that place.
That track would be the place to star before deeper immersion into Raga Lalit and discovery of the two final pieces.
A difficult and different idiom, but not difficult music to enjoy.
.
You can hear this and other albums by Utsav Lal on Spotify here