Graham Reid | | 1 min read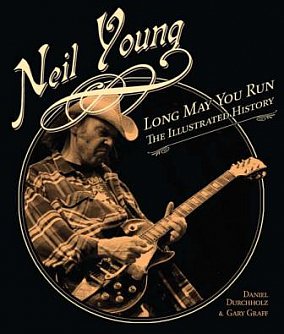 Neil Young has hardly been short on books covering just about every aspect of his life: there have been biographies, his dad wrote a book about their relationship, there is the collection of articles from the files of Rolling Stone . . .
And the man has often beeen autobiographical in song.
But this beautifully presented, full colour, 225 page hardback -- with exceptional photos, illustrations, and reproduction of concert tickets, programmes, album covers, posters and more -- really does recommend itself.
The biographical account weaving through -- by Durchholtz (Rolling Stone) and Graff (NY Times) -- is clean and clear, and doesn't shy from some uncomfortable truths about Young's ability to change direction quickly, and his abandoning of those who had been supportive or necessary.
The years between the end of Buffalo Springfield ('68) and the mid Seventies make for an almost bewildering cast of characters (not the least Crosby, Stills, Nash and Crazy Horse members) who were there in his life then quickly gone . . . until he decided to link up with them again.
Scattered throughout the chronological account are quotes about Young from a remarkable rollcall of admirers, from Paul Rodgers (Free) and Robin Pecknold (Fleet Foxes) to country singer Toby Keith ("I expected Neil to probably not dig my patriotic image, but he's one of those guys that doesn't take an issue with being patriotic") and Taj Mahal. Naturally collaborators like Booker T also have their say.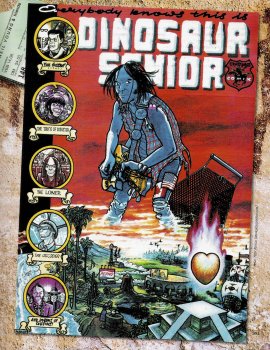 Equally impresssive are the interposed segments which pick up a who's who in Young's life: manager Elliot Roberts, studio collaborators such as David Briggs and Jack Nitzsche, that feud with Lynyrd Skynyrd over Southern Man, women he has written or performed with (Emmylou Harris, Nicolette Larson, Linda Ronstadt and his wife Pegi), David Geffen whose company sued him for making "uncharacteristic" music in the wayward Eighties . . .
Taken together these make the book a valuable document for the casual and the dedicated alike.
But what sets it apart are the illustrations: Young had a face and image (well, many images) which lent themselves to posters and caricature.
There is also an up-to-date discography (almost, he's just dropped another album, Le Noise, on us) which has a thumbnail of each cover and a track listing. Even of everything on the Archives Vol 1 set.
And to be honest, I had no idea he had released an album called Dreaming Man Live '92 in late '09.
But that's Neil for ya, full of surprises -- and they are documented here.
Published by Voyageur Press, NZ RRP $64.99. Distributed in NZ by Bookreps NZ Ltd