Graham Reid | | 2 min read
At a recent Paul Weller gig at the Powerstation -- me with a wide smile, it was thrilling -- I was reminded again just how many great concerts it has been my pleasure to have been at, and the collective power of music to bring people together for a shared experience.
There are many of us who count milestones in our lives which have a great soundtrack: concerts by Bob Marley, Bowie, the Stones, Springsteen and U2 at Western Springs; smaller shows in long-gone places like Mainstreet and the Gluepot in Auckland, the great musical festivals of yesteryear at Ngaruawahia and Sweetwaters, the Big Day Out . . .
Is there any substitute for the sheer thrill of being in the same room as James Brown, Hello Sailor at their peak, Th'Dudes, the Ramones . . .?
This coffee-table page-turner captures the magic of those concerts -- and many dozens more -- in evocative photographs which take you right onto the stage in many instances, closer than you could have got on the night.
And the chronological collection begins way back in '57 with Gene Vincent and Johnny Cash (who remembers Helen Shapiro here in '61 when she was chart-topper?), and a weird double bill of Trini Lopez and Louis Armstrong in '63. In those years before the Beatles invaded New Zealand -- yes, they get an impressive eight-page spread -- we also had skiffle king Lonnie Donegan and Cliff Richard a couple of times.
And it's pleasing to note that many local acts -- from Ray Columbus and the Invaders through to Shihad at the Big Day Out -- get equal billing on these pages with the likes of the Stones and Lady Gaga. (Yep, it's that up-to-date.)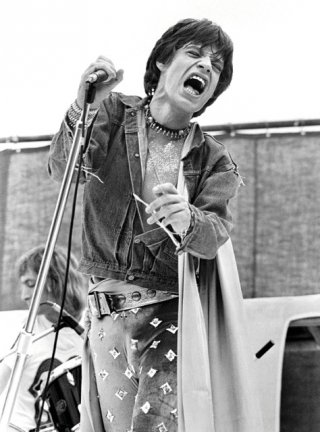 Many of the photos are by Bruce Jarvis (this of Jagger in '73 typical of how close he takes you) and sometimes the devil is in the details: behind Keith Richards and Bill Wyman at that gig there is a Kiwi guy in walk shorts and long socks sitting at the side of the stage. Hilarious!
So here are an out-of-it Eric Clapton, a very attractive bare arse in the crowd at Bowie's '78 gig at the Springs, a leering Phil Lynott (a gig I remember for some guy delivering a haymaker to the unsuspecting bloke next to him, not all gigs bring people together in a good way) and that Bob Dylan/Tom Petty tour in '86 which was so ragged you had to conclude we were being used for their paid rehearsal.
Throughout there are short and sometimes extended captions and anecdotes, the best being from those who were there and bring some personal, often amusing, insight.
I cannot tell a lie, I contributed a few . . . alongside Easby, Russell Baillie, Murray Cammick, Bryan Staff, Phil Gifford, Garth Cartwright and others.
So here's a book that will either take you back, or take you to where you didn't get to and wish you had.
And I never knew Bill Haley came here in '74.