Graham Reid | | 2 min read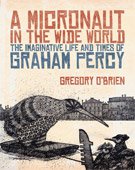 Perhaps because he is a poet and curator, Gregory O'Brien here approaches the life of the New Zealand-born artist Graham Percy with an eye for subtle (and sometimes strong) artistic connections more than strict chronology.

And this is a fitting approach to an artist whose work slipped easily between many styles and practices, from typography and moody ink drawings, to bright pencil and watercolour illustrations for children's books and the School Journal, and included book design, his most well known being the cover of Bruce Mason's End of the Golden Weather and The Pohutukawa Tree before he left for England in 1964.

Later in life Percy created a whimsical, unfinished series of "imagined histories" in the manner of Nic Cohn and Guy Peellaert's Rock Dreams and 20th Century Dreams (Stevie Wonder as blind beggar in the former, the Queen lighting Idi Amin's cigarette in the latter).

In Percy's finely detailed drawings a Comedia dell'Arte troupe tries to separate warring motorcycle gangs, Sigmund Freud advises Joseph Dargaville to buy land in New Zealand, and a young Mozart builds a metal fox to scare away rabbits at a farm in Crear, Scotland, a place where Percy and his photographer wife Mari Mahr spent time.

O'Brien astutely reads into these amusing but sometimes troubled works, and over the arc of the book his chapters become like separate but interlocking essays which peel away layers of Percy's art and personality.

O'Brien enjoyed a friendship with Percy and Mahr in the past decade and after Percy's death in '08, age 69, he lived in their house off and on for thee months. The house – with its art, tin toys, odd bottles and orderly shelves – is a character here as O'Brien explores the bookcases and Percy's notebooks to bring a sensibility about the artist to life.

And quite a life it was. In London he was commissioned for illustrations in magazines and The Times, for book covers, billboards for British Rail and P&O Lines, stamps for the Royal Mail . . . There were also his beautiful watercolours for an edition of Wind in the Willows, his animated drawings for the Hungarian film Hugo the Hippo (its cult status was ensured when it screened on Britain television at the same time as the wedding of Charles and Diana) and illustrations for The Adventures of Sam the Pig books.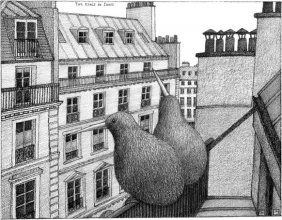 All these are represented in these beautifully illustrated pages – by its often circuitous text some page-turning is required to locate relevant works however.
But it is in Percy's private notebooks where he often explored ideas and places of his childhood (Stratford, Auckland) and, in the last five years of his life, his love of the quirky Kiwi (which pops up in Venice, Spain, at Stonehenge and Paris, and appears as the German artist/theorist Joseph Beuys lecturing on "Kiwi Kultur") where O'Brien digs deeper into the psyche of the artist, who was red-green colour blind and needed to have the names of colours on his pencils.

There are remarkably few photos of Percy in this lovingly presented book – one is beneath the dust cover – but from every page, in every image, his personality comes through as O'Brien takes a poetic, curatorial look through his busy and imaginative life.