Graham Reid | | 2 min read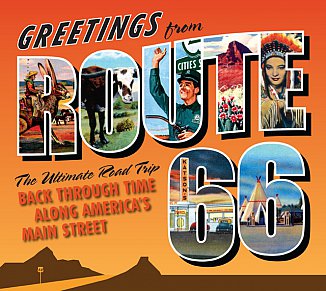 When, in 1946, Bobby Troup wrote what became his classic song Route 66, he could hardly have anticipated how popular it would become. After all, he'd really only written a few words and the hook ("get your kicks on Route 66", which may have been his wife's suggestion) and after that he just filled the song up with the place names like Amarillo, Gallup, Flagstaff in Arizona ("and don't forget Winona") along that trip from Chicago to Los Angeles.

But that famous route – which has changed over the years as new highways have encroached or the linked roads have taken a different courses – not only lives on his song which has been covered by hundreds of artist including Chuck Berry and the Rolling Stones, but has become emblematic of the freedom a highway offers.

In that Troup was timely.
His lyrics celebrating the road came in that post-war economy boom where Americans could afford car and writers like Jack Kerouac burned with the impetus to just go. And from chilly Chicago to balmy California was quite a trip through seven states.

These days you're likely to see 60-year old investment bankers on hired Harleys gunning down that highway, their bandanas flying behind them as they try to capture some lost or imagined youth, and driving Route 66 has become a cliché, albeit an enjoyable one.

Many have probably been on Route 66 without realising it, a section runs through Santa Monica to the pier. But that is perhaps the least romantic part of this ribbon of road which winds, as Troup wrote, "from Chicago to LA, more than 2000 miles all the way".

This beautifully illustrated coffee-table page turner-cum-reference book steps back into the mythology of Route 66 through a series of short essays about specific sections of the trip, includes wonderfully evocative then-and-now photos (often sad, images of abandoned diners and gas stations, formerly elegant eateries now in disrepair) and accounts of those classic roadside attractions which seem uniquely American: the Gemini Giant in Wilmington, trading posts, Cadillac Ranch near Amarillo (caddies buried nose down in a field), strange rock formations and meteor sites.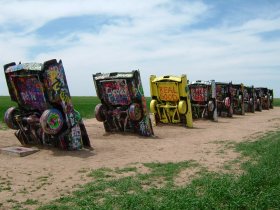 There are digressions about the long-gone Burma-Shave signs (Tom Waits once spoke of being a kid and thinking the next town was "Burma-Shave") and the original Baghdad Cafe, menus and recipes from once popular restaurants, and dozens of postcards in often lurid colour announcing the charms of places such as the Pig Stand Cafe and Katson's Drive-In (Albuquerque), Valentine diners which were all along the route, Truxton and Seligman in Arizona (actual "Red Indians" in proper headdresses, straight out of a 50s western) and Abe Lincoln's birthplace.

Sometimes this view back shows how naïve, culturally insensitive, architecturally interesting or innocent the world was as seen through the windshield in the 40s and 50s.

But the intelligent text also acknowledges all of that and, forlorn though some of these places are now, they still seem impossibly exotic and loaded with memory and meaning.

As a celebration of the road, Route 66 and American popular culture this book – subtitled "The Ultimate Road Trip, Back Through Time along America's Main Street" – is fascinating.
And "if you ever plan to motor west" – or east – you could do worse than bone up beforehand about what Troup called "the royal route" in these enticing, multi-coloured pages.
Published by Voyageur Press/Bookreps NZ RRP $69.99