Graham Reid | | 3 min read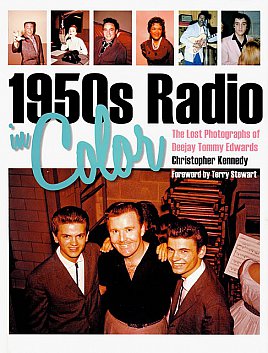 Cleveland, Ohio has a formidable reputation as a rock'n'roll city -- today it is the home of the Rock And Roll Hall of Fame and Museum -- but you'd have to guess there was more to it than just that old adage about "something in the water".
Back in the Fifties there, as everywhere, the emerging musical culture was fed by radio, notably Alan Freed who kick-started rock'n'roll.
But another significant Cleveland DJ was Tommy Edwards who not only played the music of such greats as Elvis Presley, the Everly Brothers, Chuck Berry, Roy Orbison, Johnny Cash and many others . . . but also hosted them in his studio at WERE.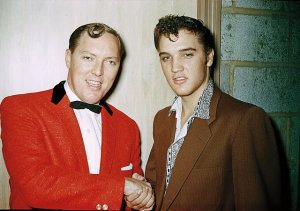 And took he took photographs on his Kodak, including a classic image of Bill Haley and Elvis Presley shaking hands -- a kind of handover from the kiss curl and bow tie to the Man Who Would Be King.
Edwards also wrote a weekly TE Newsletter to fans between '53 and '60.
Just about everyone who passed through his station from 1955 to '60 -- Sonny James, Eddy Arnold, Hollywood celebrities and unknowns in addition to those already mentioned -- had their photo taken.
When Edwards died in 1981 it was presumed there were few if any copies of the newsletter in existence, and that his enormous stash of photographs had been lost.
But in '06 New York musician Chris Kennedy discovered the photo collection and three years later turned up what is believed to be the only surviving copy of a newsletter.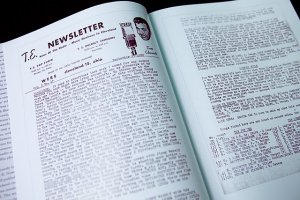 Kennedy selected 200 of these never before published photos -- greats like Sam Cooke, Link Wray and Chuck Berry as well as country acts like the Louvin Brothers, Dottie West and Jim Reeves plus Hollywood stars Doris Day, Jayne Mansfield, Charlton Heston and Clark Gable -- along with the newsletter and has had them published through Kent State University Press.
"I believe the photographs are works of art and capture something magical," says Kennedy.
And he's right on the money with that.
Here is a photo of 19-year old Wanda Jackson in the red velvet dress her mother made for her, and there Henry Fonda out promoting the classic film Twelve Angry Men.
"I located Tommy Edwards' nephew who had the negative for the Haley/Elvis photo, as well as a few more 35mm Ektachrome slides. A few weeks later he called to say he found nearly 1,800 more slides stashed away. He forgot he had them.
"Upon viewing them, I thought they were beautiful and important, and should be in a book.
"Same sort of story goes for the TE Newsletters. There were two known copies: One was Tommy's bound copy, which vanished upon his death, the other was a complete copy of the original made by fellow Cleveland deejay Bill Randle.
"I was able to locate Randle's copy, through a friend of his who forgot he had it. This sort of thing happens a lot, I guess."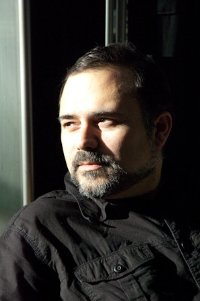 Kennedy -- right, who has made five albums with his band Ruth Ruth which toured with Everclear, No Doubt and others -- is clear why Edwards and his collection were so important.
They captured as literal snapshots that moment when various musical styles were merging to create something new.
"Rock'n'roll was a combination of country, rhythm and blues and gospel, that whole fusion. Cleveland was primed for it and Tommy tapped into that. He found a niche that he created on his own. He wasn't just some a copycat.
"When rock'n'roll broke they called Cleveland the gateway to the north. It wasn't New York, Detroit, or Chicago, but Cleveland. On the one hand, you had Alan Freed playing a lot of rhythm and blues and black artists that were around at that time.
"And then you had a guy like Tommy Edwards, who played country for the people from Kentucky and Virginia who had migrated to Cleveland to work in the auto factories. Between the two, you had every fuse lit for rock'n'roll.
"Cleveland was primed for it, they were ready to let it happen."
Edwards however didn't happen. As the first age of rock'n'roll waned he lost his job and by the mid Sixties he gave up photography. He later went on to run a record shop.
His legacy has been brought into the light by chance.
The discovery of Edwards' extraordinary collection of photos was made by Kennedy during his determined research into the long lost rock and roll film The Pied Piper of Cleveland which is rumored to contain some of the earliest footage of Elvis Presley.
He found the photos.
He's still looking for the film.
To purchase a copy of 1950s Radio in Colour got to Kent State University Press here.