Graham Reid | | 2 min read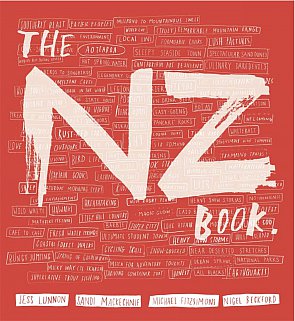 One of the writers of this attractive page-turner has already appeared at Elsewhere, but in a very different capacity. Nigel Beckford was one of the prime movers behind the terrific double CD and book Songs from the Bottom of a Hilltop which was one of our Best of Elsewhere 2010 albums.
Then more recently I noted he had also been in the group the heretical group the Inhalers when I pulled their song Nico on a Bike out of the vaults.
The wit evident in each of those projects surfaces again here with that of co-writer Michael Fitzsimons, and is complemented in the graphic art of Jess Lunnon and Sandi Mackechnie.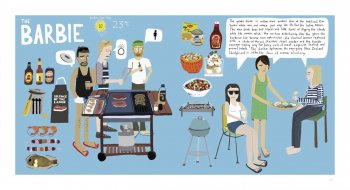 Together they present this large format, 140 page illustrated overview and synopsis of Kiwi culture, attitudes and mores which pins in some interesting facts ("New Zealanders eat $1 billion of fast food every year and fish and chips are still a favourite"), wry observations ("the gender divide is seldom more obvious than at the traditional Kiwi 'barbie' where men and women part ways like the Red Sea before Moses') and acknowledgements of Maori and Polynesian culture.
So here are brief notes and clever art work about subjects as diverse as Maui's big fish, Matariki, Land of the Long Flat White (our coffee obsession), the bach, the state house, the lifestyle block, Malborough Sounds, great walks, celebrity aninmals . . .
And of course rugby, whitebaiting, Saturday morning sport . . .
Missed anything?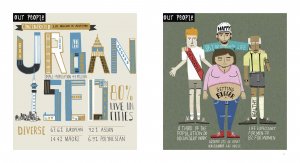 Well yes, the talents behind this -- who won a NZ Design Institute award for their previous book on Wellington -- concede in their introduction that there was no room for the suggestions on Naseby, Ongarue, Hoppers Inlet or the Hen and Chicken Islands.
They also admit that is them in some of the illustrations (stuck in traffic on an Auckland motorway, on a bike on the Otago Rail Trail etc).
This is a heartfelt paean to Aotearoa/New Zealand -- the country where weather leads the news -- which acknowledges the disaster in Christchurch ("Get Well Soon") as well as the kiwiana we surround ourselves with (but isn't about kitsch of itself).
There are some tongue-in-cheek but true comments: "Every year Kiwis feign surprise at a predictable southerly blast that arrives from Antarctica . . . the hard-core display utter indifference by wearing shorts and skimpy dresses."
It also celebrates what people in the land celebrate (or at least pay lip servie to): the environment, the cultural diversity, volunteers who go on difficult search and rescue missions . . .
This is an amusement for folks in-country who will raise a wry smile at its familiarity, a useful guide for visitors baffled by some of our ways (the sausage sizzle) and icons (the corner dairy) . . . and a perfect gift for family abroad to remind them of home and how strange but beautiful it can be.
For more information see www.nzbook.co.nz Copies can be ordered there ($40, and framable A1 size full colour page prints $120, see below) or from good bookshops everywhere. In Auckland try Poi Room in Newmarket.