Graham Reid | | 4 min read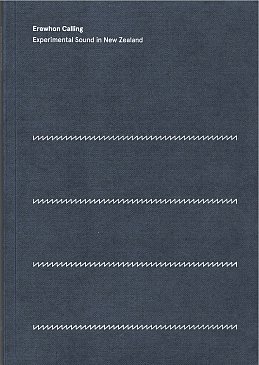 Although New Zealand has a comparatively short history of original and indigenous music (outside of waiata, of course), there has also been a significant tradition of experiment in sound, which in one direction we might date back to Douglas Lilburn's work in the mid-Sixties when he founded Victoria University's electronic studio.
From that lineage came the likes of John Rimmer, John Cousins, Jack Body (whose experiments with found sound and street songs of Indonesia are still compelling) and many others.
In the Eighties there was a vibrant experimental scene - music rather than "sound" admittedly -- around Ivan Zagni in Auckland (Don McGlashan, Steve Garden, Avant-Garage, Big Sideways etc) and in Wellington the free-jazz leanings of the Braille collective, the legacy of which lives on in the iiii label.
Running parallel there was also Bruce Russell's Xpressway label out of Dunedin which gave voice to the sounds of the Dead C, solo experiments by Michael Morley (sometimes as Gate) and Alistair Galbraith . . .
And so it goes.
Experimenting with sound has been quite a distinct and strong thread within the broader spectrum of New Zealand music, and sometimes it almost eases into the public domain (in bands like Bailer Space, Dead C, This Kind Punishment etc.)
This collection of essays, think-pieces, fanzine writing and what we might call sonic autobiography charts an interestingly haphazard path but ultimately offers a thought-provoking overview of recent experimental work, and usefully has a weblink (here) to relevant sound samples.
In his introduction, editor Bruce Russell says the aim was not to offer a "single-author text-book approach [which] could only ever be both inherently biased and too limited in perspective" but "to allow room for many voices . . . to make a collage from multiple and possibly conflictng voices and points of view".
That seems an admirable attempt at inclusiveness, but on careful reading you sometimes get the impression that, for some of the writers, history began -- as it did in Billy Joel's We Didn't Start the Fire -- with the first thing they remember. There is an inherent bias and limited perspective, inevitable if you are writing about your own work or that of your friends.
It actually falls to the more academic writers like Andrew Clifford -- who writes a crisp overview of sonic art festivals from Jack Body's Sonic Circus in '74 -- to offer the larger picture. Nothing comes from nothing, as Shakespeare wrote, and this historical overview allows us to locate some of the other rather more self-interested writers into the greater landscape.
There is other excellent and evocative writing here -- notably Phil Dadson's poetic and focused snapshots of sound locations, and Peter Stapleton's broad swathe through Dunedin noise in the late Nineties -- and for those of us who weren't there, Zita Joyce writes a distinctive piece about music and videos which came from the Trambience project (tram rides) in the Christchurch in the 2000s which is one of the rare event pieces which went directly to the public.
Kiran Dass -- through personal recollection and interview soundbites -- makes an excellent and compelling case for you to flick to the website to hear the experimental noise of Auckland's Stefan Neville aka pumice.
There are other equally provocative profiles and sometimes slightly self-aggrandising (but no less interesting) pieces here, but you cannot help observe that for many of these artists/performers the word "experimental" equate almost directly to "noise", sometimes unmediated.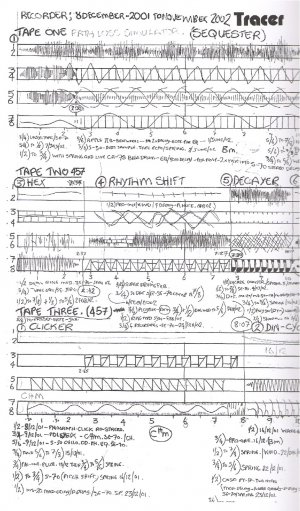 That absence of the long view also means that many of those on the cusp of classical and avant-garde (and into that mix we might also throw John Psathis, Dave Lisik and others out of Wellington's Victoria University) don't get a look in, and they are certainly experimenting with sound through loops, samples, layering etc in much the same technical/technological way as some of those included.
They just aren't as noisy.
Perhaps once too often you get the sense that this is a small world talking to itself.
That's no bad thing and Russell's intro allows/encourages exactly that.
But there are also weak pieces too.
Byron Cooley's fanview/overview of the career of Chris Knox from the Enemy onwards encompasses (as it should) his innovative handmade film/video clips as well as the use of tape loops in Tall Dwarfs' songs. But this is a thin piece -- based on a 1991 interview apparently -- which doesn't address the fact that much of Knox's output is lo-fi and fuzzed up pop, but pop in structure and intent nonetheless. And it seems absurd that Knox's most experimental outing -- the album Inaccuracies and Omissions as Friend, from 2003 -- should go unacknowledged. It's an essay in itself.
It is however good to see Peter King's record pressing operation here alongside an essay on Unpopular Music by Jon Bywater. However Bywater makes a statement which some may well disagree with strongly: "I see no reason to disagree that if someone has found a comfort and pleasure in music that is disordered or overwhelming -- and that rewards high levels of cognitive engagement -- this is likely to reflect a relationship of greater toleration and criticality in wider situations."
Frankly my experience has been the exact opposite. Those whose taste and inclinations run to "disorder" can be damning, judgmental, aloof and arrogant about other musics or, worse, mainstream audience tastes. There is a superiority evident that often has a moral tone and comes loaded with condecension.
That makes the slightly heretical coversation between Campbell Kneale and Anthony Milton refreshing when Milton yawns about "sound art" and the pretensions which come with the field, and how, " 'What I do' has become calcified into a language that I find easy and natural to speak" and how he hates "cleverness". His sleeves up and doing it approach immediately makes you want to hear a sound sample (It is terrific, withering and willful noise.)
So this collection of pieces sometimes feels like a conversation in a small room between mutual admirers, but also lets an important discourse collect in a specific place.
However, it goes without saying -- but too often goes unsaid here -- that not every experiment is successful.