Graham Reid | | 3 min read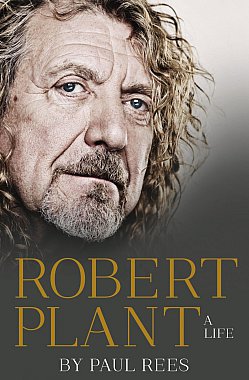 There are many excellent and insightful biographies of musicians around these days -- among them Mark Lewisohn's recent Tune In about the Beatles which at 900 pages only gets you to the start of 1963, Nick Tosches' bios of Dean Martin and Jerry Lee Lewis, James Kaplin on Frank Sinatra, or Sylvie Simmons' superb account of the complexities of Leonard Cohen.
So serious readers are allowed to be very unforgiving of pot-boilers (Chas Newkey-Burden on Amy Winehouse) or the standard cut'n'pastes from album reviews and magazine interviews (most rock biographies).
By virtue of having interviewed Led Zeppelin singer Robert Plant when he was writing for Q and Kerrang! (both of which he edited), Paul Rees is perhaps in a better position than some to bring insight into the life of one of the most forward-looking but often enigmatic figures in rock.
Although Rees never encountered Plant during his Led Zeppelin years and his first meeting with him was in 1998 when Led Zepp weren't really on the agenda. (Plant and Page were promoting their Walking into Clarksdale album)
But his comment about the encounter confirms my sole experience of interviewing Plant and Page, "During the course of our conversation Plant veered back and forth from being testy and disinterested to disarming and expansive, and I found him hard to read. I was fascinated by him because of this, drawn as much to his contradictions as to his obvious charisma. The quieter and more fragile-seeming Page left a much less enduring impression".
Given this fascination then, it is disappointing Rees delivers a very ordinary biography which mentions those contradictions -- the rocker on the road with an enormous sexual appetitte and the morals of a goat becomes the devoted and reclusive husband and father of two when not touring -- but goes no way to explaining them.
Of the young Plant we get a fairly standard trotting out of influences -- he was certainly fickle in his musical taste and flicked quickly from skiffle to blues to pop to nightclub singing to rock in search of a career -- and for the full centre of the book we are simply walked through Led Zeppelin's career. It is more about Zeppelin and their excesses (rarely in detail) and Plant's indulgences balanced by his discomfort goes unexplained.
The band's notorious plagiarisms (and not just of blues artists as Jake Holmes would attest) go forgiven and unexplored, and drummer John Bonham's excesses -- read any other account and he comes across as a boorish and amateur human being, if a brilliant drummer -- are mentioned only as a natural consequence of being on the road.
So the contradictions of Plant and Led Zepp remain largely unexplored, and we are told there were serious schisms in the band . . . but not shown them.
All this is standard fare in so many rock biographies (the Led Zepp years are album reviews followed by some on-the-road events and we are also not shown why British and US rock critics poured so much scorn on the albums, and for the most part they did). So the mercurial Plant slips through Rees' fingers.
Again, the post-Zepp years -- will they, won't they, oh they did and it was awful? -- gets pinned down to Plant's solo albums and although Rees sets the context (punk then grunge) it becomes a bloodless run through quotes about how mood-swinging Plant could be.
And how driven.
He lets fellow musicians go with barely a word of farewell, makes unmemorable solo albums, skirmishes with Page (although it is often never made clear why), retreats to the farm and the wife, and . . .
As close as Rees gets to nailing the post-Zepp Plant is when he notes, "Page has burnished Zeppelin's myth, Plant has been sardonic about it" because it cost him (as Plant sees it) his son Karac who died when he was on tour, and the mate he brought into the band, drummer and heroic alcoholic Bonham.
And yet every now and again he was happily drawn back into the fold, but more explicitly the music they created. (Check the posted song from one of his many lesser solo albums)
So for those curious about Robert Plant's life this is a quick'n'easy read, but if you -- as was Rees at the start and I was after my encounter -- are interested in finding out what made the guy tick it is disappointing.
But taking up with his wife's married sister Shirley who lived nearby (her husband was his farm go-fer) after the divorce from Maureen?
And that they all seemed to continue to get along -- while he had other affairs and such -- tells you quite a lot about this strange inner sanctum.
Makes Page's dalliances with the magik of Aleister Crowley appear alarmingly normal.