Graham Reid | | 4 min read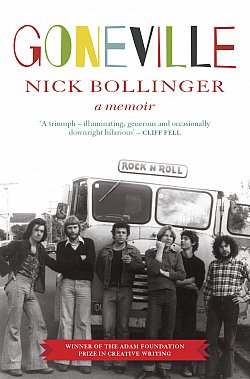 Although they are never going to challenge the unassailable supremacy of cookbooks and the lives of people who play sport for money, there has been a discernible increase in the number of books about New Zealand music in the past few years.
It's almost as if publishers have belatedly realised what most others know: that popular music has great stories, odd characters and an important place in our social and cultural life.
It might be too that as a few have trickled through it has given other writers to confidence to stake out some territory for themselves or to tell their, or other people's, stories.
Wellington writer, critic, record producer and radio host Nick Bollinger is well ahead of the pack. This is his third book after How to Listen to Pop Music and 100 Essential New Zealand Albums.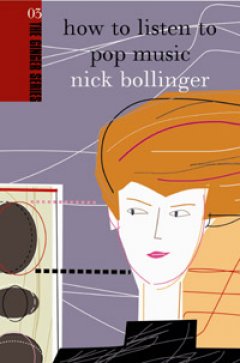 But where the former was an extended essay and the latter a listing-cum-reference book, Goneville is billed as a memoir . . . even though in his preface he says he hadn't set out to write a memoir "although the story starts in the memory".
He also says it isn't a history "although I uncover some history in the telling" and nor is it "musicology".
What is it then?
Well, it's a damn fine read for a kick-off.
But it also contains elements of all of those facets, and a considerable dollop of New Zealand social and cultural history as well.
If at times the gears grind a little as he changes between these styles, Bollinger weaves them together to create a broad but detailed picture of his topic. By the end you are informed as much as entertained.
The focus here is firmly on the Seventies and most often on his early life in Wellington and on the road as bass player in Rough Justice, fronted by the larger-than-life, dope-smoking soulman Rick Bryant who occupies centre-stage on every page where he appears.
Bollinger writes an affection but clear-eyed profile of a man who did things his own way – often at considerable personal cost – and refused to be bowed by the vicissitudes he sometimes endured (but just as often seems to have enjoyed).
Goneville is Bollinger's story but it is also that of a decade in New Zealand where the old codes were being challenged and sometimes broken. Every generation feels it made the changes and Bollinger and his fellow travellers were no exception.
Certainly there was a divide in male society between the emerging long-hair generation and the short back'n'sides mainstream blokes, and although that had started a few years before the Seventies it certainly picked up momentum as the decade rolled on.
Bollinger was part of that generation, and quite a precocious one at that. He is just a musically curious 12 year old from an interesting if different family when the decade opens.
Yet in the subsequent 10 years he crammed in various bouts of employment and drifting a little, then was part of a band which toured the country, often playing to small but appreciative audiences.
There is also genuine pain in places too. Bollinger writes movingly about the sudden death of his father Conrad – a high-profile, intellectual left-wing activist – at just 46 in the middle of the decade: " . . . it was as though a meteorite had crashed into our family. Where Con had stood there now was a crater. We, the survivors, picked ourselves up, slightly stunned, looked at each other, and as we had no visible injuries did our best to carry on."
The writing is at its most insightful and evocative when Bollinger either paints a picture of a place or people (he is very strong on the show-not-tell at these points) and also when pulling in the social context of the times. This is especially valuable when he weaves through the characters of concert organiser/promoter/band manager Graeme Nesbitt and Richard Holden who controlled the entertainment circuit in pubs for Lion Breweries who "was managing an entertainment budget upwards of two million a year, roughly $22 million in today's money".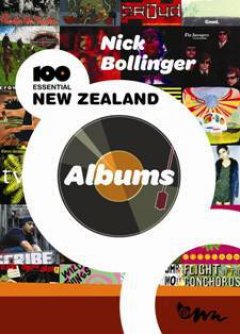 In their own ways these two characters were the power players for musicians, Nesbitt as student orientation booker and Holden like a centurion at the gate, an iron grip on who could get onto a stage in the pubs.
And Bollinger – although noting some of those who played the brewry circuit – is more interested in the innovative outsiders like the all-acoustic Tamburlaine, Arkestra, Butler, multi-instrumentalist Robbie Laven, Highway, Farmyard, Mammal, Rockinghorse, Wide Mouth Frogs at the end of the decade . . . and the Windy City Strugglers who he would subsequently join.
Character sketches (Charley Gray), evocative descriptions of bars, clubs and smoke-filled gigs, encounters with other bands out there at the same time (Th' Dudes, Hello Sailor, Blerta and more) fill these pages with life, humour and memories.
Much of what Bollinger writes will resonate with his readers on a personal level because of their commonality; school days and mildly rebellious behaviour; saving up to buy singles and albums (many dutifully noted); long gone but much missed record shops; The Whole Earth Catalogue and The Little Red Schoolbook; borrowing jazz albums from the United States Information Service in Wellington (at the time I was doing exactly the same in Auckland); the free Hot Licks magazine which was the forerunner to Rip It Up . . .
Then on through the Springbok tour protests; seeing Space Waltz on television for the first time; Muldoon; Dylan at Western Springs (Bollinger had a singular and strange personal encounter with the man); Bob Marley; the arrival of punk . . . . . .
At the end of Goneville the Eighties have rolled around and the author is hearing the new sound of Flying Nun bands emerging as he heads off overseas to discover the American roots of the soul, blues and rhythm and blues he was weaned on, loves and understood.
And interpolated between the memoir, the journalism, contemporary interviews and such are three stand-alone passages in which he writes passionately and with insight about some songs which are key to him. And they are not what you might guess.
So although made up of those different styles, like a great album this plays out through the different moods, moments, people and politics to leave a profound impression not just of Nick Bollinger's story, but that of a decade.
While we might hope for someone to step up and cover Auckland or other centres during this decade, you can't help but feel Bollinger has taken out the middle ground with this highly readable, informative and thoughtful . . . "memoir"?
Goneville; A Memoir by Nick Bollinger. Awa Press, $39