Graham Reid | | 2 min read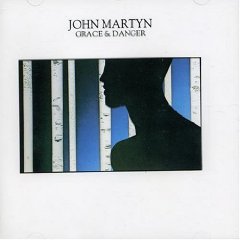 Like his peer Richard Thompson, with whom he sometimes recorded, Scottish singer-songwriter and guitarist Martyn came from a folk background in the mid 60s then incorporate rock gestures into his playing.
Unlike Thompson however he also explored jazz deeply and so his guitar playing has a kind of free-ranging, adventurous sound that is rare.
Again like Thompson though he worked with his wife (in Martyn's case, Beverley) and also went through a traumatic and very public break-up, for the Martyns it came in the late Seventies at which time he was creating his most experimental work: Solid Air in '73 was exceptional, One World four years later captured him extending himself even futher using innovative guitar effects, but also was clearly the work of a man woozy on drugs.
Hard though it may be to believe now, Phil Collins was a pretty hip character at the time and -- also separating from his partner -- got into the studio with Martyn for this emotionally intense album of naked pain and exceptional music.
With Collins on drums, they hooked in bassist John Giblin (of Collins' Brand X jazz outfit) and Tommy Eyre on keyboards.
Remarkably they were somewhat business-like sessions (the dope and despair had all come previously or was confined to downtime) but Martyn, always a gruff singer, reached deep inside himself to deal with his demons, loss and impending divorce.
There are songs of great beauty here however (Sweet Little Mystery is sad beyond compare), the arrangements are sensitive, and it is the sound of heart breaking.
It proved too dark and deep for Island Record's boss Chris Blackwell however -- a great supporter of Martyn -- who shelved it for a year thinking it too depressing. With Collins on hand he'd expected Martyn to deliver some thing a little more . . . well at least commercial, if not upbeat.
As a collection of songs about a man in pain and at a point of desperation it is something darkly beautiful. "Baby please come home" has never sounded so bare and the plea from a heart exposed.
If all this sounds too bleak know this however, Martyn's mercurial guitar playing lifts this everywhere and as Melody Maker said at the time, "the blending of Martyn's voice and guitar, John Giblin's beautiful bass and Phil Collins immaculate drumming is simply breathtaking".
It peaked at 54 on the British charts and dropped off after two weeks.
A hit album this was never going to be, but it stands as remarkable document and is full of naked emotion and sublime music.
The 2007 reissue in a Deluxe Edition comes with previously unreleased tracks at the end of the remastered original album and another disc of outtakes of songs not on the album, some first versions of album tracks (including a raw treatment of the reggae classic Johnny Too Bad, which later appears in new dub mix) and other material.
Spectral guitar work is scattered throughout, and you guess only the 40-minute limitation of vinyl meant some of these unrleased gems had to be simply put aside.
John Maryyn died in 2009 (see here) and after his death this collection was released.