Graham Reid | | 7 min read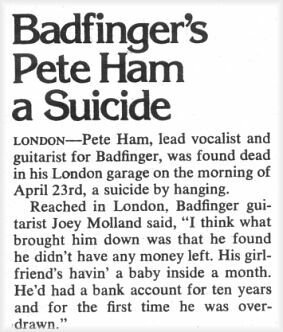 Put simply: Pete Ham was one of the singer-songwriters in Badfinger, the British pop band of the late Sixties and early Seventies which enjoyed the patronage of Paul McCartney. He gave them his Come and Get It (used in the Ringo-Peter Sellers movie The Magic Christian) on the condition they record it exactly as his demo.

They did, it was a hit, and a band was born which always suffered by what would appear a golden association.

They recorded for Apple, George Harrison produced and played on some of their mature pop material, and they supported him at the Concert for Bangladesh. And while the Beatles veered off into psychedelia, Badfinger kept the faith with sophisticated Beatlepop - and suffered the derision of critics who insisted the Beatles had done it better.

Most of those critics today would now hail them as the erratic but gifted power-pop group they were.
There is, of course, much more to the story because any acclaim is too late for Ham, who hanged himself in 1975 -- as did the band's other mainman, Tom Evans, who offed himself in '83 in exactly the same manner.
Badfinger's tragic story is one of unscrupulous management, those constant Beatle references in reviews, an interfering girlfriend (think Spinal Tap), permanent litigation, personality clashes, line-up changes, lack of money and too many lost opportunities.

It's an object lesson for any young players in pop -- yet the Ham-Evans team produced some remarkable songs, notably No Matter What, Day After Day and the classic Without You, a hit for Harry Nilsson (also a man tainted by his Beatle association) and more recently Mariah Carey.

Badfinger created the template for power pop and were a model for bands like Big Star and the Raspberries.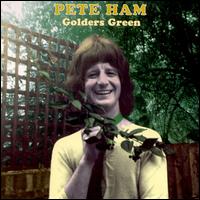 Badfinger were, for a long time, ill-served by CD reissues but in recent years more and more have become available. There's a Very Best Of collection, Apple Daze which came out on the Raven reissue label and the '97 album, 7 Park Avenue, of Ham's demos.
In 2000 and album of Ham's McCartneyesque home recordings embellished for disc by guests in a few places, Golders Green was also released.
For the growing Badfinger Appreciation Society, those infatuated with Beatlepop circa 65-67, or any who want to hear his working drawings of songs like Without You (such an embryonic version that it has only Ham's verses and not Evans' famous "I can't live" chorus), then Golders Green is your album.

It is best enjoyed, I suspect, by those who have Pete Townshend's Scoop series of his demos and working drawings, the Beatles Anthology albums, a few bootleg tapes of Lennon-McCartney out-takes, Chris Bell of Big Star's I Am The Cosmos, and a Ron Sexsmith album or two -- or those who simply want to hear pop craftsmanship at work.
It reminds you again what a tragic loss to pop-rock he was.
Ham hanged himself three days after his 28th birthday and in his note he referred to the band's manager as a "soulless bastard".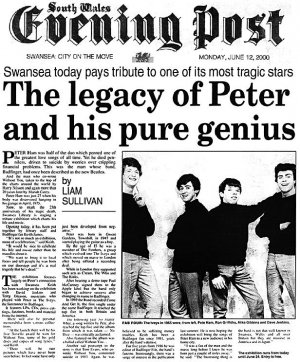 Peter Ham (born April 1947) grew up in Swansea and by the mid Sixties he was in band called The Iveys and living in London's Golders Green.
Ham's demos made their way to the Kinks' Ray Davies who was impressed and in late '66 told Melody Maker he wanted to produce an album for the band.
Davies got busy and moved on but in '67 the band worked regularly, Tom Evans from Liverpool joined, the Beatles personal assistant Mal Evans saw them and brought the group to the attention of McCartney just as the Beatles were launching their Apple label.
McCartney was especially impressed by Ham's guitar playing and obvious songwriting abilities, and the Iveys recorded an album for Apple -- which, because of Apple's increasing problems, went unreleased in the UK and US.
The Iveys laboured on but in an interview Tom Evans vented their frustration with Apple (really falling apart by this time) and how they had been marginalised. He said, "At first we were adamant about not recording anything but our own songs, but now we'd record anything, so long as it was good."
Enter McCartney who read the interview. He gave them Come and Get It on the condition they did it exactly as it was on his demo: "I said to Badfinger, 'Look lads, don't vary, this is good, just copy this down to the letter." McCartney produced the session. . . and they were on their way.
The song was done in three hours, Evans from Liverpool took the lead vocal (he looked a little like McCartney too) and it was intended to be just one of the songs in his soundtrack to The Magic Christian.
"We were really happy, we were knocked out," said guitarist Joey Molland later. "It sounded like a record."
When McCartney got busy with the Abbey Road album he passed the soundtrack commission on to Badfinger whose name change was part of the remodelling: it came from a Lennon knock off song Bad Finger Boogie (which, somewhat ironically for the band, later became With a Little Help From My Friends).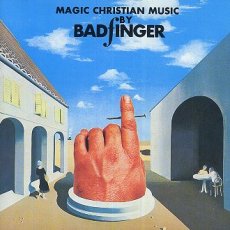 Badfinger contributed a few more songs to film sopundtrack which subsequently appeared with some incidental music, but they also pulled together other songs and their debut album was --somewhat confusingly given there was a soundtrack entitled The Magic Christian -- called Magic Christian Music.
Both the single and album did well enough, yet no other singles from the album were released to capitalise on Come and Get It's top 10 status in the States and the UK.
It was however Ham's No Matter What, their second single in '71 and produced by Mal Evans, which had the pure power-pop stamp on it. Melody Maker said it "was one of those occasional productions that makes the business of pop singles worthwhile. It should make number one."

It did. Ham's Day After Day (produced by Harrison who also plays on it) followed and then it was albums, tours, the pop life.
Badfinger were however a pop band when meandering albums were fashionable. They were respected by musicians -- Tim Hardin covered Ham's Midnight Caller -- and over the years their material was produced by an impressive roll call: Todd Rundgren, Geoff Emerick, Tony Visconti, Chris Thomas . . .
Their real highwater mark came with the co-write between Ham and Evans, Without You which appeared on their second album No Dice. Nilsson heard it at a party and was determined to record it.
By strange chance he was booked into the same studio as Badfinger who were then recording their third album Straight Up. Nilsson was just recording the final mix and Badfinger were invited in to hear it.
They were stunned by its power: "It sounds amazing," Ham told a roadie afterwards. "That was the way we wanted to do it, but never had the nerve." Nilsson's version of the song (Badfinger never released theirs as a single) went to number one in the US and UK.
Despite this and subsequent albums, as Dan Matovina who who wrote the bleak Without You: The Tragic Story of Badfinger noted "they were a pop band who never became pop stars".
But things started to unwind rapidly through foul management, financial problems (respected critically but not quite respectable sales figures, a manager siphoning money from the band), a label change, those endless Beatles comparisons, line-up changes and general weariness . . .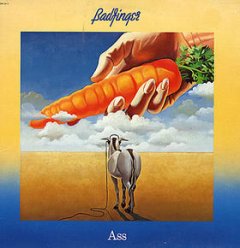 Their '73 Ass said so much. It followed No Dice and Straight Up. You run the titles together to get what Evans said was happening with the band, and he suggested to artist Peter Corriston he do something along the lines of the temptations of money and fame. Corriston's painting says it all: a donkey with headphones being lead on by a huge carrot dangled in front of it.
It was their last album for Apple but in a typical example of the mess their careers were in by this time, their new album for Warners (which had been held up for months) appeared at almost the same time. Reviewers were confused and often wrote about them in the same column, the public was equally baffled.
They played on but the business which seemed to have promised them so much . . . .
So one night Pete Ham went out to the garage and hanged himself. His daughter was born a month later.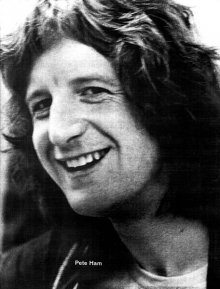 It seemed a tragic end but worse was to come in the Badfinger story (which carried on after Ham) when Tom Evans, after quitting then rejoining Joey Molland as Badfinger -- after yet another argument with Molland over royalties from Without You -- also hanged himself.
Rock culture is littered with casualties, but the tragic story of Badfinger makes for grim and required reading.
As that McCartney song said, "if you want it, here it is come and get -- but you better hurry because it may not last . . ."
For Pete Ham it didn't last long at all.