Graham Reid | | 2 min read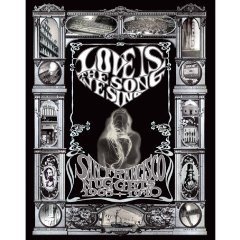 Any box set or collection which tries to mop up an era, genre or decade is probably doomed to failure, not from lack of genuine effort but because some artists (the big ones) don't want to be included. So you can get a multiple disc, very inclusive set of the Eighties for example and it doesn't have anything by Madonna, Prince, Springsteen and Michael Jackson.
That the Rhino label did such a good job on their Fifties rebel rock collection Loud, Fast and Out of Control and their classy Seventies set Have a Nice Day was a tribute to their negotiating powers as much as the intelligence which drove them. That magic seemed to elude them on their patchy Eighties collection, Like, Omigod! which was, among other failings, far too American in focus to be of more than passing interest.
However this four CD Rhino set in a hardback book format -- with pages of excellent band photos as well as a couple of essays and very informative notes on the tracks-- is a remarkable document of the San Francisco scene in what became known as the hippie era.
It opens with Dino Valenti's folksy '64 version of his Let's Get Together which became an anthem of the era and closes with the Youngbloods' '67 more upbeat, but slightly melancholy, rock version of the same piece which didn't become a hit until August '69. Between those two points you can hear folk and pop merge into folk-rock and then spiral out in acid-fuelled rock jams which became emblematic of the period.
And remarkably all the big names are represented, but sometimes not with the songs you might most identify with them. Certainly Moby Grape appear (with Omaha and Murder in My Heart for the Judge), Santana (Soul Sacrifice and Evil Ways), Big Brother and the Holding Company (fronted by Janis Joplin) with their live version of Down on Me, Jefferson Airplane (White Rabbit), Blue Cheer (Summertime Blues) and the Grateful Dead (The Golden Road and the single version of Dark Star).
But the real treasures beyond those familiar pieces are elsewhere: The Great! Society (with Grace Slick) on a raw and desperate early version of Somebody to Love; largely ignored bands such as the Beau Brummels (the terrific Two Days 'Til Tomorrow which was denied radio play because of the refrain "she's coming"); Serpent Road; Salvation, the short-lived Kak; electronic experimentalists Fifty Foot Hose; the harmony vocals from the mellow It's A Beautiful Day . . .
The set also takes note of those who were working away in San Jose, the East Bay area, Monterey and Marin County but weren't in with the hip Haight crowd, like the wilful Sons of Champlin with their jazz-rock style out of Marin, Butch Engle and the Styx in Mill Valley, Teddy and His Patches (with Suzy Creamcheese) from San Jose . . .
There is also the pre-Grateful Dead (the Warlocks), the much overlooked We Five (who looked very square but had tough singer Bev Bivens in their ranks), the wonderful Charlatans, Sly and the Family Stone (Why Did You Put Me On), the Mystery Trend, Dan Hicks and His Hot Licks, Quicksilver Messenger Service's demo of Who Do You Love and much more.
Some of this music has dated in its lyrical content (Country Joe's Section 43 with its references to LBJ, but Barry Melton's guitar is still sublime), but this chronological overview offers 77 songs which helped define not just a place but a period when rock music stretched its limbs, saw no limits and let marijuana and magic acid do the rest.
It's quite a trip -- and one of those rare sets which captures the big picture and the small details.