Graham Reid | | 4 min read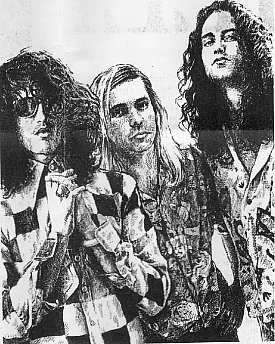 In the more strange corners of the Eighties on the SST label there were -- between the dreadful Zappa-clown Zoogz Rift and solo projects by various Violent Femmes – thrilling bands like firehose, Black Flag and Husker Du. And the very wonderful Meat Puppets, a trio out of Phoenix, whose brains seemed completely fried by drugs, comics and the desert sun.

And in that post-punk, pre-grunge period where guitar solos were outlawed, they didn't care. They weren't British, they were a band from Arizona which had grown up seeing Journey and ZZ Top but had created their own punk.

They'd fire up on all three cylinders and let rip with lyrics like "ivory whales high on corn bread, wind-filled sails fly to the doorstep," and plaster that over brittle psychedelic punk guitars.

Brilliant, but I guess you had to be there.

Eventually people were, and for their growing audience they delivered ripping albums like Mirage (1987) and Too High to Die ('94) which appeared after they had been on Nirvana's Unplugged MTV session.

After Too High, many people have lost track of them, but in '99 Ryko reissued half a dozen Meat Puppets albums – all their early SST albums up to Monsters ('89), and their first official live album. And with Ryko's now customary attention to detail, each enhanced disc came with bonus tracks, videos for the ROM, a booklet outlining the album's background, notes from the band about the recordings, lyrics (whoohoo!?) and - the best part, in case we have forgotten - plenty of psychedelic weirdness for the head.

Listening back, you can't help be struck that, psychedelic though they were, there was never much flab from guitarist Curt Kirkwood, his brother Cris (bass) and drummer Derrick Bostrom.

Guitarist Curt (hailed by various Pearl Jammers, dead Nirvana and Soundgarden) was like the Tom Verlaine of trip-rock. He was tight and focused, angular in approach but always following some inner logic of his own.

Marry that to lyrics inspired by acid and Arizona deserts, the Old Testament and a Seventies record collection, plus a genuine love and ability at a peculiar kind of speed metal hillbilly pre-grunge, and you just know they had to become big.

They didn't however, instead they became one of those bands which prove that Reasonably Well Known (and Respected) isn't the same as Big. Their slightly detached quality, lack of a few killer punches in their career (Huevos in '87 was a pre-Nirvana Unplugged sales-high but isn't as strong as previous or later albums) and the odd stumble into lunken speed-boogie all held them back.

Not that they could care, they have just kept making albums and Forbidden Places in '91 (which included the live favourites Sam, Whirlpool, PopSkull and No Longer Gone) was a late career high for the band which split up ('96-'99) . . . after which there was a line-up change (drummer Bostrom out) then a four-year hiatus from '02.

But the best of the Meat Puppets – when they were daring, innovative and different, happened in those years prior to that television appearance with Nirvana.

The self-titled Meat Puppets collection for Ryko included their '82 debut EP, first album and other period pieces – and comes with cover notes which say "Be forewarned: the Meat Puppets debut is completely unlike anything else in their catalogue". That's true. (Whether it's also quite "unlike anything in the entire history of recorded music" is another matter.)

All the elements of their later developments are there, but it's also tediously flat tack in some places - and the trip aspects sit oddly with the primitive, country guitar picking. But their version of Tumbin' Tumbleweeds showed they were unconventional in an unconventional world.

What sets them apart are the curious country turns, the often impenetrable and funny lyrics by the brothers Kirkwood and Bostrom, and a guitarist who sometimes plays as if he's just been pardoned out of hell and is here to enjoy life. But otherwise their early stuff is tough call.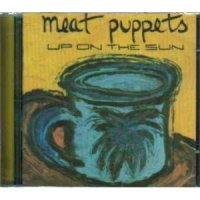 Things take shape around Up on the Sun ('84) and Out My Way ('86). By then they'd turned the country aspects into fine, melancholy, electric-guitar ballads, the punk discipline made for a finely honed, smoothly gear'n'chord changing outfit.

The lyrics also get reigned in to spacious colourist stuff and some deeply felt emotions, some of them about those which happen when you are straight.

They were moving around on all fronts, and Up on the Sun includes a bizarre, synth'n'marimba version of the album track Hot Pink.

Out My Way is their mini-album of the same name, with seven bonus tracks, and is archetypal Puppets: the rare combination of disciplined and country and classic rock chord changes. And a furious cover of Good Golly Miss Molly. It's the useful intro.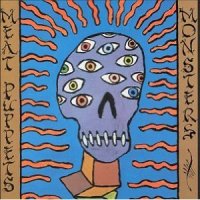 Mirage, their fifth album, was the finest of their early period: the speed slowed a little to allow more expressive guitars and vocals, and Monsters (their last for SST) was the natural progression. They sound at their most approachable.

And Live in Montana, recorded in '88, delivers some of their best material (Touchdown King, Party Till the World Obeys, Plateau) and some odd covers (Roy Orbison's Blue Bayou, Black Sabbath's Paranoid and Sweet Leaf) like a (sometimes) well-oiled, or at least well-lubricated machine.

This is an awful lot of Meat Puppets to assimilate but they seriously were, at times, far too great to ignore. Like Deadheads on a country-speed-grunge trip.

Find the right Meat Puppets and it is, as they warn, "ice on the wings, and we're flying."