Graham Reid | | 9 min read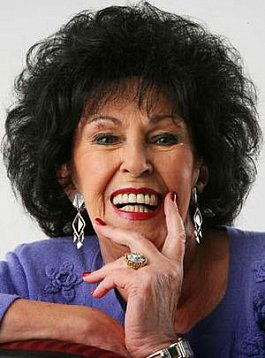 Wanda Jackson – at 73 – has had a number of careers: in the Fifties she was a rockabilly star and touring with (and dating) Elvis Presley while delivering belters like Fujiyama Mama and the classic throat-tearer Let's Have a Party; in the Sixties she went back to her country roots as rock'n'roll faded; by the Seventies she had embraced the church and was adding gospel and religious songs to her repertoire; in the Nineties Rose Flores took her out on tour . . .

And in the past decade something remarkable happened: the rock'n'roll soul of Wanda Jackson was rediscovered, there was the 2003 album with the Cramps and Elvis Costello, and in a new decade of the 21st century Jack White produced a single for her (a cover of Johnny Kidd and the Pirate's Shakin' All Over backed with Amy Winehouse's You Know I'm No Good) and in her 70s Wanda was hip all over again.

The Fall covered her Funnel of Love on their 2010 album Your Future Our Clutter.

White also took Jackson into his Third Man Studio in Nashville studio for an album and invited in an impressive supporting cast.

The last time I spoke with Jackson she was just about to play in New Zealand – helluva show: short, rocking, to the point and with a bit of religion on the side – but was sworn to secrecy about the new album, although it was already known she had covered Dylan's tongue-twister marathon Thunder on the Mountain.

Now with a couple of shows with the Third Man Band behind her she is free to talk up an album which surprises on many levels, not just for the hilariously bizarre and woozy version of the old standard Rum and Coca-Cola but for showcasing the many sides of her talent and career.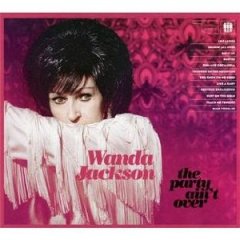 Aspects of her past are all over the appropriately entitled The Party Ain't Over: rock'n'roll (Rip It Up), country (Busted), steamy ballads (Like a Baby), hillbilly (Blue Yodel #6) and even a take on the somewhat sleazy old standard Teach Me Tonight.

Wanda Jackson was snowed in at home in Oklahoma City when she spoke to Elsewhere.

I spoke to you just before you came to New Zealand and you very gently closed me down on any discussion about the album which had been recorded, so it is a delight to be able to talk to you about it.

Yes, that caused a lot of stir. Jack put a gag order on me.

I think he was wise because what you said at the time he wanted it to be a surprise for people – and for me it really is. As you might guess, people were perhaps expecting a straight rock'n'roll album – and this isn't like that at all. Congratulations.

Thank you, I feel the same way. I like to play it every day and not because it's me but because it just energises me and gets me ready for the day.

I've heard something new in it every time I've played it and the one I'm going to settle on quickly is Teach Me Tonight which has a rather racy story.

Yes, but the tune is so pretty. I let Jack pick out all the songs for the album ultimately, but I did have some requests about three songs that I really would like to do. He loved them too and that was one of them. Teach Me Tonight, I've always wanted to record that. I remember dancing to that song at high school proms.

You didn't dance with a school teacher though, did you?

Oh no, not in those days. That's quite a problem now. (Laughs)

And the other songs?

Like a Baby which is such a good song, and Blue Yodel #6. We needed one more song and my husband said to Jack, 'Do you know that Wanda yodels?' He said, 'I thought I had every record she's made but I don't remember hearing a yodel'. So I did that little Jimmie Rodgers song with him just on guitar. So I got my three songs in and the ones he picked out are wonderful.

I've know Rum and Coca-Cola all my life but I've never heard a version like that. Were you surprised when you heard that back at the end?

Yeah, the horn section . . . I don't remember what the Andrews Sisters' version sounds like. I don't know if they had an orchestra.

I remember it as an orchestra and close harmony version, nothing like this.

No, it it's nothing like this with the energy and drive it's got. When I saw that he sent that to me I said, 'I don't believe this young man would know this song'. But I'd always loved it, although it was a bit of a challenge to sing with some of the phrasing, but he did a super job on it.

What was the most difficult song to sing, Wanda? The one that took the most time.

You Know I'm No Good. There's just enough difference in the melody and structure of the song, plus I thought 'I'm not going to do this song' so I hadn't really worked on it and couldn't find the chords so I could try to learn it. So I just gave up.

Well, the first time I met Jack and went to the studio to start this whole project he said, 'Let's try this one' and I said I hadn't been able to learn it. But he said don't worry, I'll teach it you. He was determined for me to do that.

But I said if I do it I'm not doing that second verse, her version was entirely too sexually explicit. So he rewrote it and softened it up and said, 'I didn't expect you to sing that verse'. He was pushing me – and pushed me through the whole album. He was relentless. He wouldn't let me stop until he thought I had pushed everything I had into it. Jack has pushed me into the 21st century.

But you brought a bit of that good oldtime music with you in Dust on the Bible. And that was his choice too?

Yes it was. I didn't think he'd know about a song like that, but his knowledge of music is uncanny and he'd like an encyclopedia.

You would have known it from the Kitty Wells version?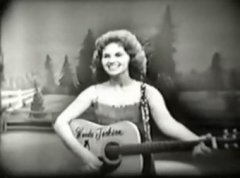 Yes, that's the only version I had heard. But he knew the gospel part of my career and that has been very important, and still is, except that I'm giving testimony and singing gospel songs in a different arena. And it is still important and he knew that without even asking me that I would want a gospel song, and that was the one picked and I thought it was great.

I was pleased to see that there because it is a part of your life and when you performed here you did uplifting spiritual songs and it would have been a disappointment if that part of your life and personality hadn't been reflected on the album. And it is a wonderful version.

Thank you. We just got off a short tour in New York City and Hollywood and we did the very popular late night shows Letterman and Conan O'Brien and so around those we did one concert in New York and two in Hollywood. And . . . I don't know what I was going to say about that. (Laughs)

I see from your tour schedule you are playing in Spain soon.

If I can get out of Oklahoma. We've had 12 inches of snow last night and we don't get snows like that. Usually we get to or three inches, but everything is just stopped and shut down. I've stayed in all day and trying to enjoy not having to go out in it. We expect bad weather and cold but they are usually lighter.

If you get to Spain this is not with Jack's Third Man Band, but you will still play songs from the new album.

Yes but this will be with the four-piece band I normally have. But I enjoyed working with that 12-piece band with a horn section and girl singers and Jack bouncing around there on guitar. He's so energetic I never know what he is going to do. I have to watch him and stay out of his his way so he don't run over me.

And when you do Thunder on the Mountain which is one of those wordy songs, can you remember all those verses?

That's the problem. He wanted me to to do them on these tours – but I had a lot of personal things going on. My mother had been quite ill and passed away the day I was to leave to go on tour. I was with my children and we got everything set up for the funeral so then I left on a later plane and went to Nashville, and we did the Grand Ole Opry and a two day rehearsal on my concert show.

I thought Jack would do his show and I would open for him. But he said, 'No you are the star, I'm just your guitar picker'. He has a lot humility, he's a wonderful young man.

I imagine you've played the Ole Opry in the past.

Only once, at the time it was a misunderstanding but I couldn't wear the dress I had designed and my mother had worked hard to get done for me for for my first time there. Ernest Tubb said, 'You can't go on in that dress' and I said, 'Why?' He said, 'You can't show your shoulders on the stage of the Grand Ole Opry'.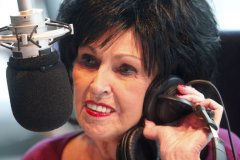 I'm a mid-Westerner and Nashville was still very old fashioned, but no one had told me. So before I could go on I had to put a jacket on and that just about killed me. I got through my song and came off and found my daddy and said, 'Let's get out of here and never come back' And I didn't come back until I came back the way I wanted. And we had horns and everything.

So you came back a star. This was about 1960?

No, earlier. Maybe 1955 or 56.

And they thought the rockabilly girl would just go away. But you are still there and they're all gone.

Yes, many you don't hear of anymore, some have passed away but even the ones that haven't aren't recording. Because country music has changed so much, it's not really country music anymore. Some there are holding it true and I applaud them.

Where do you go after this Wanda, at some point you might want to make another album? Gospel or country?

Actually, I haven't thought that far ahead. It seems to me it doesn't do much good. I'll think I've got everything sorted out and planned but it can change on a dime, so I stay flexible. I'm hoping I can record again with Jack, just between me and you. And if the record does well enough he'll be interested too because we've become really good friends – and his little girl is my biggest new fan.
So I've got an In.