Graham Reid | | 1 min read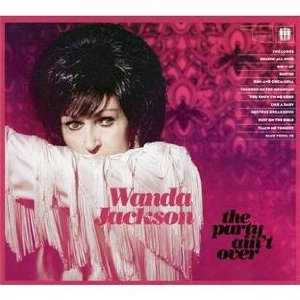 The first Jack White-produced single from this album -- a shuddering Shakin' All Over and a discreetly revised version of Amy Winehouse's You Know I'm No Good -- were hints that White wasn't going to simply reheat the career of this 73-year old rockabilly star with some rock'n'roll nostalgia.
In an interview with Elsewhere for this album Jackson said that White -- who chose all but three of the 11 songs, one of her choices a rather slight Jimmie Rodger's yodelling throwaway at the end -- surprised her with his choices and encyclopedic musical knowledge.
It is not just White's choices however, it is what he does with them when calling in a horn section and backing singers. There's a case to be made that Jackson is rather swamped by them on this version of Rum and Coca-Cola -- but you can't deny that with its boisterous energy, faux-Caribbean tropes and searing sheets of guitar and saxophones it will be unlike any other version you've ever heard. Sort of a rock'n'roll carnival in a mad fairground with White as the Johnny Depp-like ringmaster.
At the other end of the spectrum however are the sultry, steamroller blues of Like a Baby and her take on the old teacher's pet Fifties ballad Teach Me Tonight (given a slight country flavour) where Jackson oozes her way through the lyrics with a smooth charm.
Certainly Jackson's rock'n'roll and rockabilly credentials are serviced (Shakin' All Over, Rip It Up and Nervous Breakdown where she fires off convincing echoes that throaty sharpness which she brought to bear her 1959/60 hit Let's Have a Party).
And here too is a confident stride through a piano-hammering rockabilly version of Dylan's Thunder on the Mountain (where the words "Alicia Keys" are changed to "Jerry Lee").
But White also brought out the old gospel-country testifier Dust on the Bible which acknowledges Jackson's faith. And lets Carl Broemel pull out pedal steel again.
Those who expected a rockabilly revival for Jackson might be disappointed (White was more faithful to Loretta Lynn's country roots on Van Lear Rose which he produced for her) but Jackson is delighted and to hear her purr through Like a Baby is a rare treat.
There's just enough rockabilly here to keep that faith, but other masters are also being served and -- even if the horns tend to dominate more than you might like -- that's no bad thing.
Like the sound of this? Then try this.