Graham Reid | | 4 min read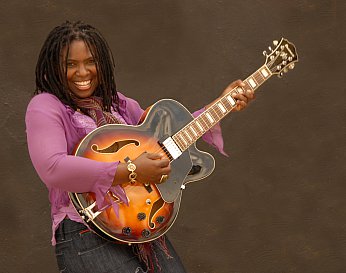 When the once-great B.B. King recently played in Auckland it was my unhappy task to write the review of his sad, disappointing and uncomfortable performance. The man is clearly past it -- the singing but a spark of its old self, his guitar work now woeful, the "performance" mostly rambling and often distracted talk -- and you had to wonder why he was still doing this.
I suggested a reason: he is attached to the applause.
In the discussion thread following what I wrote, one person noted "one fades away, another shines". She was refering to Ruthie Foster who opened the show and of whom I had said, "delivered joyous gospel, the soul sound of Motown and Sam Cooke, some Texas blues and snatches of funk which won them a roaring standing ovation".
Ruthie Foster and her band of Samantha Banks on drums and bassist Tanya Richardson ("three dreadlocked sisters from Texas", she said) were exceptional -- but as that person on the discussion thread also said "blown away by Ruthie Foster whom I had never heard of".
My guess is most in the audience who gave her a standing ovation hadn't either. But they won't easily forget her.
As anyone might have guessed from her tough, testifying perfomance, Foster grew up in a family of gospel singers but has a whole dollop of blues and soul in her system. And like most people she also grew up on a steady diet of pop of all persuasions.
While attending school in Waco -- doing music and audio engineering -- she was also playing in bars up front of a blues band. At one point she decided to see the world so joined the US Navy but a chance opportunity to sing at a party found her the sole woman in the navy band and on the road in the States.
The touring life toughened up her sound but, after signing to Atlantic and being cast as power ballad singer, she pulled back and went home to Texas to look after her ailing mother.
Her Runaway Soul album of 2002 isn't readily available (other than through her website here) but it is Stages (2004) where her story will really start for those who have seen her in concert.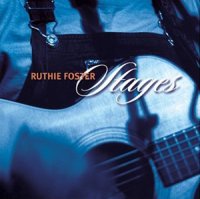 As the liner notes correctly observe you can hear Lightin' Hopkins, Mississippi John Hurt, Jessie Mae Hemphill, Sam Cooke, Big Maybelle, Stephen Foster and many other influences woven into music which remains undeniably hers. And you can mention Aretha in the same breath without any trouble.
The album includes her original Crossover which obliquely refers to the gospel tradition and the spirit of the civil rights movement, and also the Cooke-influenced Another Rain Song which she delivered so movingly when she opened for King.
These 14 songs -- among them God Bless the Child and J.D.Loudermilk's beautiful and sensual ballad Turn Me On -- were recorded live at various shows, one with Will Taylor (violin, viola), another bracket with her tight band, and four in a duo with percussionist/singer Cyd Cassone.
It's an excellent starting point on Foster and it captures her in a restrained mood as she shifts between soft soul, gospel blues (the traditional Death Came Knockin'), reggae (Real Love) and open-hearted pop (the Joan Armatrading-influenced Get Out of My Way). There' also a funny story about playing in New York with which she opens the poetic Lost in the City.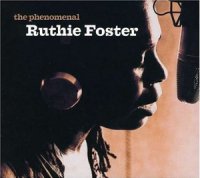 Her album The Phenomenal Ruthie Foster (2007) was produced by Papa Mali (interviewed here) and has Lucinda Williams' old sidekick Gurf Morlix on lap steel on Eric Bibb's A Friend Like You, and she covers Williams' Fruits of My Labour as a stunning soul ballad.
Although she writes much of her own material for this one she also included Son House's People Grinnin' in Your Face (which Mavis Staples delivered with a punch in the same venue a few nights after Foster/King), Sister Rosetta Tharpe's Up Above My Head (with some interesting jazzy phrasing) and Phenomenal Woman which has the words of Maya Angelou set to music by Amy Sky and David Pickell.
Again, when lined up with her often incendiary live showing, this album finds her deftly pulling back from a full throated roar and delivering her particular genius on a collection of funk, soul, blues and country folk which won her the 2008 Austin Music Award for best female vocal.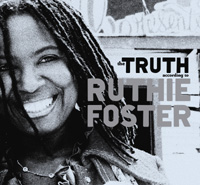 Foster was on an upward trajectory and constant touring was taking her to international audiences . . . so the ground was well prepepared for her exciting, Grammy-nominated The Truth According to Ruthie Foster (2009) which was reviewed at Elsewhere here.
And I retract that comment about her not possesing the gutsy gravitas of Etta James or Mavis Staples. In concert she had it all.
And she also had a stage presence which was both commanding and good humored.
Under the spotlight she exuded a genuine sense of enjoying every minute of her performance and her repeated requests to invite her back also seemed honest. She laughed and joked, but whatever the song -- and she crossed those genre effortless, weaving them into something her own -- she was intently focused on the lyrics and reaching to deep places inside.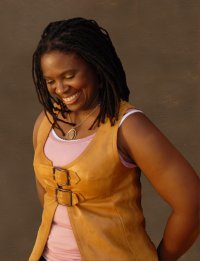 Ruthie Foster is a rare one.
She -- like Bibb, Keb' Mo' and others -- is of a generation well removed from the rural blues of much more than half a century ago. Yet she has intuitively asimilated the spirit of that music alongside the gospel she grew up with. And she pays generous tribute to those who have gone before.
She is also an exceptional songwriter (check Harder Than the Fall on The Phenomenal, it's not the standout on the album but emblematic of how a great song can just slide in there almost unnoticed) and highly prolific.
In that funny story about playing in a small New York club she mentions people from Texas coming and being absolutely convinced she was Tracy Chapman.
Not a mistake you would make listening to these fine albums, or if you see her in concert shaking the roof with testifying gospel, playing brittle blues guitar or joking around.
Ruthie Foster: Not a name you have heard before?
Here are the albums to help you rectify that oversight.