Graham Reid | | 4 min read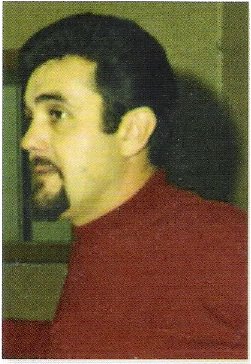 After the accountants took over what used to be called the entertainment business, there was less room for "real characters". Perhaps it was a good thing to get the Mafia out of the music business (for that story you should read Tommy James' autobiography Me, the Mob and the Music), but those larger than life people -- cigar chomping, money juggling and often opportunists at the expense of their artists' careers -- did make for great stories.
One of the better stories is that of Joe Saraceno who was a producer, but more along the lines of what we might today call "a facilitator". He just made things happen -- and was an appalling opportunist.
In the late Fifties and early Sixties, Saraceno from upstate New York could sniff a trend and then hop on a gravy train and flog it until the horse was dead. And other mixed metaphors which you suspect he wouldn't have minded.
Saraceno -- whose music career began in Los Angeles -- wasn't above novelty hits, in fact he saw them as the life blood of what he did . . . which was to milk money from teenagers.
It was Saraceno who invented the dance craze The Freeze in which dancers would suddenly freeze on the spot. Of course it came attached to a record written by piano player Tony Savonne (who called it The Pause, but Saraceno knew better). It went to 33 on the US charts in '58 and Saraceno had his first whiff of success.
There followed a number of forgettable and largely forgotten novelty hits, but his gift was in seeing the opportunity to piggy-back on the success of others.
When guitarist Dick Dale had a hit with Let's Go Trippin' and surf music was just riding a nice swell, Joe got a bunch of session musicians together to record Surfer's Stomp and -- because the Mar-Keys were having a bit of success -- put it out under the name the Mar-Kets.
It went to 32 in '62 (the follow-up Balboa Blue was eerily similar) however the Mar-Keys objected to the name and so the Marketts were born.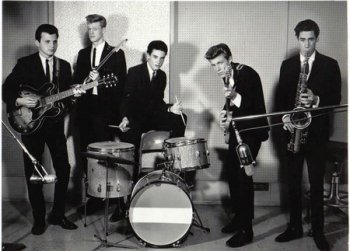 There were no Mar-Kets or Marketts, just a revolving door of some of the best session musicians in LA and touring bands made up of other players. (The young Scott Walker, second from the right, was in one version playing bass).
Playing on the Mar-Kets and Marketts instrumentals were the likes of guitarists Tommy Tedesco and Billy Joe Tucker, bassists Jim Gordon and Carol Kaye, drummer Hal Blaine and others.
And at any goven moment there might be two or three Marketts touring. When another of Joe's studio-based "groups", the Routers, took off sometimes the Marketts (whoever they happened to be) would just adopt that name for a concert. The Kids didn't know who was in the band.
And Saraceno knew just how close to implausibility he could sail.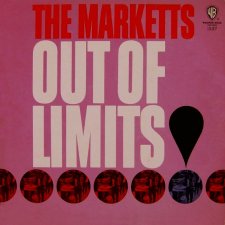 The Marketts' biggest (and most impressive) hit was Out of Limits which had been sugested to him by the successful television series The Twilight Zone. Saraceno got his longtime friend Mike Gordon to write a song with an eerie quality similar to that of the Twilight Zone's theme, had a band record it and offered it to the producers of a rival televlison show The Outer Limits.
They passed on it (largely because it incorporated the most distinctive bit of The Twilight Zone theme) and lawyers got threatening when Saraceno said it would be released anyway.
But he and Gordon simply released it under another title, the breathtakingly similar . . . Out of Limits.
Needless to say similarly conceived pieces followed (there was Limits Beyond), then they turned their attention to ska briefly for the piece Come See Come Ska. And when the tele series The Man from Uncle rolled around the Marketts released Napoleon's Solo (a play on the character Napoleon Solo's name).
And so it went.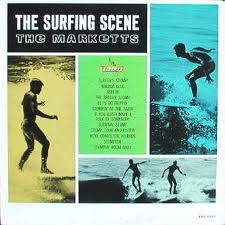 The Marketts also released the Batman Theme, Lady in the Cage (written and arranged by Jack Nitzche) which mixed up a little of Bo Diddley's beat with Willy and the Hand Jive, and covered Johnny Dankworth's theme to the British hit show The Avengers (with a bit of surf guitar thrown in).
Love 1985 leans heavily on the Ventures' Telstar, Look for a Star in '64 is a throwback to late Fifties pop (written by Tony Hatch) . . .
So was Joe Saraceno just an opportunist who cashed in then cashed out?
In one sense yes, but he was also quite the smartest producer in the business for a long time.
After the success with the various Marketts/Routers (about a dozen albums all up) he worked with the Ventures who became the most successful instrumental group of the era under his stewardship (including their hits Theme From a Summer Place and Walk Don't Run). He also worked with the Beach Boys before they adopted that name, and produced albums for Martin Denny.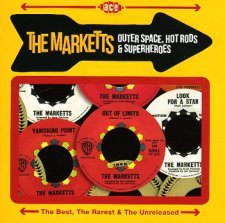 Apparently Billboard magazine rated him as among the top 100 producers of all time, and the number one producer of instrumentals . . . although that is hard to verify. Seems right though.
You can certainly take nothing away from him in the opportunism stakes, but the sound of his surf, spacey, hot rod rock instrumentals is utterly distinctive.
The collection The Marketts: Outer Space, Hot Rods and Superheroes (Ace, through Border in New Zealand) collects 24 tracks associated with Saraceno (mostly as a producer) and the sharpness of the session players impresses as much as Joe Saraceno's astute ear for a trend, melody and placement of instruments.
He would call in horns and strings if they suited the song, but mostly he created tight, economic guitar pop, just about all of which seems to say "1962" in a very trebly twang right at ya.
According to the extensive liner notes, Joe Saraceno left the music business to become "a financial advisor dealing with tax havens".
From his track record, I'd guess he would know what he was talking about when it came to moving money around.
Like the sound of that? Then you need to check this out.