Graham Reid | | 3 min read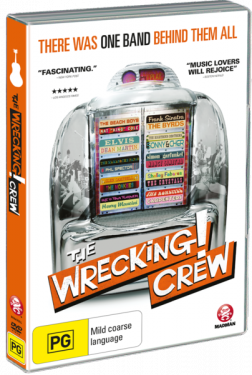 While no one would doubt the genius of Brian Wilson, he – like Duke Ellington and classical composers – needed others to realise his music.
Initially (and remarkably briefly when it came to recording sessions) he had the close harmony, Chuck Berry-meets-surf guitar format of the Beach Boys.
But as his musical dreams became more Technicolor and widescreen he required those with greater musical skills (and more patience) than the band.
So he went with the experts.
While the Beach Boys toured and sang the songs Wilson had written for them, he remained in Los Angeles writing and creating ever more complex sounds, and working with the cream of LA session musicians, a flexible roster of somewhere between 12 and 30 players, depending on who is telling the story.
These fast, inventive and professional musicians became known as the Wrecking Crew, the name perhaps an invention by drummer Hal Blaine who said many of the other professional studio musicians ("the blue blazers") thought their casual rock'n'pop demeanor would "wreck the business".
Instead it did the opposite: the Wrecking Crew became the business.
By the mid Sixties when they were working with Brian Wilson to create masterpieces like the Pet Sounds album and Good Vibrations, they were at the height of their physical powers and had a collective memory of jazz, Fifties rock'n'roll and pop, Latin music, girl groups and much more.
One or other – but usually a few at a time, because they knew each other so well – of these Crew musician would appear on songs and albums by Sonny and Cher, Nat King Cole, the Sinatras (Frank and Nancy), sessions for Phil Spector, Peggy Lee, the Monkees, the Mamas and the Papas, Herb Alpert . . . . . .
Just about every hot hit and chart-troubler by American artists you can imagine from the late Fifties to the end of the Sixties.
And even though we might dismiss groups like Gary Lewis and the Playboys it is worth tuning in to their songs because, although they might seem like lightweight pop, members of the Wrecking Crew played on the sessions. The Playboys just looked on.
As did the Association whose hits like Windy and Along Came Mary – masterpieces in miniature – were created by members of the Wrecking Crew.
In this doco by one of the sons of the famous Wrecking Crew guitarist Tommy Tedesco (who played the themes to Bonanza and Batman among many others outside of pop sessions), former Byrd Roger McGuinn offers an anecdote which sums up how fast and efficient – and therefore cost-effective -- the Crew were.
For the first Byrds single the Crew were used and they knocked off two songs in three hours. When the other Byrds insisted on being on the record for their second single, the Byrds had to do 77 takes.
Of the Crew the witty Cher (who says she wasn't overawed by them when she recorded with Sonny because she was just so ignorant) describes them as "just an extension of what [Phil Spector] couldn't do" at Gold Star studios where they churned out just about every Wall of Sound single you can name.
Drummer Earl Palmer says they could do a whole album in day, and they did that day after day for months.
But the quality of their sound wasn't diminished by their speed or productivity.
Carol Kaye ("the greatest bass player in the world," says Brian Wilson) shows how she came up with the distinctive bass line for Sonny and Cher's The Beat Goes On, elsewhere you hear the intro to Strangers in the Night from the man who invented it, producers like Snuff Garrett and Lou Adler attest to their gifts . . .
And their decline seemed almost inevitable as a new generation – Carole King with James Taylor, Buffalo Springfield, Crosby Stills and Nash and others – came in as self-contained units.
Mickey Dolenz of the Monkees says he never thought of himself as a drummer, just a man acting as an imaginary drummer in and imaginary pop group . . . so he didn't have a problem not playing on Monkees' records initially..
And of course groups like the Mamas and the Papas, Sonny and Cher and the Righteous Brothers required backing musicians.
From Elvis to Cher's Gypsys Tramps and Thieves (about which producer Garrett has a very funny line), the various members of the Wrecking Crew were there, creating magic and memorable riffs, signature melodic lines and solos.
Yes, they made a lot of money.
But as saxophonist Plas Johnson – a jazz man who did the theme to The Pink Panther – notes, it just didn't seem right to play the distinctive intro, first verse, solo and improv during the fade and not even get your name on the record. And worse, finding a bunch of young white guys have their photo on the album and tour on the back of your talent.
Others Crew members see it differently, accepting they were just the hired hands and working all the hours God gave . . . because if they didn't some other session musician would step in and take the gig.
Throughout this 100 minute doco the Crew musicians -- which included Leon Russell and Glen Campbell -- get to speak for themselves, there is archive footage (both Brian Wilson and Cher appear to have been interviewed maybe six to eight years ago) and mostly there is music which will bend your ear.
Not just because this was largely disposable pop which never went away, but it was music that elevated pop to an art form and it came – courtesy of the Wrecking Crew – from so many diverse headline artists.
One of the Crew – and you owe it to yourself to discover who, and how rapidly his career went downhill – says he played on about 170 gold records.
Just think about that for a moment.
This doco screens on the Rialto Documentary Channel Thursday December 22, 8.30pm. It is also available on Madman DVD/BluRay