Graham Reid | | 9 min read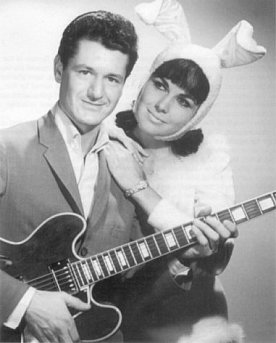 Half a century ago, in that monochrome world before the Beatles – before even Coronation Street screened on New Zealand television -- guitarist Peter Posa from Henderson rode a wave of local popularity with his single Wheels.
As was the custom of the day, he'd adapted an already established hit – by the String-A-Longs out of Texas – and radio picked up his version. Posa, barely out of his teens, became a sensation.
"We did a record promotion at Woolworths on Queen St," he recalls, "and 2000 people crammed the place. They put me up on a high table. The backing track was through the speakers, I had my amplifier and played along with Wheels. We must have repeated it six or seven times. They loved it, people were buying three or four copies."
It was pop frenzy madness, but just the beginning. Soon Peter Posa would become very famous indeed.
If he'd recorded nothing else, Peter Posa's beautifully shimmering, catchy and astutely echoed sliver of country-flavoured pop White Rabbit in 1963 would still write him into our history books. A New Zealand classic which sounds fresh even today, it is the opening track on White Rabbit: The Very Best of Peter Posa which in August 2012 entered the New Zealand album charts at number one. Posa, 71 the following month, displaced 18-year old Justin Bieber.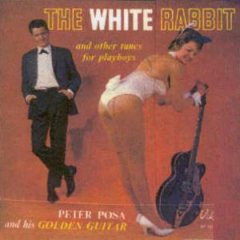 The original White Rabbit album cover – the naturally shy Posa, with an expression between amusement and lascivious curiosity, admiring the curvaceous tail of a long-legged woman in a Playboy bunny outfit – is also a Kiwiana classic from that more innocent time.
While a signature tune can become burdensome, Posa never tired of his because it was so good to him: "I must have played the damn thing 10,000 times," he laughs, "but it's one of those magic tunes that comes along once in a lifetime."
Recorded in one take, it was timed at exactly two minutes: "Brilliant for radio."
"The single sold over 100,000 copies in New Zealand alone and did almost double that in LP sales. Within a week I became a household name here and after a month in Australia. Then in the Pacific Islands. It changed my whole life."
White Rabbit was Posa's passport to the United States where he spent six months in mid 64. When his visa expired he came home and throughout the 60s -- despite the Beatles, Rolling Stones and all who followed in their increasingly hairy and loud wake -- Posa never stopped working. An unlikely star who eschewed sex appeal and stage antics for technical precision, he carved out his career on the cabaret circuit, through television and in supper clubs.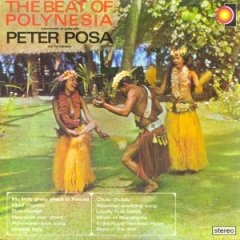 Away from the pop and rock world of the 60s, he enjoyed sell-out shows, did Miss New Zealand tours, performed on bills with international acts like Marty Robbins, Slim Whitman and Demis Roussos, recorded constantly (20 albums in eight years), was proclaimed an honorary chief in Fiji, played regularly in Japan and Australia, won best instrumental award in Australia for his 75 tune Nashville Express . . .
Then his punishing, high-profile career came to crashing halt, over as suddenly as it had started, after a car accident in 1970.
"I was very depressed that night. It wasn't a suicide attempt but I'd had far too much to drink and I'd just been overworked, 10 years continuous."
After the accident it seemed Peter Posa simply disappeared. Privately he was battling injury, severe depression – which had started in the States when he was lonely and homesick – because he couldn't play well enough, crippling lack of confidence and booze, all feeding each other.
He made his way back with low-profile restaurant work in 74 at Troika, El Matador and the Black Forest in Auckland, and three years later did record production for Toni Williams (including the hit Rose Can I Share a Bed With You?), Eddie Lowe and John Hore. But he was far from the spotlight, still on the bottle, fighting depression for which he had counseling ("that made me feel really, really depressed," he laughs) and on prescription medication which sometimes made him suicidal.
He made three appearances on the popular television show That's Country in '83.
He looked to Christianity for a short period and met his wife Margaret – whose companionship and support has been central to his stability – at a church meeting in 90. They married the following year at the Oratia Settlers Hall where, by coincidence, he'd played his first public show some 30 years previous.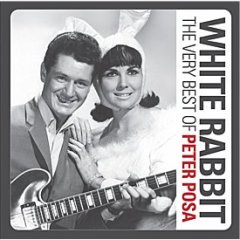 But, until the success of the new compilation, Posa – who hasn't had a drink for 20 years and has lived outside Te Awamutu for almost nine years -- has been absent from most people's thoughts.
He hasn't played publicly since a night at the Otorohanga Working Men's Club four years ago ("I loved it because it was casual, you didn't have to put on a performance", see clip below) and My Pick in 2003, a double disc of country and gospel tunes, were his first recordings in 25 years.
Although his career started so well, when Posa tells his story the seeds of frustration and self-destruction are apparent. The opportunities lost and aching regret that international fame slipped from his grasp still hurt.
Peter Posa, he knows, coulda been a contender.
The youngest of three boys born to a West Auckland Dalmatian family of orchardists-turned-wine makers, Peter Posa was obsessed by guitars from an early age but never intended being a solo musician. He thought of school teaching but the interview went badly because he was so nervous. He got a job as a clerk in New Lynn's Public Trust office (which appealed to his disciplined and orderly nature) while his Peter Posa Combo played on weekends. After six months his office manager said he had to choose between the day job and the music.

"That was the opening for me because I wanted to record my band, so I took them to Zodiac Records to see Eldred Stebbing and we auditioned, but he totally ignored it. But I took us back a second week. He said the band didn't appeal to him but he'd take me and do the multi-track guitar style that [American guitarist] Les Paul invented."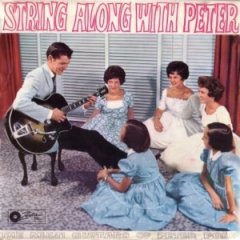 Although he recorded the String Along with Peter album for Zodiac it wasn't a happy experience. He says of that Woolworths appearance he "never got a penny from Stebbings. Amazing isn't it?"
He signed with the Viking label in 63 – better, but says deals were done he didn't know about – and his second single was the autograph sound of White Rabbit, written by Bill Ivory and Graham Rosling who sent a piano and guitar demo tape of their song to Viking.
"As soon as [Viking boss and engineer] Ron Dalton and I listened to it we looked at each other and I said, 'With the right arrangement this can't miss. It's going to be a hit'."
And after exhaustive touring here and in Australia following its success, Dalton and Posa's manager Jim Haddleton arranged for American release of White Rabbit and playing there to promote it. But immediately things unravelled.
The album came out on Vee-Jay, a small independent company quietly going broke, the same label which initially released a British band in America with no success: The Beatles.
To this day Posa can't understand why his management didn't approach major labels like RCA, CBS or Frank Sinatra's Reprise: "Viking were distributors for Reprise in New Zealand, why the hell [Dalton] didn't try to put me on [Sinatra's] label I don't know. That would've been the first thing I would've done."
The album received a B+ review in America's music industry magazine Billboard but Vee-Jay's lack of clout hindered its progress. However Posa had television exposure (once playing with jazz great Herb Ellis), got inside important studios in Nashville, New York and Hollywood where he met some of his heroes such as guitarist Chet Atkins, picked up good corporate work and, famously, in Las Vegas chatted for 20 minutes with Frank Sinatra and a red-eyed Dean Martin at a record convention.
"[Sinatra] was genuinely interested in my career and what I was doing there. Dean was pretty quiet. We're all in a photo and Dean was the only one who wasn't holding a glass," he laughs.
Although frustrated by lack of record sales and promotion, the excited Posa – traveling alone when Dalton and Haddleton left after 10 days – met Ella Fitzgerald and arranger/composer Henry Mancini, sat in on a Sinatra recording session in New York, and in a Hollywood music store met jazz guitarist Barney Kessel: "I still remember what he wore, a yellow shirt which probably hadn't been cleaned for about two weeks."
Shortly after, Posa turned up with his guitar at Shelly's Manne-Hole, the famous Los Angeles club owned by jazz drummer Shelly Manne, where Kessel, Manne and bassist Ray Brown were playing. Kessel got him up to play some well received jazz-blues with them.
"I was never just a country guitarist, I covered all genres," he says, the new compilation confirming it with a Scottish/Irish medley alongside jazz-influenced pieces, French and Latin tunes, and his originals.
But greater fame in America remained elusive. Two weeks before his visa expired a big break went begging. The woman he was living with was secretary for the A&R (artists and repertoire) man at RCA Studios in Hollywood and took him a copy of White Rabbit.
"He said he'd like to use me as a session musician. Imagine what could have happened if I'd got that job? I would have been working with the top names and goodness knows. That could have changed my life even more."
But he was lonely, homesick and turned down the chance: "One my regrets, one of many regrets. But what the hell can you do? You've got to leave it alone because to dwell on it would drive you crazy. But I often wished I'd stayed because that would have made me a household name in America."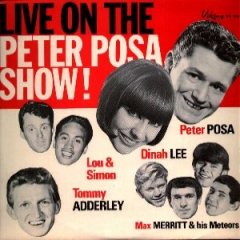 He came home and worked constantly. It's said he played 363 days in one year after White Rabbit but Posa denies that, he'd actually had three days off: "But I was energetic, out until 3am partying, getting up at 7am, loading into the bus and off to the next town. We'd set up, go to the hotel for a shower and a meal . . . and then on stage again."
Then came that life-changing accident. Posa attributes the recurring bouts of depression to the creative personality and an obsessive perfectionism, evident even when he cut the seminal White Rabbit when he wanted to do another take.
"Ron said, 'Mate, you could do 20 more but this is the one I'm keeping'. I tried another and it didn't have anywhere near the same feel. That perfectionism drove me to depression, I was too bloody hard on myself."
Putting together this chart-topping, brightly remastered compilation has invigorated him ("which shows what happens if you've got something to motivate you") and he wants to follow it up somehow, "because otherwise I'm going to come down with thump and get very depressed".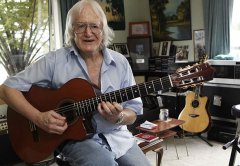 Posa says it took many years to adjust to life in Te Awamutu because he missed his musician friends in Auckland and for a long time he was "lying low". But now, with the success of the collection, "I've never been as confident since I came back from America, I've never had a reaction like this since White Rabbit was released."
Peter Posa's long life has been one of early highs in public and deep depression in the longer private years, but something Barney Kessel said never left him.
"He told me, 'Pete, whenever you feel like a boost of confidence, remember you are unique. Because if 10 guitar players played the same song they'd all make it sound different'.
"In down times I'd think about that. I was very hard on myself musically. But I had a different sound and covered more genres than anyone else. Thinking about that would give me faith in myself. I was unique."
This article first appeared in 2012. Peter Posa died in February 2019. He was 78.
There is more on Peter Posa at Elsewhere starting here.