Graham Reid | | 3 min read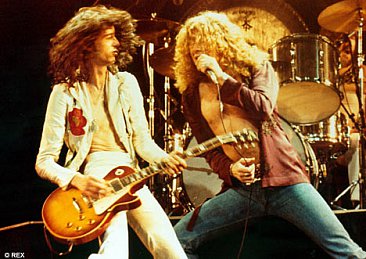 Recently I played Led Zeppelin's Whole Lotta Love at high volume through very large speakers. Nothing unusual I suppose, except it was to university students, none of them pursuing a music degree, Maybe only a dozen out of the 150 had heard it before.
Fair enough, it came out over 40 years ago – about two decades before most were born – and it doesn't get airplay beyond off-peak times on classic rock stations.
As it reached that surreal trippy breakdown in the middle – students wondering where the song had gone – I realised again how unusual it was, even at the time. It was certainly a strange one to pick as a single for the US market (the first version was five and half minutes long) but it was a massive hit.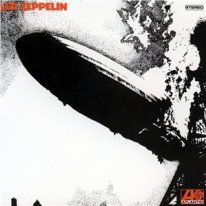 Led Zepp, and we tend to forget this, were an odd beast. I bought their '69 debut album the day it was released, persuaded by articles in Melody Maker or NME most likely, and on the bus read every word of the cover notes for clues as to what it might sound like.
I certainly didn't predict such a mash of mind-bending blues, skyscraper guitar chords, pummeling drums and a singer who yelped like cat in a blender. The acoustic-folk Black Mountain Side didn't seem to fit anywhere.
Back then band just threw styles together (the Beatles' Yellow Submarine was on the same album as Eleanor Rigby and Tomorrow Never Knows remember) but Led Zepp took it to enormously noisy heights.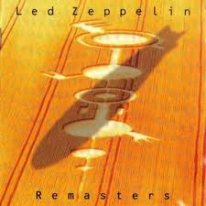 When Jimmy Page compiled the four CD box set Remasters in 1990 he juggled the order of the songs – it opens with Whole Lotta Love as some kind of warning – but you still couldn't get them in your crosshairs: classic blues revisited (Gallows Pole, Travelling Riverside Blues), Tolkien fantasy rock (Battle of Evermore), North African influences (Kashmir), uncategorisable stuff (Immigrant Song), rolling thunder (When the Levee Breaks) . . .
David Stubbs once wrote in Melody Maker, "a group like Led Zeppelin could never flourish today when our superstars are decent, soulful, shrewd with their earnings, look after their bodies and make anodyne, over-produced pap for maximum cross-market consumption. Led Zepp proved it was all about going too far . . ."
He said that in 94 but in an age where Lady Gaga's flogs her perfume, it's still true. Led Zepp created their own legend and left it intact. Almost.
Jimmy Page's sojourn with David Coverdale in '94 felt like a Zepp rerun with diminished returns which might explain why he and Robert Plant teamed up for the much more satisfying No Quarter where they reconfigured Led Zepp songs acoustically and with Moroccan musicians which made them shine through a different prism.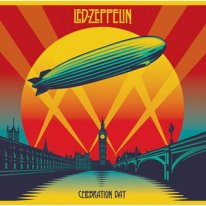 Drummer John Bonham's death in 80 ended them, but – despite sometimes bitter feuding and bassist/keyboard player John Paul Jones marginalised for a while – the three still standing got together in 2007 for a concert (with John Bonham's son Jason on drums) which was recorded and filmed.
It now appears as Celebration Day on Blu-ray, DVD, double CD and/or triple vinyl.
Why, after all this time, should we care?
Because they play these classic songs like they still matter to them and offer embellishments and just enough directional changes to make them fresh.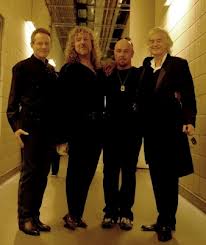 The magnificently filmed set errs towards the blues-rock end of their spectrum (although Kashmir is stunning with Bonham the Younger, third from left, in astonishingly explosive form) and you can see again a band which set its sights on a place called Too Far and went there repeatedly.
When Led Zeppelin III topped the Billboard charts Time magazine noted their aim was "to explore all the styles and techniques in today's rock spectrum without ever losing a heavy core of raw feeling".
Plant told Time, "somewhere along the line though we hope there's a kind of stamp that identifies it as us".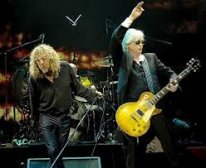 He might have said "a stomp" which identified them because they thumped across the globe like a mighty beast.
And now, all these years on, they are again.
And it still sounds thrilling and identifiable.
And it ain't about selling perfume.
Elsewhere has an archival interview with Jimmy Page and Robert Plant here, a more recent one with John Paul Jones here, and recommends this collection as a Bargain Buy.
The roots of led Zeppelin's musical diversity are explored here and here. Some might find this item especially interesting.