Graham Reid | | 2 min read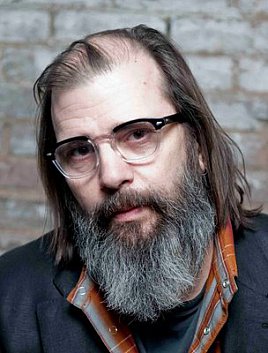 Few musicians have gone as far and as wide in their career as Steve Earle. These days we know him as an actor (notably in the tele-series The Wire and Treme), playwright, novelist, short story writer and a political activist. Not to mention being married seven times (twice to Lou-Anne Gill, he's now with songwriter Allison Moorer) and doing record production.
He's just signed a book deal for a memoir and another novel.
Not bad for a guy whose career looked to be over just as it was getting started. Back in 1994 he served three months in prison for possession (heroin and coke).
For a guy who had delivered the thrilling rebel-rock album Copperhead Road in 88, it looked like he was on the downward spiral.
But his first album after his release, Train A Comin' in 95, saw him nominated for a Grammy and he made a steady climb back. Today Steve Earle is considered, at 58, to be one of the finest songwriters of his generation.
Through his albums you can hear links to rock'n'roll, punk, the Pogues (who guested on Copperhead Road), Bob Dylan (Calico County on his new album The Low Highway is a cousin to Subterranean Homesick Blues), dirty soul, folk (the Washington Square Serenade album), bluegrass (his traditional album The Mountain with the Del McCoury Band), his hero Townes Van Zandt whom he named his son after (the album of VZ covers Townes in 2009) . . .
If you wanted a snapshot of just how diverse he was in his taste you'd look to his compilation Side Tracks on which he covered Kurt Cobain's Breed, Dylan's My Back Pages, Lowell George's Willin' the Chambers Brothers' Time Has Come Today, Gram Parsons' My Uncle, the reggae classic Johnny Too Bad . . .
Yes, Earle has traveled far and wide.
His new album The Low Highway finds him with his touring band, includes two co-writes with Licia Micarelli whom he starred with in Treme and another song also performed in that series, and was co-produced with Ray Kennedy (as Twangtrust they produced Lucinda Williams' Car Wheels on a Gravel Road with her).
Although this is his 15th studio album since Guitar Town in 86, he hardly seems short of ideas because he has that deep well of far'n'wide influences to draw on.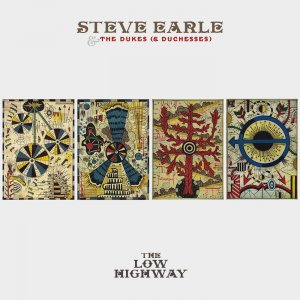 So you get Warren Hellman's Banjo (sounding beamed in from the Appalachians in the Thirties, or Dublin) and ballads (the down'n'out narrative of Invisible sounding close to Cobain unplugged) to country-rock (21st Century Blues).
But Earle is also in a reflective mood: the opener title track is about the rambling life which he too has lived, although in his liner notes he concedes now he's "an upscale gypsy, flying first class or rolling down the highway in a three quarter of a million dollar bus".
It's that honesty which comes through in Earle's music. So when he sings dirty Dylanesque guitar rock'n'rage on Calico County or sounds world weary, battered and broken on Burnin' It Down and sings "I'm thinkin' of burnin' the Walmart down" you kinda believe him.
The final song Remember Me – addressed to his baby who might never see him when they are grown – also rings with a hard truth.
That's what has endeared him to a loyal audience.
In those liner notes he says he knows people are hurtin' on account of the economy and how grateful he is they turn out and pay hard-earned money to see him.
"I still have a job," he writes, "when a lot of good people, through no fault of their own, don't."
Long may we keep him employed.
Elsewhere has archival interviews with Steve Earle and album reviews here.