Graham Reid | | 2 min read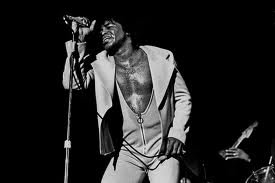 If you never saw him at his peak, it's hard to imagine how exciting the late James Brown must have been in concert. I saw him twice when he was past his best, although that first time . . .
It was New York in the early 90s and he was at the NBC Radio City Theatre and – having spent the previous day ambling around the famous Apollo Theatre – I couldn't believe my luck at that coincidence. The man whose name I immediately associate with the Apollo because of that classic album he recorded there in late 62, was in a venue where there was no shortage of tickets.
That night however he was awful. He appeared to have two of everything on stage (two horn sections, two drummers, two groups of backing singers) and after the customary long introduction he came on as the crowd went wild.
But then almost nothing happened. He sang a few bars and strutted around, stopped to introduce some band members, started another song and stopped it, brought some kids up to receive special James Brown awards, made a speech, started another song and stopped it to introduce more band members . . . After about 40 minutes I left.
But as I was walking out something was happening on stage so I ducked back in, found a seat as close as I could – others had clearly quit before me – and watched an exceptional 20 minutes of distilled Brown as he belted through one hit after another. And his hits were short so he got through a swag of them.
I saw him again in 2004 at Auckland's St James – my phone interview beforehand was hilarious as he jabbered out cliches and thanked me for my time after five minutes – and although it was a great night it wasn't exactly a great show.
He was no longer the "hardest working man in show business" as he billed himself.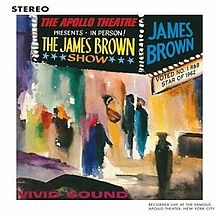 Brown was one of the great characters and contradictions in popular music, and it's hard to believe it's 50 years since he stumped up the money to record his show at Harlem's Apollo. His record company didn't think an album with no new songs was viable but Brown forced their hand and on release it just kept selling and selling.
Perhaps because it was hits – I'll Go Crazy, Try Me, Think, Night Train and of course Please Please Please among them – that people took to it. More likely because it was bottled sweat'n'lightning as he stretched Lost Someone out to 11 minutes, ached through his most soul-power numbers to screams of delight, and dropped into broken balladeer at times.
Live at the Apollo is a classic and Brown returned to venue subsequently (in 67, 71, 72 and 95) and those recordings charted his career from soul to funk to legend.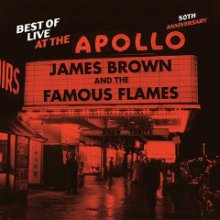 Although that first live recording is his cornerstone, all the others have something to recommend them . . . and the new Best of Live at The Apollo; 50th Anniversary Edition is an 11 track compilation lifting from those first three (three songs apiece from each, then two tracks – Hot Pants Road and There It Is – previously unreleased from the 72 show).
Serious fans will tell you the box set Star Time is essential (they're right), and to see him in full flight you should check out The T.A.M.I. Show DVD (it was 1964, he was told the Stones would top the bill so pulled out a performance which put them and the show's producer in their place).
But the casual or the curious could do worse than the anniversary set.
Few artists have been more live than James Brown live.