Graham Reid | | 14 min read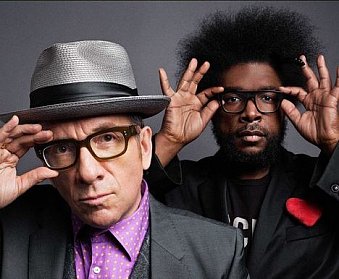 Although Elvis Costello will tell me "I haven't accrued a massive fortune but am well off and have a degree of freedom of movement", you suspect he quite likes upsetting whatever preconceptions people bring to his albums.
So when it was revealed his new one Wise Up Ghost would find him working with the American instrumental hip-hop group the Roots, he guessed what people would be thinking.
"Everybody assumed would be beat and word driven," he laughs. And while some of that is true the album contains rather toned down rhythms, measured songs built from samples and lyrics in his vast back-catalogue and moments of quiet beauty.
But before we embark on a conversation about Wise Up Ghost I compliment him on the furiously energetic show he played at Auckland's Civic Theatre back in January with the Imposters when he fired through his extensive back-catalogue but also paused in the middle to drop in some acoustic songs from his most recent National Ransom album.
"Thank you. It was good to get back finally because we've had this curious history over the past 10 years, all because of that unfortunate Sweetwaters Festival, which was quite a fond memory for those of us who have played over 80 festivals, it was sort of an adventure.
"But it was good to get back to the country on excellent terms."
I haven't read the actual quote, but I believe you recently said you thought you might not be bothered making any more albums?
Yes, but I was just being realistic. You have to make a living doing this. The choices I've made I'm glad I did. All the records I made I'm glad I did, whether or not they are my favourites now. But they were what I wanted to make then so I stand by them on those terms.
Of course I've not always gone with the smartest thing in terms of what may be a more calculated work.
So contrary to what it might seem, I haven't accrued a massive fortune. I am comfortable and well off and I have a degree of freedom of movement to do what I want. But by the same token I've made a lot of records willfully which had no expectation of selling vast amounts
And when it comes to engaging the theme with record sales it seemed to make most sense to me to concentrate on live work until the opportunity to make another record instead of just pressing on and doing it on a routine of some kind.
I feel I made as good a record as I could make with National Anthem and went about creating a show, the Spectacular Spinning Songbook which not only allowed us to revisit somewhat unexpected songs from throughout my career but also created a framework in which the songs from National Anthem became hits on the stage which had apparently escaped people's notice on record.
That's an indisputable fact now because night after night we play songs from National Anthem and every night they hold their own with songs about which people have a much greater sentimental attachment, the ones they've had 20 years to ponder.
So that was the secret agenda of the Spectacular Spinning Songbook to make Jimmie Standing in the Rain a standard. In my repertoire, not a standard generally. (laughs)
And it's an on-going responsibility to look after my own catalogue because nobody else is going to do it, and it's the same with lots of other songs which I didn't treat right in the studio myself or which escaped people's notice. I find something in them both in the context of this Wheel show, or the shows like the one we did in Auckland where we just picked songs we wanted to play. It gave the Imposters this incredible resource of 150 songs that we'd learned.
So oddly enough all of this comes into the territory where I began working with The Roots because when I went to do the Jimmy Fallon [US television] show for the first time they pulled out an arrangement of High Fidelity that I had forgotten about for 30 years.
It was a slow rendition with a groove which is not dissimilar to Cinco Minutos Con Vos [on Wise Up Ghost] because the lyric foundation of that song is the rehearsal take of High Fidelity when we were just trying to learn the song.
And [co-producer] Steven Mandel ran the tape when we were doing it, clipped out 16 bars of this performance when we were not even playing the song, just cycling around two chords, and we wrote [Cinco Minutos] of the top of it.
And that is the methodology of this record, to recognise the value of a rhythmic cell and to write a new song over the top of it, which is really no different from picking up an acoustic guitar and saying, "Hey fellers, it goes like this".
People get afraid of this thing of taking a sample and building a new sound because they think it's a trick, but it's no different than saying I like that riff off a Howlin' Wolf record and now I'm going to write Satisfaction. It is exactly the same, it's just a methodology.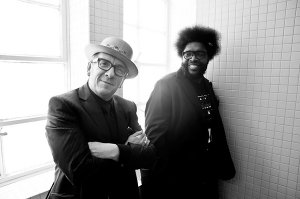 Were you surprised that Quest from the Roots (right) knew so much of your music and was a genuine fan?
You have no way of knowing where people's curiosity will take them. I know of a lot of music that people might be quite surprised I know about.
I know he was a huge record fan, that comes up front. Steven Mandel, the third producer, has an even deeper knowledge of my catalogue and then he'll surprise me by quoting songs by Paul Simon I haven't listened to since 1968.
He'll know all sorts of songs he has no reason to know chronologically, and between the three of us we all have that same approach to music. We get along on that basis. Even though we never had one conceptual conversation before making this record, we had the experience of playing together on three occasions on the Fallon show and each time was different, so we had the toolbox for the record by the end of that. We'd looked at two songs of mine and had come up with different results, had a brand new song of mine.
And we did a Bruce Springsteen song with reference to a Nina Simone record and a rocksteady record called Liquidator. And that was pretty much how we worked.
Then we started working on first of all a revisiting of Pills And Soap. I said I didn't want to do it literally and that I wanted to pull it apart and write a new song that incorporates verses from other songs which share the theme of Pills And Soap, so I referenced a verse from Hurry Down Doomsday and a refrain from National Ransom. It brought the song from 30 years ago to the most recent material I have written, and by the time we'd finished constructing that we had an entirely different songs.
People have said this is almost like you sampling lyrics from your back-catalogue for that song Stick Out Your Tongue.
Yeah, but that's actually always going to be remarked upon because it's a clever thing for some people to remark upon in a write-up because it gives them some sort of greater authority because they recognised a song, as if they are some kind of genius.
But the curiosity should extend a bit further to, 'Why would you be doing that? What story is it telling? What do those words do to that music and what does that music do to those words?'
The joy of doing this, even as murky as some of the subject matter is -- and it is certainly not a happy-go-lucky record in that respect and doesn't pretend to be – is that it is not without hope, and that comes from the life in the music.
These sometimes disconcerting beats add another layer of discomfort to your lyrics in ways that perhaps an electric guitar and drums would not.
You can use your voice in different ways too because there are different areas of space where it can work in the same way as my voice worked in a very intimate way, although it's got a lot of aggression to it, on the original record of Watching the Detectives. That has a lot of space in it.
And something like Wake Me up is a very different way of telling the tale that was first put out in the Imposters song Bedlam [on the album The Delivery Man]. That's one of the Imposters best recordings and some people might think it peculiar to revisit the lyrics from that song. But I'm not stupid enough, or deluded enough, to think that people can gather every image that I'm writing when it is coming at you in that kind of speed and intensity, with that kind of polyrhythmic playing that Pete [Thomas] is using.
That is one of those records where the music is matching the mayhem of the lyric. But Wake Me Up is one where the music is holding the foundation so you can step forward and tell the story in the space available. Both things are good and I'm glad I have both versions.
And again it also allows you to pay it off with a refrain from another song which was written in a very melancholy times, The River in Reverse but take only part of the refrain which has a little hope in it: 'There must be something better than this'.
You mentioned you build up from beats or samples – and of course there is a New Orleans funkiness to this version of Wake Me Up which is understandable – but does this demand you sing and write in a very different way, given how The Roots work?
I don't hear so much difference really. The difference in the timbre of my voice may be the way it's recorded or I may been singing quietly at times, but there's obviously a different sonic treatment of the voice. It's not like a trick, I'm just using my voice the way I felt it at that moment which is basically emotional.
I am singing in a low register though, which wouldn't be so easy to do against big clanging guitars. The loudest thing on the record is Quest's snare. The beat is always there holding it together but I didn't feel I was adopting any different approach, it came out the way I felt it in response to those rhythms.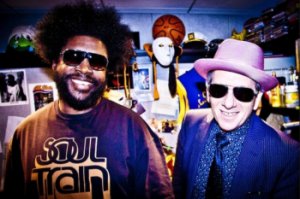 There's some real beauty here too. Tripwire – aside from the lyrics – almost sounds like a Fifties standard to me.
Thank you. The introduction that Steven Mandel created he took from a song of mine called Satellite [from Spike] and kind of processed it with some musical box effect them. From the first chord it becomes a live performance of the band playing the song in the same sequence of course, and it is a sequence you find in hundreds of songs, a lot of them from the Fifties and early Sixties used that sequence.
It's a sequence I have gone out of my way to avoid (laughs) In Satellite I only used it for the introduction, but here we never referenced the more complicated harmony of the song Satellite, just the first four chords. So again it is that simple cell of music that allowed all that other to come through, and we ended up with something quite Fifties.
I think we were all surprised we could make something beautiful like that in the context of a record like this which everybody assumed would be beat and word driven.
Yes, when I first heard about it I figured it might all be like Subterranean Homesick Blues.
(laughs) That's a good call for a hip-hop record actually. That's what I heard in those early Eighties political themes in hip-hop, that was exactly what I thought, it sounds like what Dylan was doing, or what Chuck Berry was doing too.
When you played at His Majesties Theatre in Auckland in about 1980 you walked up the centre aisle playing Pump It Up and by the time you got to the stage it was Subterranean Homesick Blues.
(laughs) There is an undeniable lineage and I've sometimes quoted it.
Right at the end is a really lovely song If I could Believe. How old is that? I'm not sure of the provenance.
It is a new song actually, the only one I brought and said, 'Is this something we could incorporate?' and it was one of the last things we recorded. We had one session where we came in and having made everything piece by piece I said I'd really like to do a session where we played in a room together and see what's different. And I think it was good call.
We made two musical calls towards the end of the production and other than that we didn't really consult, we just reacted to the musical contributions we had added to each stage.
Quest said he wanted to do this session and he called Pino Palladino in and not Mark the Roots' bass player. We cut it as a three piece and later [pianist] Ray Angry put his part on afterwards and then cut two ballads as a vocal trio.
They did The Puppet Will Cut the String which will be on the deluxe edition. I know it's one of Quest's favourites from the sessions but thematically it didn't fit lyrically, so I wanted it as the postscript to the whole thing.

He really wanted to cut If I Could Believe off the record but I thought it was part of the record because after all the darker musing of some of these songs this was the thing to say. And that's the way it goes with collaborations, it's always good when the collaborators have another more surprising idea.
When I thought were almost done and Quest said, 'Of course we are going to put strings on, right?' Really?
What I didn't know he had in mind was for Brent Fischer to write what he's written and to actually thread a line through a number of the songs. Not on every one, but crucially between the first two songs.
This is the sort of music that people sometimes approach with slight suspicion, but I'll take working in this area where we can consider all these musical and lyrical ideas, because that's what I've got used to working with the best musicians. The 35-year relationship with Steve [Nieve] and Pete [Thomas] as years go by is more and more valuable to me. We haven't always been on the same track and sometimes didn't work together for a few years but when we play together now it's tremendous.
I can appreciate that is something the Roots have, that relationship between Tariq [Trotter aka Black Thought] and Ahmir [Thompson aka Questlove].
To be able to work with a group of people who have all these experiences, and I bring the things I have . . . Whatever part we have of being record fans, and we all put our hands up for that, we also have to make a good account of ourselves with the writing and recordings.
Might I ask you about the cover.
I see a reference to Lawrence Ferlinghetti's City Lights bookshop publications.
(laughs) Yeah, you got it straight down.
And they were good enough to give us permission to make that reference because obviously Ferlinghetti made that design.
So I'm delighted to have their endorsement, not of our music of course.
But the endorsement goes the other way because we wrote on the sleeve that it obviously references City Lights.
And if there is anybody in the world who doesn't know what that is . . .
Well, if that's the reason for them to go and buy a copy of [Allen Ginsberg's] Howl, that's great.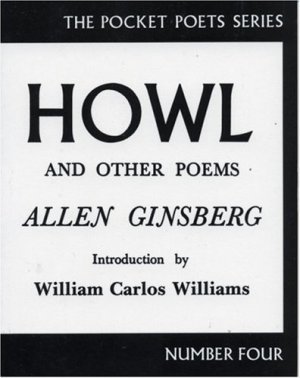 I'm not being patronising because there are some people who don't know what that is. I had to have somebody to tell me what it was. So that curiosity about music and literature and art is a gift we can all hand on to somebody else.
That's also another pleasure working with all these guys, but particularly Ahmir and Steven. There is another reference point, the humor. There are other things aside from just playing. The social references which come thick and fast.
Quest is a great fan of the internet and we were talking today about how records are constructed and how you couldn't imagine there would be any other way for them to be.
But for me I found all those Beatles albums in America which had different songs on them, because they put all the singles on them in America. I remember I went and bought a copy of one of my favourite Beatles' records Rubber Soul and found it had different songs on it.
So Quest asked the world at large which two songs should be taken off Sgt Peppers to get on Strawberry Fields Forever and Penny Lane. (laughs)
Does he want to take certain books out of the Bible too?
(laughs) It's a great party game that one. If there's a record you can't imagine missing any songs it's that one.
I can't help notice on the cover it says Number One. An allusion to the possibility of more?
If you are a record fan you want to try and make a record that follows on sometimes, but I don't know. It doesn't have to be tomorrow or even the next record. We have recorded those three other pieces which I really love but we couldn't sequence them on this one and I certainly didn't want to present a 15 song album, although those three will appear on the deluxe edition.
And there is another piece we haven't finished yet, so you might say it's a work in progress. On the other hand they are becoming the Tonight Show band and are trying to make another record of their own, and we are playing shows for next year. And before then I'm going to have a solo tour in America, then its to Japan for what might might be the last stand for the SSS for the foreseeable future because it's been seen most places.
We've taken in most everywhere except New Zealand and Texas.
I don't want SSS to become, 'Oh, that's what they do' and I don't think anyone who has followed the Imposters, as opposed to the Attractions, could know what a tremendously positive thing – apart from the fun it is – for us, because it reacquainted us with corners of the repertoire and made everything fresh.
And hopefully I can record four or five records next year. (laughs)
Last question, you are writing a memoir?
I've been working on this for a while and it took me a while to come up with exactly what I didn't want to write. I didn't want to write the vainglorious score-settling my drug hell kind of book.
Inevitably when my father passed about 18 months ago . . . Well, I'd started writing as a way of getting a lot of things down on the page knowing his time wasn't long. So I was talking to him a lot about his life and my life as a child observing music. I realised that was a more interesting story because it shapes the way you hear music, more than necessarily doing what most biographies do which is lazy pasting together of old album reviews and a bunch of bogus psychological theories guessing what was going on when you weren't in the room.
No criticism is invalid, but there is the huge presumption by some people to appoint themselves experts and even if you do research you have to know how to interpret that. But if you fundamentally unable to see the flaws in your inquiry it is going to lead you to become a pompous blowhard about the subject. The last thing you want is to be that about yourself.
To quote a song I once knew, 'There's got to something better than this'.
The story I'm trying to tell has hopefully got something diverting and not just a bunch of, 'Then I did this'. Its got to have some of the memoir stuff, but it's got to be there for a reason.
May I just finally say how much I liked Secret, Profane and Sugarcane which we haven't mentioned.
Thank you. I did that record in four days and that's actually the way to make a record like that. It has one of my favourite songs on it, She Handed Me A Mirror.