Graham Reid | | 3 min read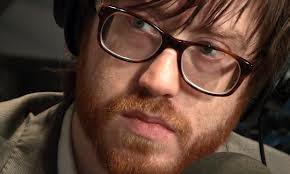 One of the most interesting and unexpected albums recently came from the emotionally damaged Roky Erickson – formerly of 60s psychedelic Texas rockers Thirteenth Floor Elevators – who had his brain fried by electroshock treatment and prescription drugs back in the late 60s/70s and spent many years in institutions.
The album True Love Cast Out All Evil (2010, see here) used tapes from all parts of Erickson's long life – some recorded in the hospital for the criminally insane – but what made them so moving was the sympathetic musical settings for Erickson's cracked vocals.
The brains behind that was producer Will Self of Austin band Okkervil River who are one of the most musically literate bands around today. If you doubt it check their 2008 album The Stage Names on which they discreetly referenced Bowie, REM, Anglo-folk, the Smiths . . .
Or catch them when they play Wellington's Bar Bodega February 15 and Auckland's Kings Arms February 16.
Since they formed in 99, Okkervil River – which has a changing membership around sole constant Sheff – have released a number of EPs and their most recent album The Silver Gymnasium is their seventh, but first through Dave Matthews' label ATO which comes with some major label clout from RCA.
Which might in part explain why the album went top 10 in the US, by far their highest chart placing there.
In fact, it probably has more to do with the credibility and groundswell of support they have built up for their literate but likable alt.rock.
But this is an album very much of its audience's era because it is a semi-autobiographical look by Sheff at growing up in smalltown Meriden, New Hampshire (population fewer than 2500). Given he's now in his late 30s and the band's audience probably not that much younger, there is a receptive demographic which is perhaps settled, is watching it kids growing up, and and the time and will to be reflective about its own youth. Those days are not so distant they can't be remembered, and looking back at a time of freedom, college days and the music that shaped you suddenly seems very appealing.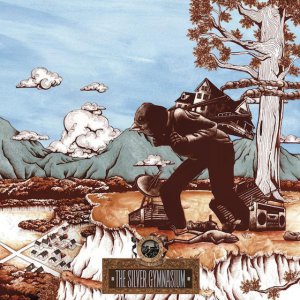 But of course childhood was never innocent and an endless summer, so Sheff deals with the flipside of the warm glow nostalgia can bring.
Tellingly the cover shows a bird-face figure of a man carrying a home on his back, with a ghetto blaster at his feet and a pretty town in the valley below.
Yes, the musical spirit of the 70s and 80s is revisited here in songs which again have their ears on Bowie (the opener It Was My Season and All the Time Every Day) and even Springsteen on the dark, six and a half minute epic Down Down the Deep River. And although there is a wistfulness in places, Deep River reminds you childhood and youth can be full of terrors and unformed fears: "We lie awake in our tents and I say, 'tell me about your uncle and his friend, 'coz they seem like very bad men,' 'Well, we wanna keep away from them.'"
The more you listen beyond the cleverly arranged surfaces, the more troubled this sounds as Sheff's voices reaches for melodrama and his lyrics pile up images.
In Pink Slips – being laid off, but more about laying yourself off through bad judgement -- he sings: "Nine years down in Texas, with sluts of both sexes, liars, lumps, and drug addicts, and drunks; I love my friends, but I can't stop without going all the way, and I've been that way since '83. The midwife of the jetlife. Oh, genie with a golden spliff. A prostitute paid in pink slips."
And Lido Pier Suicide Car appears to refers to leaving their earlier label Jagjaguwar like a departure from the hometown and the people who have failed you somehow.
In a way this journey back is not unexpected as the previous Okkervil River album I Am Very Far explored strangely allusive and elusive ideas, and he revisited his hometown at the time.
So the Pleasantville of childhood is also the Shadowland, and Okkervil River are happy to take you back to both.
It's an interesting journey and Sheff – who sings "We can never go back, we can only remember" – is a guide with a confident hand.
Will Sheff is also a mainspring behind this band.