Graham Reid | | 2 min read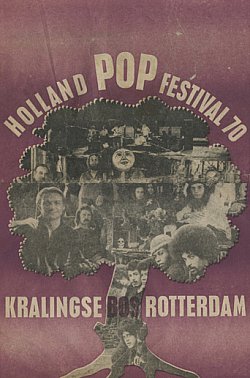 If the golden age of hippiedom was supposed to have gone nose down in the mud and the blood and the beer at Altamont in early December 1969, someone forgot to tell the Dutch.
Because in June 1970 -- a full three years on from the Summer of Love -- they held the "Holland Pop 70" festival with an impressive line-up.
It rained of course, but well over 100,000 turned up at a site in Kralingse Forest area in Rotterdam to see Pink Floyd, Canned Heat, Al Stewart, Dr John (then still billed as The Night Tripper), Country Joe, Family, Santana, Jefferson Airplane, Soft Machine, the Byrds and others.
Any way you cut it, that was an impressive line-up . . . and T.Rex unveiled their new electric incarnation.
Latterly this "pop" festival -- Europeans always seemed to struggle with the concept of "rock" long after the word was adopted elsewhere -- has been billed as the Dutch Woodstock (the rain perhaps?) but at the time it was known as Stamping Ground. It was considered the first major outdoor rock festival in Europe.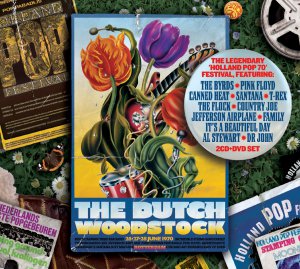 It happened two months before the famous Isle of Wight Festival which featured the Who, Jimi Hendrix, Leonard Cohen, Taste, Jethro Tull and others whose sets were recorded and subsequently released.
But anyone expecting the 90 minute movie of the Dutch festival to equal footage from the Isle of Wight (the last festival held there for over 30 years) or Woodstock (because of the rating, the famous movie with its split sceen footage couldn't legally be seen by those were actually there) is going to be disappointed.
The Dutch film is packaged up with a double CD of the concerts and appears now as The Dutch Woodstock (Gonzo through Southbound), but over the decades it has appeared in a number of bootleg and video versions.
The film is frequently fuzzy or washed out, and although there were plenty of cameras on hand there's a lot of audience footage, and much of that is of people smoking joints. (It's said the police's liberal stance over the weekend led to the country's increasingly relaxed attitude to drugs.)
Of course, this audience footage isn't without interest as a document of the period (interpretive dancing began here during Quintessence's flute-prog poetry set?) but when there are inserts of aerial shots of the Dutch countryside or sped-up bleached-out trips down canals (filmed later) you suspect there wasn't quite enough quality coverage of the bands, although some cameras are right there on the stage.
If there was any footage of Jefferson Airplane's inane Saturday Afternoon I must have sneezed and missed it. Fortunately there is plenty of them on White Rabbit (which starts rather flat) and The Ballad of You and Me and Pooneil.
You are however reminded what a very good band (of their era) It's a Beautiful Day were.
Pink Floyd's Set the Controls comes in at just three minutes long (later A Saucerful of Secrets is better and has appropriately psyched-out footage) and unfortunately Dr John's Mardi Gras Day takes place at night by torchlight so . . .
Soft Machine's free jazz on Esther's Nose Job is perhaps the most interesting thing here. But Santana on Savor/Jingo is by the far the most exciting.
The cameras seem to like percussion players and throughout there is plenty of full-frontal young Dutch.
The double CD adds more material from the concerts, but again the sound isn't that great. So Woodstock it ain't.
Interestingly Paul Kantner of Jefferson Airplane observes that if people are persecuted and bummed out you usually get electric artistic endeavours, but if a place is really peaceful . . .
"I mean, how much great art comes from Switzerland?"
So a peaceful world might be very boring, says the interviewer.
"Not really, it depends on what you do when you're peaceful."
The peaceful young Dutch got stoned, naked, swam in the estuary and climbed inside clear plastic prism-like zorbs.