Graham Reid | | 3 min read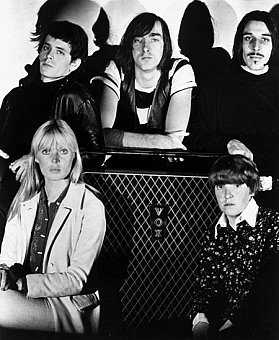 Every now and again when music magazine editors get bored, or some significant anniversary rolls around, they gather the staff and usually some guests to vote on The Greatest Albums of the Rock Era.
Or something like that.
In the two decades after its release in 1967, the Beatles' Sgt Pepper's frequently took out the top spot – often juggling it with Marvin Gaye's What's Going On, Dylan's Blood on the Track and the Pistol's Never Mind the Bollocks.
These days that Beatles album is rarely even a contender in the top 25 – Revolver and latterly Rubber Soul have risen – but one album has been consistently present as very high contender, and its status just keeps rising: the Velvet Underground's debut album The Velvet Underground and Nico from the same year as Sgt Pepper's . . and an album that couldn't be more different from it.
It's the one in the famous banana sleeve designed by Andy Warhol, the one which contains Sunday Morning, I'm Waiting for the Man, Femme Fatale, Venus in Furs, Run Run Run, Heroin . . .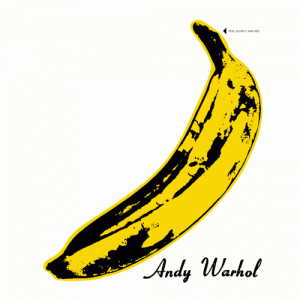 It's also the one that sold damn all on release – it debuted at 199 on the Billboard album chart in December 1967, peaked at 171and dropped to 193 before disappearing entirely.
By most reliable accounts it sold about 1500 copies at the time, so you needn't believe anyone who tells you they were "always into it". They weren't unless they were part of a select club.
The quip however, often attributed to Brian Eno, was that very few heard it but everyone who did went out and formed a band.
The album's influence has been enduring and, perhaps more so than many albums, was a singular influence on a generation of early Flying Nun musicians a decade later.
In his 2009 book The Velvet Underground; An Illustrated History of a Walk on the Wild Side, the writer/critic Jim DeRogatis wrote, "Listening to [it] today, when the shock of the new has long since faded, the most striking thing about the album are the enduring artistry of the songwriting and the musicianship, and the fact it contains the seeds of everything the group would explore for the rest of its career".
VU&Nico is undeniably one of the great debuts in rock, in there alongside Jimi Hendrix's Are You Experienced, Patti Smith's Horses, the self-titled albums by the Ramones and the Doors, the Beastie Boys' License to Ill . . .
And despite what many believe these day, it wasn't entirely dismissed by contemporary music writers, and nor was the only monochrome album in that colourful hippie era.
But it was unique in its subject matter of masochistic sex, heroin addiction, life on the dark side . . .
Needless to say Jazz magazine didn't get it ("They sound rather tedious . . . their forte is a loud whine, something like a musical motorcycle") but Richard Goldstein in New York's Village Voice said Heroin was "seven minutes of genuine 12-tone rock'n'roll" and that the Velvets were "an important group and this album has some major work". Although he did add that Black Angel's Death Song and European Son were "pretentious to the point of misery".
As Richie Unterburger – author of White Light/White Heat; The Velvet Underground Day by Day noted recently, "by and large the hundreds and thousands of wildly enthusiastic reviews of the banana album were decades in the future".
Unterburger was writing the extensive liner essay to the 45th Anniversary Super Deluxe edition of the album, a reissue collection which weighs in at a whopping six CD set. And that's big given the original album ran to just 48 or so minutes.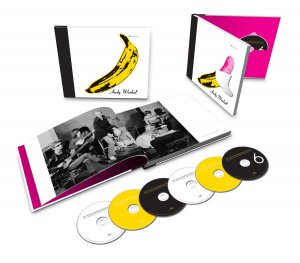 The set which comes packed in 90 page hardback book with photos and Unterburger's through essay offers stereo and mono versions of the album, edited singles, alternate versions and alternate mixes, Nico's solo album Chelsea Girl (on which VU's Lou Reed, John Cale and Sterling Morrison played) and a disc of early sessions and rehearsals at Warhol's Factory.
There are also two discs of cheaply recorded live shows in Columbus, Ohio.
Their improvised The Nothing Song stretches out to 28 minutes and has Nico moaning wordlessly in places. It is quite hypnotic and propelled by Maureen Tucker's primal, simple but mechanical drumming.
Perhaps few people need quite this much Velvet Underground (and the single album has been a Bargain Buy previously at Elsewhere), but after being seduced by the thrilling if sometimes demanding outtakes and extras on the reissue of their second album White Light/White Heat (reviewed here) I fell for this one.
And still am.
Again it is the material beyond the familiar which gets its hooks into you.
Big fan, but then I was always into them.
Weren't you?