Graham Reid | | 8 min read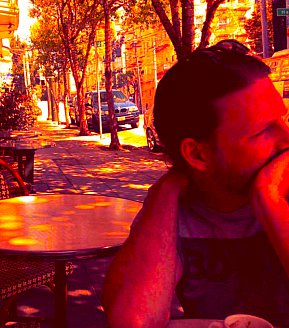 Nathan Ford laughs quietly when I ask him about the strange, whispery folk album by Kitchen Cynics (Scotland's Alan Davidson) he's posted at his music blog. It isn't exactly what I'd call psychedelic, which is the ethos behind his impressive and rapidly expanding blog.
"I've probably got a much broader definition of what people think is psychedelic. To me it is often music that is exploratory in nature and that would include of lot of jazz to me. It is done from a psychedelic mindset."
So it's an attitude rather than the end result?
"Yeah, it's an approach to making the music."
Ford of Wellington -- who founded and helms active-listener.blogspot.co.nz which has recently expanded into presenting the music of fairly obscure artists at theactivelistener.bandcamp.com through modestly priced downloads – laughs again when I suggest to him that at 34 he's old enough to know better than promote psychedelic music.
"No, the older I get the better it gets."
Until last year Ford had managed Everyman Records in Nelson for 15 years but relocated to Wellington where he is studying for a business degree, working part time and doing the blog-cum-download service.
He says he got into the mind-expanding psychedelic sounds as a kid when his dad made a tape of various Beatles songs for him and even as a youngster songs like I'm Only Sleeping spoke to him.
Pink Floyd came on his radar and then as a teenager in the Nineties he was drawn to the more psychedelic end of grunge from bands like Smashing Pumpkins.
In the past few years he has spent more time exploring psychedelic music, "because it's where all the exciting music is happening".
Elsewhere has recently reviewed some of the releases in Ford's Active Listener Presents series (see here, here and here) and is so enticed we've bought a few more (they are cheap) and wil cover them soon.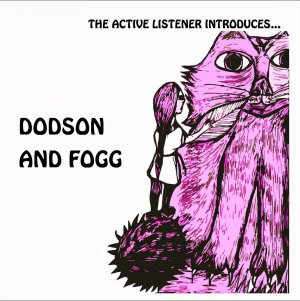 So tell me about The Active Listener, how did that come about?
It was spur of the moment decision about two and half years ago. I had a bit of time at that point and thought I'd like to write a music blog and wrote my first post that day. I didn't really have a direction at that point, but within a few weeks I decided the best thing to do was focus on music that I really liked but which didn't seem to have much coverage anywhere else.
That got me covering the Green Pajamas early on.
How did you find out about Green Pajamas from Seattle who have long been an Elsewhere favourite?
During one of my frequent Beatles obsessive stages I probably spent a day googling the word "beatlesque" * and seeing what came up. Naturally that came up more than once, and I found them and it was great. So I ordered five or 10 CDs and have loved them since.
What was your first blog about?
Initially it was going like a listening log and every album I listened to I wold write my impressions, but I came to the conclusion that on an average day I listened to 10 albums so that was a deeply impractical thing to do. I would get swamped pretty quickly.
So I needed to get a direction quickly and figured there were a million places writing about good popular music, and I like a lot of that as well. But I focused on a direction that was special to me and not a lot of others focused on.
It initially started with bands I liked that weren't getting much coverage, but after a few weeks it turned out that the stuff was generally psychedelic in nature and so it took off from there.
How were you finding out about these bands?
I started up a Facebook page for the blog and every time I reviewed something the band I reviewed would share it, and other bands they were friends with would see it. So social media had a lot of people sending me things to review. But I also spent a lot of time on sites like bandcamp looking for things tagged 'psychedelic'. And there are other sites where people have a similar sort of taste to me.
There's a lot of it out there and lot of it very inventive.
I am absolutely inundated with things that people want me to review, I guess it's the same for you?
Absolutely, it is very unusual for me to check my e-mails in the morning and not have at least two or three albums for me to listen to. Often it is stuff I would like.
I only review stuff I like so I'm not really a critical blog. If I don't enjoy it, it's not for me to say someone else won't. I'd rather point people to music I really do enjoy than say, 'Don't listen to that'.
I get sent a lot of stuff that doesn't really fit with what I'm writing about but I just don't cover that, whether I enjoy it or not.

So you have a clear idea of what you want to do. Tell me how the Active Listener Introduces . . . series came about.
The idea was a continuation of what I'm doing with the blog. They are all artists that I have dealt with from the blog quite a few times. They are great artists but generally artists that are releasing their own material and don't have a huge amount of promotional power.
They are generally artists who have quite a big catalogue of stuff that is quite hard for people to find an introductory point, or artists who need more coverage and deserve it.
So I approached a few artists I really liked and asked them what the considered their best material and got them to sequence it themselves . . . and everyone that I've approached so far has been really excited about it. I haven't had any rejections and it seems like it's something the artists are into as well.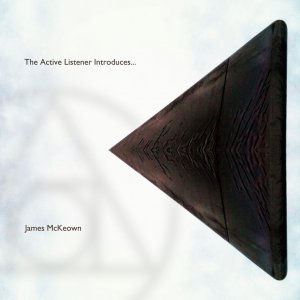 You put these albums up as downloads but why do they need the active listener then? Why can't they do this themselves?
They probably can but I've got a pretty big following through the blog and I've made quite a few connections in the past few years so I've got lots of people I can e-mail things around to. I just seem to have a better strike rate in getting people to review things.
I think it's also easier to promote someone's music you think is really good because a lot of artists are quite humble and have trouble pushing their own music.
So it is going well?
There has been a very positive response, reviews are starting to appear for quite a few releases, lots of people have e-mailed back saying they intend to review. Sales aren't huge, but the streaming has been very big. That's the thing with the bandcamp platform I use, everything is streamable. We live a day and age when people don't download but just stream online and my artists are happy to get the exposure that way.
How do you make a buck out of it then?
I split proceeds, the artists and I take out a certain percentage and for the money they pay me I spent time e-mailing promo copies around, doing promotional bits and pieces, getting stuff on various internet shows and things like that.
So you have an international platform then?
It is. Very few of my listeners are based in New Zealand, looking at the traffic through the blog I get less than two percent. Half of that is probably me checking and my parents being supportive. Most of my audience is based in the US, the UK and scattered around Europe.
People find you in the same way you find bands and musicians.
Yes, search engines are pretty amazing, social media is important and lots of stuff gets shared around on Facebook and Twitter and things tend to build. I'm still not 100 percent sold on Twitter because there is so much stuff that goes through, and Facebook have changed their way of doing things lately too
Do you pay Facebook for advertising?
I don't. I don't make any income out of writing theactivelistener so I can't put any money into promoting it. I write it in good faith that people will find it and read.
Me too, I feel cleaner that way. You have a decent release schedule.
So far there are four Introduces . . . albums out and five other releases which are either album or EPs that I've re-released for people that had very little reach with their initial releases. That's the good thing about the digital platform, things can happen very quickly and you don't have to press up CDs or records. As long as you have the finished masters and some cover art it can come together very quickly.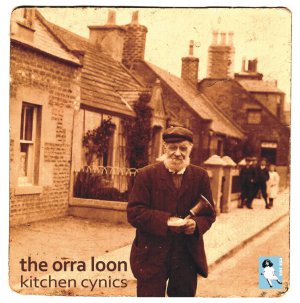 The Orra Loon album by Kitchen Cynics (reviewed at Elsewhere here) interests me, what drew you to that?
I'd heard quite a bit of his stuff before and always liked it. Initially it sounds like it's lost in a fog, it comes in bits, it's hushed. It sounds like you are not supposed to be listening to it.
I feel like I'm eavesdropping.
Definitely, he's just an amazing songwriter. The way he performs his material is so understated and he has an amazing guitar style which you don't pick up on unless you are really listening for how ornate it it. He makes it sound very natural and easy. His vocal are very hushed and almost conversational, but like he's having a conversation with himself and not you.
There's just something about his songs which really appeal to me. A lot sound very much the same but when you play them over and over they develop their own character.
I'm enjoying decoding it. I'm sure it's a record that if people only heard once they wouldn't like and might say it all sounds the same, yet everything is quite different if you tune into the wavelength.
And that's why he's not more well known. He's been recording for years and has his own CDR label with over 100 releases on it, so he's incredibly prolific. There are a lot of review online and generally from a lot of the same people.
He's the sort of artist who garners a devotional following which loves everything he does. He is not a casual artist in any way. But he has got big fans and there's a tribute album of other people covering his songs. Tom Rapp from Pearls Before Swine is on there and he'd previously invited him over the States to play some gigs with him. There are reasonably big names in the UK underground folk scene, like Alisdair Roberts who does a track.
He's an artist's artist. He's never going to have a casual fan base.
Do you have a regular release schedule so you know what's coming in the next month or two?
It's only been going for a month and at the moment I'm going to try to stick to about five releases a month because there's a lot I want to release, but I don't want to swamp people. They are also quite different releases so I certainly wouldn't expect everyone to like everything I am releasing. I think people can approach what they like and if its not for them then they can skip it.
I'm trying not to release stuff that all sounds the same but is made from perhaps a similar mindset even if he end results are quite different.
What I release has an internal logic to me, as to whether it does to other people or not I'm not concerned about.
I release stuff I like and there seem to be plenty of people on the same wavelength.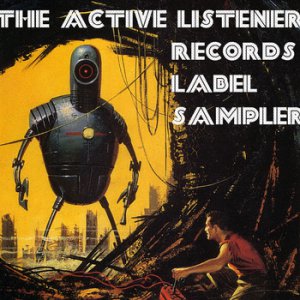 * For their amusement, Elsewhere readers might like to search for "beatlesque" at Elsewhere starting here. Or "psychedelic" starting here.
NB: In the week since this conversation The Active Listener has released another two albums in its Introduces . . . series and also a 12-track sampler album with songs by White Candles, James McKeown, The Kitchen Cynics, Trappist Afterland Band, Shadow Folk and Beaulieu Porch. It is one of those name-your-price downloads. If you go for it, be a little on the generous side.