Graham Reid | | 5 min read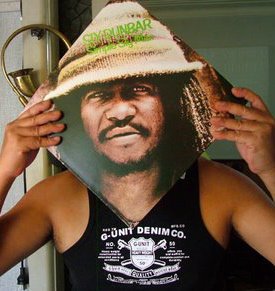 Silly question maybe, but you have to start by asking drummer Sly Dunbar -- one half of the legendary Sly'n'Robbie rhythm section alongside bassist Robbie Shakespeare -- what he's been up to lately.

In the past couple of years the formidable Riddum Twins have played on No Doubt's career-reviving Rock Steady album, shared equal billing on an album with Jamaican-born jazz pianist Monty Alexander, have worked with ghetto-rapper Bounty Killer and apparently have a recorded an album of Led Zepp tunes. Inna reggae style, of course.

Before that Sly'n'Robbie could tick off studio sessions with Bob Marley, Bob Dylan, four years touring and recording with Peter Tosh, placing the crucial backdrop behind Anglo-American reggae trio Black Uhuru on three devastating albums in the Eighties, and taking Grace Jones on to the charts with Pull Up to the Bumper. They've moved effortlessly from Sixties ska through classic Seventies reggae to dancehall, ragga and now into drum'n'bass.

They slip from acoustic roots to digital electronics with as much effort as you get into bed.

So what's Sly been up to today in London? It almost sounds mundane when put against his 35-year history which dates back to a session as a 16-year-old with Dave Barker and Ansell Collins on what became the ska classic Double Barrell.

"Oh, we just been in the studio with the Mad Professor for an album and we laid about a third of the rhythms tracks down now. You try and make yourself busy so you don't get lazy," he laughs.

"We don't turn down too much work because we are from a small country, which is reggae, and need to get as many people as possible involved in it. Sometime we do have to choose between things but we always respect a job when it comes in because it help spread the word."

Sly'n'Robbie have more than spread the word, they have made a musical Esperanto, whether it be deep with Black Uhuru or as sharp as Sly's techno-beats on the '83 breakthrough-scratching album Future Shock with Herbie Hancock.

Yet as musically curious and progressive as Sly is, he reflects on Seventies reggae when Bob Marley, Peter Tosh, Burning Spear and others were carrying the banner of righteous Rastafarianism and finding an international audience.

"We were talking about that today. Back then there was so much music we were listening to when we were going to parties, and you can easy flip an idea from an old song and make it new. Like the Motown, Philadelphia and Stax stuff.

"Today we were playing some reggae records and saying we need to move forward and were thinking about hip-hop which has grown. I don't think there's that growth in reggae now."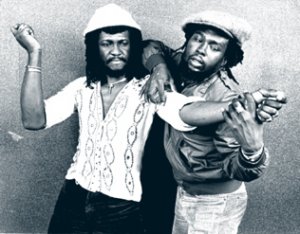 He accepts the irony that for many young musicians, raised in hip-hop culture where reggae rhythms are simply part of the mix, their way forward has been to go back to what he and Robbie were doing back then. They have embraced Jamaican dub styles and an almost prehistoric drum'n'bass style.

He says they weren't surprised when rapid-fire British drum'n'bass came along: "What I liked was they took it to another level. A lot of people who listened to the original Jamaican drum'n'bass didn't change it and still follow it. Ours is slightly different from theirs which is more electronic, but it's good.

"There is a move back to an older style though, back to real instruments."

Sly reflects on his early career when, growing up in Kingston, he would make a drumkit out of tin cans. His first group was the Yardbrooms at age 15, but a year later he was with singer Barker and keyboard player Collins for the album Double Barrell, the title track of which has appeared on dozens of compilations since.

After time with toaster U Roy and vocal trio the Mighty Diamonds, it was at a Seventies session in Bunny Lee's studio he met bassist Shakespeare. The two clicked, within four years had their own Taxi label and went into production while still playing with Marley, Burning Spear and Jimmy Cliff. In 76 they played on Peter Tosh's Legalise It album and for four years toured with him.

"I think Peter's were great recordings but haven't been remarketed and promoted the way they should. But a lot of people love Peter. Today we were talking about the song he did Nothing But Love [on Wanted, Dread and Alive] and Michael Rose [of Black Uhuru with whom they currently tour] said it was his favourite song. We really admire Peter and had some wicked rhythms there."

In 1980 Sly'n'Robbie left Tosh to go tour with Black Uhuru, and they subsequently produced and played on their seminal albums Red, Black Sounds of Freedom and Sinsemilla.

"We had been producing them and went on the road because Chris Blackwell of Island wanted them to go out, but we couldn't think of a band for them. Nobody really understood what we were playing and so we couldn't let other people present it and it not work."

The Riddum Twins were much in demand after Grace Jones' 81 Nightclubbing album which featured a huge hit.

"She helped launch us in the international marketplace when we did Pull Up to the Bumper. The timing was right for her and for Robbie and myself. It was a launch for bringing Jamaican music and a Jamaican artist into the front line."

His best memories are of those great Jamaican artists like Tosh, Burning Spear ("You can't mistake a Burning Spear song. He has held his own from the first. The Godfather") and Marley.

"I have one memory of Bob, when he came back from exile and came back to Jamaica. I saw Scratch [Lee Perry] and he want to cut some song with Bob, so we went to Black Ark studio. Scratch was saying he want me to play a one-drop and as I was turning away Bob look at me and smile and say, 'Don't play one-drop, play what I play like my straight four thing' because that's what he wanted to sing over.

"I said, 'Okay Bob' and Scratch, he know. But you know, I don't remember the name of that song," he laughs.

"But I did play on Punky Reggae Party in the studio. I overdubbed the drums because it was originally cut in London and they came down to Jamaica and want a different feel. So I did that."

And so very much more Mr Dunbar.
There is much more on reggae at Elsewhere here.