Graham Reid | | 7 min read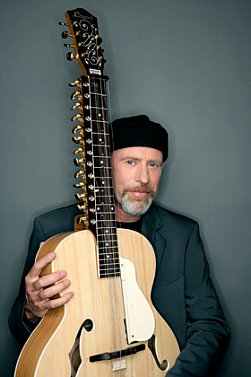 Born on the Isle of Man, grew up in Canada, busked around Europe, lived in Japan for a decade, at 34 traveled to India to learn how to play the complex 20-string Mohan Veena under master musician Vishwa Mohan Bhatt, a blues-cum-world music traveller, talked to us from Tasmania . . .
This is the shorthand on 59-year old multi-instrumentalist Harry Manx whose music scopes from blues to Hindustani classical music. And on his most recent album Om Suite Ohm he plays the blues, reinterprets John Coltrane's jazz classic A Love Supreme, has a piece Way Out Back which includes didgeridoo and Aboriginal spoken word . . .
Manx – who lives on beautiful Salt Spring Island near Vancouver Island – is a remarkable character and his musical reach so broad that he hardly fits in any category. An exponent of six-string banjo, slide, harmonica and Mohan Veena (among other instruments), he brings himself to New Zealand for a short tour soon (dates below).
We caught up with him in Hobart as he packed his backs once more and headed out on the road, just as he has done for the past fortysomething years.
But has he been out to the impressive MONA Gallery in Hobart?
No, I'm pushed for time but I've heard it's worth seeing.
This is the curse of being on the road, people tell you wonderful things to see where you are and you never get a chance. You are always leaving.
Right, when I tour I'm mostly just keeping myself focused on the shows because that takes most of my time and energy. If we have any time off I tend to just top spend it lying flat somewhere.
And it is no promoter's interest to keep you in town for too long. Tell me this, how many instruments are you traveling with on this tour?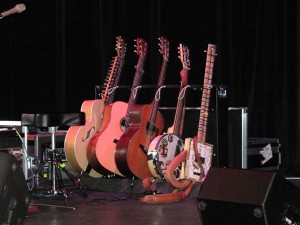 Five, every one is so different that I can't really do without them all.
That's a big insurance bill though.
I don't have them insured but I have nice cases for them and I'm hoping that will keep them healthy. It's a funny thing with my instruments, they are not easily replaced. My Indian guitar that recently got stolen, that was quite a concern because I had that for 20 years and it's hard to think about changing it.
But that was a blessing in disguise because it turned out I made a lot of new fans during that time [with the publicity] and it opened up new doors for me. At first it seemed like a tragedy but I think it increased my fan base (laughs)
I'll talk to you about the Indian music in a second but what is only mentioned in passing in your various biographies is that you spent a decade in Japan. That interests me. What were you doing there?
I was working, playing music, living there and studying my Indian music at that time. I was a street musician for a long time in Europe and Japan and that's pretty much how I made my money during those years I was in India too. I'd go off to Japan and work a little bit, just keep the wheels turning that way.
What took you to Japan in the first place?
I went there to go busking and I loved it so much I ended up staying and got married there [to Najma] and we lived in Tokyo. It was a wonderful place and a change from Europe.
I've spent time in both Europe and Japan and many people would say the Japanese tend to be more aloof, reserved and distant. But my experience was, once you got past that, people were very warm and friendly.
That's true, they have their own way of being. Some Westerners can go along with it and others find it disturbing, [the Japanese] have a tendency not to say what they feel and sometimes not feel what they say . . . Once you get used to that it's all good, but you do for a while wonder why no one is being straight with you. Then you realise your own cultural conditioning is clashing with theirs, and that's about the extent of it.
Indian music then? My first encounter was when I was about 13 and I ordered a record, some rock album I guess, and the people sent me a Ravi Shankar album instead.
How fortunate for you (laughs)
Sure, it changed my life. I don't know what it was, but it seemed instantly familiar to me for some reason and I thought, 'This is my music'. Did you have an epiphany like that or did you slip sideways into it over time?
I had an epiphany too when I first heard it. I just felt there was something so different about it from other music. It was when I was a teenager and I heard Ravi Shankar. The attraction was right there: 'What is about this music that affects me? Why does it make me feel like this?'
I came to see a few years later that Indian music has a tendency to take you inwards as in the soundtrack for your meditation or being in your inner world, and when I realised that it started to have an even greater depth for me.
Although in the beginning when I played ragas I would get in a trance myself and so I had to keep myself awake with lots of tea because it did tend to space me out and make me very quiet and calm.
It's not the music of superficial celebration but is an uplifting music, it's music which has a great depth in a very subtle way.
I grew up in Scotland and often wondered to myself if it was the drone in Indian music which echoed the bagpipes which I felt.
(laughs) True. A lot of cultures have that drone, if you think of the hurdy-gurdy too. It's very common. In Indian music it's a context to put the music in and something to bounce off when you are playing. I always run the drone in the background because when I'm play against those notes there is a whole new set of harmony there.
Of course right now you are in a country where there is a great and infinite tradition of drone in Aboriginal culture.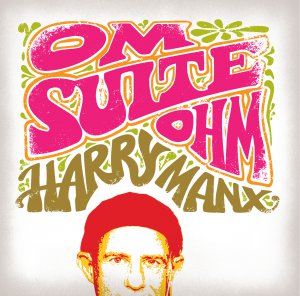 Yes, on Oh Sweet Ohm I have a track which has an indigenous fellow who is rapping -- or singing if you will -- and another friend is playing didgeridoo. It's very interesting.
When you first went to India to study with Vishwa Mohan Bhatt you were in your early 30s, right?
Yes, it was the late Eighties, maybe '89s, so I was about 34.
For many people that's late to become a student again. Was that difficult because you'd have to realign a whole lot of intellectual, cultural and musical parameters?
Yes, that's true. I had to unlearn a lot with Vishwa Mohan Bhatt. That was his work in the beginning with me, for me to unlearn everything I thought I knew about playing slide guitar and music in general. He had me change the way I hold the guitar and hold the bar, and I started at the beginning with scales. And he was right because there was a lot I'd learned which wasn't really leading me anywhere. He set me on a new course.
But I'm a late starter. I put my first CD out at 46 (laughs) I imagine I'll be doing my comeback tour around 90 at this rate.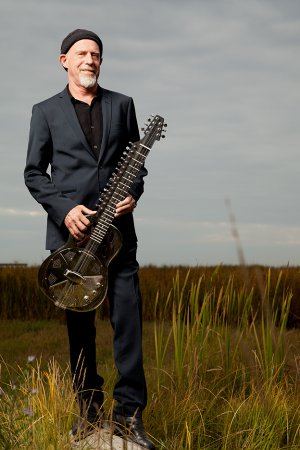 You've been very prolific though, and across a broad range of music. I spoke to the late Bob Brozman many years ago and he made a point that I've thought about ever since, that music travels latitudinally around the world, so Indian music has something in common with music from the Middle East. Have you observed something along those lines, that you can have transferrable skills across continents because there is something at core which is common?
Yeah. Vishwa Mohan told me the music in Spain originated from gypsies who came from Rajasthan and so he understood there "ragas", as he called them. He knew how to play with flamenco guys. I've played with people from other cultures and we quickly find common ground. If it isn't a Western approach then it's a similar traditional approach.
Music is the international language of the human spirit although everyone has their own dialect.
That's a nice way of putting it. Let me ask you about the Mohan Veena you play,. It has 20 strings but most are sympathetic strings, aren't they?
Yes. Twelve are sympathetic and eight on top I play on. The sympathetic ones wake up the strings and gives that whole Indian feeling.
One of the things you said was that Indian music travels inwards. I've always found it very emotionally engaging, I feel something when I'm listening.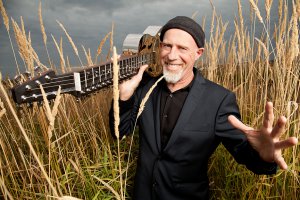 Right (laughs) Or further, I feel Nothing. But full of Nothing, not that empty nothing. I feel full of Nothingness and that is beautiful. And the emotional depth of Indian music is something. It takes an ear to hear it and not everyone can. But when you familiarise yourself with it, it speak more to you.
There has been over the decades this long lineage of people who could cross over, I'm thinking of Joe Harriott in the Sixties and John Handy, and Coltrane of course. Over time have you realised that you were not out there on your own but there were all these kindred and sympathetic spirits at work?
That's true, and in the world of Indian slide guitar that's coming up fast. When I was in India the first time in '79 – although I really started learning in '86 – really there wasn't that many, if any, slide players around.
There was just my teacher and he had a few disciples, myself included. But there wasn't that many around at all.
But now you find a lot of people playing the slide, and some pretty good. Australia's Jeff Lang for example, and he's working hard on the Indian stuff and he's coming along
And Debashish Bhattacharya of course. He seemed a break-through.
Yeah, Debasish got a lot of Western guitarists interested in Indian slide and I think he teaches a lot of people.
You are so busy doing it it . . . do you do much any teaching?
No, none. Not even my son [Hector] . . . but doesn't wanna learn (laughs). You know, people ask me but I'm into the performing part and finding my way.
What I'd like to do is find just one or two students I could just unload everything on because I gained a lot of my own knowledge about the instrument and the music. But I'm reluctant to spread it quickly and wide because I'd just develop a whole bunch of Harry Manxes really quick.
I'd like to have a couple of dedicated students who wanted to go beyond what I know and I could show them the way there.
Which is very much in the Indian gurukal tradition of teaching?
Yes it is. And that's what I respect.
HARRY MANX NEW ZEALAND TOUR
Wednesday October 1, Bar Bodega, Wellington
Thursday October 2, Okere Fall Store, Bay of Plenty, 7.30pm
Friday, October 3, Tuning Fork, Auckland