Graham Reid | | 10 min read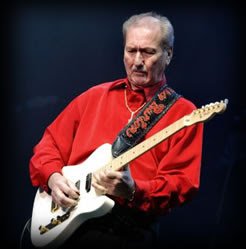 A conversation with legendary guitarist James Burton could almost sound like name-dropping: he's worked with not one but two Elvises, Ray Charles,
Joni Mitchell
,
Jerry Lee Lewis
,
George Harrison
,
the Monkees
. . .
It's all true but – at 75 – he's self-effacing. He's seen fame of the Elvis Presley kind but enjoys a different kind of buzz . . .
"I can go to the grocery store and get what I want. I don't have to send the Memphis Mafia or anybody," he laughs, referring to Presley's inner circle of friends-cum-sycophants.
"If I ask my wife to go to the store and get me something she just says, 'Go get it yourself'. But with John Denver and even Ricky Nelson, we could all go out in public. People recognize you and talk to you, shake your hand and say, 'I love your music'. Once they see how you deal with it, there's no problem."
You can say hello to this legend soon when he's in the band behind John Rowles on a national tour doing Rowles' his own songs as well as many of Presley's greatest hits (for dates see here).
When he answers the phone in his Louisiana home it's with a shout of "JB! Rock'n'roll!" then bursts out laughing.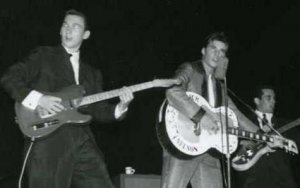 And if anyone is allowed to say that it is JB who co-wrote the classic Suzie Q in 1957 with Dale Hawkins (right); played with Ricky Nelson for years and in the studio band for the groundbreaking American television rock show Shindig in the Sixties; was part of the famous Wrecking Crew studio musicians who played sessions for Phil Spector, the Beach Boys and more names than we can count; and then in '69, at the invitation of The King of Rock'n'Roll, formed the backing band for Elvis Presley's Las Vegas and touring shows until Presley's death.
And for JB it didn't stop there: another Elvis – Costello – hooked him in to play on his album King of America in '86.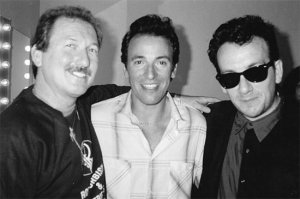 "I was sitting in my office in Burbank, California and the phone rang and this voice said, 'Hi, this is Elvis . . .'." he pauses briefly to let that sink in, "then he says 'Elvis Costello'. I was shocked to get a call from him and couldn't imagine why he would call me, then he told me about T-Bone Burnett producing an album for him . . . and five albums later I was still working and playing a lot of shows with him."
Only a fool would try to encapsulate Burton playing career in a few sentences but, other than what we've said so far, here goes: He toured with John Denver for years, and counts among his friends and those he's worked with the late Johnny Cash and anyone who is anyone in country music from Buck Owens and Merle Haggard to Gram Parsons and Emmylou Harris.
Burton – who knows the Presley catalogue inside out – admits that before a 7am wake-up call the next day for a flight to rehearsals in Hawaii with Rowles he still hasn't heard the Kiwi legend sing, "but everybody I've met speaks very highly of him and says he has a great voice. I'm actually looking forward to it."
It will be another return visit to New Zealand for Burton who was here with Costello, Harris and the live band which played before the late Presley on the big screen. That Presley catalogue of hits comes second nature to him.
"But when you do it with different artists you have to change the music to fit. I'm not sure John would want to do Hound Dog as fast as Elvis. When we went out to do the big screen show – we play live to video – I was thinking, 'My God, did we play Hound Dog that fast?' Elvis must have had a hot date and was anxious to get off stage."
The TCB Band – the Taking Care of Business Band – that Presley had Burton pull together for those Vegas shows, touring and recording became legendary. Alongside Burton and drummer Ronnie Tutt, out with Neil Diamond when Burton spoke to us, was piano player Glen D. Hardin. Bassist and producer Norbert Putnam, also touring with Rowles, played with Presley in the mid 60s.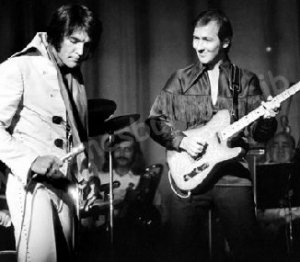 "That Las Vegas show was amazing. It was high-class and high-tech and every show was sold out, people were standing in line for hours to get tickets. They had to turn people away. It was just amazing to me. It was like going to a ball game.
"And Elvis loved every bit of it. His favourite thing was always performing live. When he called me to put the band together in 69 he said, 'Man I'm tired of doing movies' and he'd called [his manager] Colonel Tom Parker and said he wouldn't do any more and wanted to play live. So I put a band together, and it's amazing that we're still doing that on the big screen and playing with a lot of artists who still love his music."
Burton says none of the TCB Band saw the decline in Presley, aside from the obvious: "The only thing was Elvis gained weight when he had a few weeks off, then he'd go on a crash diet and lose 50 pounds in a week to get ready for the next shows.
"But he constantly did that. We all know now that's hard on your body. [Presley's death in 77] was a big shock to me and most everybody else."
He remembers hearing the news while on plane on the way to their next show with Elvis
"We were on our way to Portland, Maine to open our tour there and they called to say Elvis had passed away. It was just a sad deal, we returned back home and got on a plane the next day and went to Memphis."
A quiet trip back?
"Oh man, it was very quiet. You could hear the motors on the airplane."
For Burton and the band it wasn't just the death of a musician but a man he considered a close friend, someone he'd seen high and low, an artist at the perak of his fame in Vegas and sometimes on the cusp of a new start as when Presley recorded at Stax Studios in his home town of Memphis . . . but then . . .
"When I went to work for him I became family straight away. When we'd go to Memphis or Nashville we'd always just go visit at Graceland. Working in Vegas, he'd want us to come up to his suite a lot and he liked to tell his stories about being in the army and driving tanks and that stuff. "He was a fun guy to be around on and off stage."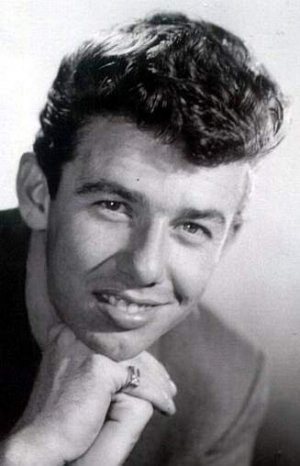 We talk about right back at the start of his career and the classic Suzie Q with Dale Hawkins (right). Did he know then, or can he feel, greatness being created at the time he is doing it?
"On that I just knew playing that little funky little lick on my gee-tar was very exciting. But when we went down to record it at KWKH radio station I had no idea what was going to happen with it [as a record] but I knew I wanted to put that funky lick on tape. It was very exciting and when you are very young and love things, like ice-cream, you can't get enough. When you play music there's something about it and the good Lord blessed me with my talent and we were loving every bit of it.
"We didn't know it was going to sell like that, and I think sometimes if you put records out you should it on a cookie label . . . so if you don't sell 'em you can always eat 'em."
He laughs about how Suzie Q was a song which all but invented the Creedence Clearwater Revival sound of a decade later : "Yeah, when I met John Fogerty [of CCR] he just went on and on about that song. They recorded it, even Elvis recorded it. A lot of people recorded that one song."
But Burton moved on fast and ended up, by accident it seems, as the guitarist on the then-hot weekly television pop show Shindig.
"That Shindig thing came about when Johnny Cash called and invited me to do a TV show with him. He wanted me to play slide dobro and I said okay, if he would bring me one. He said he had a 1948 national dobro, a metal one.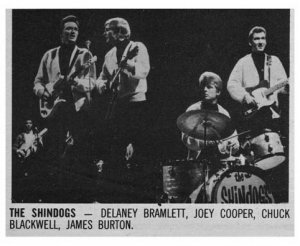 "So we were at ABC for the show and didn't even know what it was. It was just a show Johnny was invited to do. The producer Jack Good from England was a big fan of mine and said, 'Man you gotta be on the show every week'.
"I said, 'Well okay, but what would I do?' He asked me to put a band together. And so we put this band together with Delaney Bramlett [later of Delaney and Bonnie] playing bass and signing, Glen D. Hardin on piano, I played guitar with Joey Cooper on rhythm guitar, and Chuck Blackwell was the drummer.
"We were the Shindogs and played with 90 percent of the artists who came on the show. You could see me up there with Jerry Lee Lewis, Tina Turner, Ray Charles and the whole gang.
He recalls backing bluesman Howlin' Wolf on Shindig when the Rolling Stones played the show in the mid Sixties, then doing scores of sessions with the Wrecking Crew.
"I loved working with all those different people. It was fun going from a Ray Charles session to Buck Owens, or with Merle Haggard, or George Harrison or from the Monkees to the Beach Boys.
"Sometimes, we'd cut tracks for artists that weren't there. They'd put their vocals on later. I did an album with Kenny Rogers but he was on tour and Lionel Richie came in and cut the tracks . . .and then two weeks later I was back in the studio again and there was Lionel Richie with the Commodores. It was amazing to me how things were put together like that.
"I played on a lot of the Phil Spector dates and that wall of sound . . and most of the Wrecking Crew were the guys who played on all those sessions. We were the crew that went in and wrecked a lot of people's records," he laughs.
They also made a lot of people very famous, rich and sound good. But again, Burton moved on, first to Presley and then touring and recording for years with John Denver starting in '77 before Presley died.
"Let me tell you something good. I got an e-mail the other day, they are putting a star in the sidewalk in Hollywood for John Denver and they invited me to come out and say a few words to the media. Wouldn't that be nice? But I will be in New Zealand so can't do it, but I thought it was nice they invited me to partake in that situation."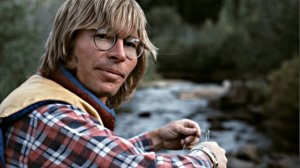 I tell him that I never much rated Denver at the time – too soft, too whitebread – but latterly I've been listen to just his songcraft and it is impressive.
"He was one of the great songwriters and a sensitive guy, also a good man and a great singer who wrote a lot of good songs
"When he wrote that song Peter Paul and Mary recorded [Leaving on a Jet Plane, late 69], John said he was some place driving down the road and the first time he heard it come on the radio he just pulled off to the side of the road and just cried through the whole song. He was so overjoyed and excited about it."
And so the roll call of great artists Burton has played with goes on: Elvis Costello, Roy Orbison, Joni Mitchell, Vince Gill, Emmylou Harris . . .
So many diverse people you have to wonder what it is that enables him to do that.
"I like to pick and choose what I'd like to do and not do, but I like staying busy and I like playing. I do like travel. It's not as much fun today as it used to be, but when we get to play the shows and those people are smiling and clapping and dancing and going nuts, you know you've accomplished quite a bit.
"It's worth it to go out and do that. You don't have to do everything, but the more you do the more fun you have."
And it isn't all by rote?
"Oh no, sometimes I change a guitar lick around a bit just to throw [the singer] off. When I was with Elvis Presley he liked to key off the guitar and kept his eyes on me. We'd have eye contact constantly and so he's used to hearing a certain thing and if I changed it he'd turn around and look at me like, 'Did you do that on purpose to throw me off?' It's good to change it a bit and have fun with the music."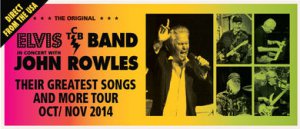 And he travels light.
"It's so hard to take a lot of stuff on a plane now so you narrow it down and hope you run into a laundromat between here and there.
"I only carry one guitar, that's all I need. If I break a string John[Rowles] will have to go ahead and sing a cappella," he laughs . . . the man who, when he mentions an "Elvis" he played with has to clarify exactly which one.
.