Graham Reid | | 1 min read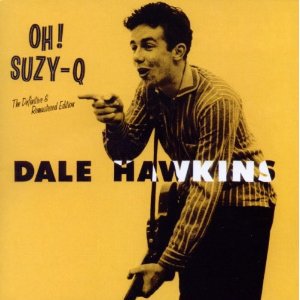 If he'd done nothing else other than his tough-edged swamp-rockabilly hit Suzy-Q, Dale Hawkins out of Louisiana would still have made the rock'n'roll history books: Suzy-Q was co-written with guitarist James Burton who plays the stinging and memorable solo, and it took Hawkins to the Apollo in Harlem where he was the first white rock'n'roll/rockabilly singer to play that prestigious place.
But there was more to Hawkins than that one song, albeit a pretty terrific one. His 1958 album on the Chess label which featured the song -- this one, here remastered and with extra tracks -- was bristling with sassy, sharp and sometimes witty rockabilly/swamp rock'n'roll, featured three tracks with Roy Buchanan on guitar, had songs with a bluesy edge (Heaven) and on material like Wild Wild World he proved what a smart songwriter he was in his idiom.
The additional tracks -- 12 more -- show the high regard in which he was held by fellow musicians: among the players are Willie Dixon, Scotty Moore and DJ Fontana (of Elvis' early sessions), and Leonard Chess himself handled much of the production.
Hawkins' career was remarkably short however: Suzy-Q had no strong follow-up single despite the talent on hand, although the songs here crackle with energy. Hawkins shifted labels, went into production (the Five Americans' Western Union was one of his) and then fell prey to benzedrine addiction and quit the business.
He started a rehab centre, built a studio in the mid Nineties and in '99 released his first album of new material in 30 years. He died in February 2010.
Rockabilly fans and lovers of early rock'n'roll will delight in this album . . . and Suzy-Q -- covered by the young Stones and Creedence Clearwater Revival among many others -- is a bona fide classic.
Like that? Then try this.