Graham Reid | | 6 min read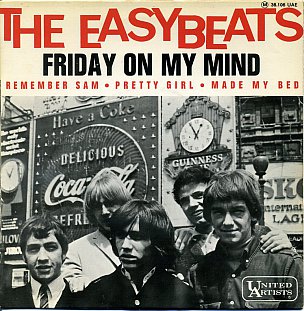 The edges of the vision are blurry but at the centre of the frame things are clear. I am a teenager, my friend Barry and I and perhaps a couple of others are stumbling down a dark road near what is now the Whangaparaoa shopping centre.
We had just been at a movie – may have been kicked out – and are drunk on Blackberry Nip or McWilliam's Sweet Sherry. As we pass by the old church – which is still there – where I once went for a Christmas Day service with my parents (the only time I recall we ever did such a thing) Barry climbs a tree and, hanging a few feet above my head, says in a menacing but funny voice, "Eeeeasyfeeeever".
And I fall to the gravel path in uncontrollable laughter.
The most strange thing about this vision is that it's true. A weird scene from inside the goldmine of memory.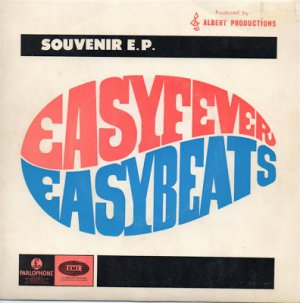 The phrase that felled me – Easyfever, which became the Australian equivalent to Beatlemania – was the title of an EP by the Australian group The Easybeats and Barry and I – perhaps alone among our pop-obsessed peers – were massive fans of this group which for just four years from the mid Sixties spun out hit singles.
But when I think back from these very different, hype-filled times (read "bullshit" there if you care to) it amazes me how little I actually knew of a band that was so important to me then.
I never saw them live, don't recall even seeing moving footage of them . . . and to the best of my recollection perhaps the only photo I ever saw would have been on the back cover of that EP (which I never owned).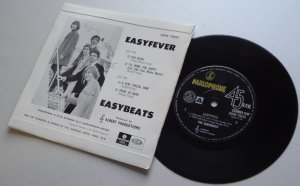 My sole contact with the Easybeats came in salvos of brilliant two-and-a-half minute pop songs on the radio and then their singles on Parlophone (the Beatles' label!) which I either bought or shoplifted.
I still have them.
All I knew then and in truth now, about them was the singer's name was "Little" Stevie Wright and in the band were the two songwriters Vanda and Young. I knew the latter because their names were on the records' credits.
Vanda and Young were a classic Lennon-McCartney/Jagger-Richards songwriting team of the era and it's said that when he first went to Australia, years after the Easybeats had broken up, that when he first stepped off the plane David Bowie asked, "Where's Vanda and Young?".
He'd covered their Easybeats' 1966 classic Friday on My Mind on his '72 Pin Ups album.
Somehow in the years between first contact (their '65 single She's So Fine) and when they faded from earshot ('67's The Music Goes Round My Head, two years before they broke up), the Easybeats were – alongside the Beatles, Stones, Kinks, Move, Small Faces, Yardbirds and Paul Revere and the Raiders etc) my favourite singles band.
I never had that EP (Barry did, I guess), never even saw a proper album as far as I can remember. But I knew their singles and the excellent B-sides inside out from multiple plays on the family gramophone and, later, my own portable turntable in my bedroom.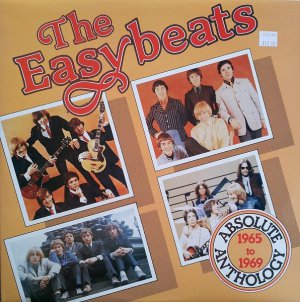 The first Easybeats album I had – the one everyone should have – I got in the early Eighties. It was, and remains, an impressive double vinyl in a gatefold sleeve.
It is Absolute Anthology 1965-1969 and was compiled in '80 by the Australian collector/archivist Glenn A. Baker.
It traces the arc of the band from its early beginnings as an r'n'b-influenced pop band and by the end of side one you can feel the rush coming on. Side two is distilled genius with hit after hit (or shoulda-been hits), side three you can feel the edges fraying and by the final side one of the great pop bands of the era had succumbed to winds of change and were trying – like the Animals and others – to go a bit psychedelic or retro-rock.
The end was inevitable.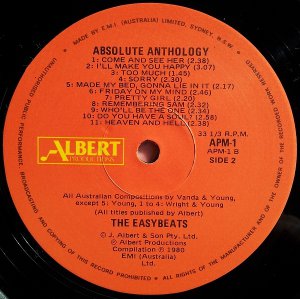 But those first two sides and the early overs on the third are essential listening . . . and you can pick up the vinyl on websites for less than $30. It comes with a 12 page booklet stapled into the cover in which Baker tells the story of a band he clearly loved as much as Barry and I did, and whom he knew personally. He doesn't pull punches either when it comes to the internal ructions and their fading star.
The Easybeats came with a great backstory: 17-year old Harry Vanda (Johannes Jacob Henrickus Vandenberg) from a migrant hostel in Sydney's west met Dick (Dingeman Vandersluys, also from Holland), a local boy his age in '64. Vanda had played in a moderately successful Shadows-type band in Holland (the Starfighters who backed visiting stars like Cliff Richard) and at a nightclub in the city they hooked up with 15-year old Stephen Wright from Leeds who was singing in various bands.
Jam sessions followed as they all lived out west, a recent arrival at the hostel from Scotland was George Young who played guitar and after the usual knocking about and a couple of others passing through the line-up they happened upon 24-year old Gordon "Snowy" Fleet who was a genuine drummer. Fleet actually had decent form and had played with the Mojos in Britain (who would subsequently have a chart hit and be managed briefly by Brian Epstein).
This was the Easybeats line-up which would start playing clubs, record for would-be producer Ted Albert's burgeoning Alberts label and kick off their career with a Vanda-Young composition For My Woman in March '65.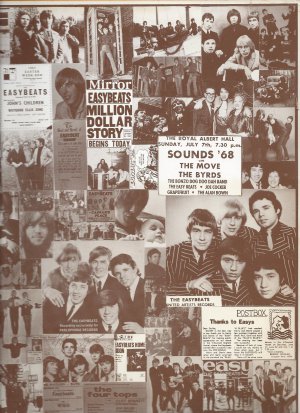 The single flopped but the band established a live reputation in Sydney then Melbourne and the second Vanda-Young A-side She's So Fine released two months later was a terrific hard-edged slice of pop-rock. It went to number three on the Australian charts and got radio play (cheers Radio Hauraki, home of the good guys) in New Zealand.
In Australia, easyfever began in earnest: there were police escorts, mobs of girls, the police closed a show after just 17 minutes because of the mayhem . . .
And, with Wright and Young as co-writers the songs just started pouring out: Sad, Lonely and Blue; Women (renamed Make You Feel Alright to avoid confusion with the Peter and Gordon hit of the time); the somewhat strange Come And See Her, I'll Make You Happy (covered in NZ by Larry's Rebels) and then in October '66 their stone cold classic Sorry b/w Funny Feelin'.
Over a stuttering and distinctive riff – which anticipated the harder sounds to come in the last years of the decade – Sorry boasted a memorable opening, Wright's passionate delivery and a guitar solo that leaped out of radio.
It topped the Australian charts, was all over radio in New Zealand, got shoplifted by a person of this parish . . .
They went to Britain.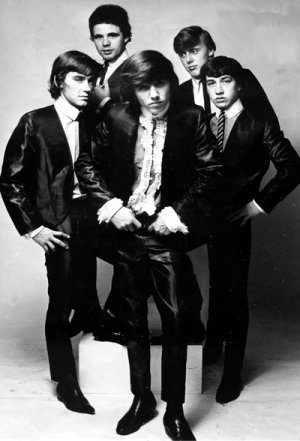 And the following month they released their finest moment: the Vanda-Young working class anthem Friday on My Mind (b/w the nasty-sounding Made My Bed, Gonna Lie In it) which they recorded in Abbey Road with producer Shel Talmy. It went top 10 in Britain and top 20 in the US.
Those of us who had heard that first Easyfever EP (which included the excellent I'll Make You Happy) felt vindicated.
The Easybeats were the band of the moment: As the man said, "Eeeeasyfeeeever".
The story after that is best told elsewhere: touring with the Stones, how Vanda-Young became a songwriting team; hits like Heaven and Hell, Steve Marriott of the Small Faces singing backing vocals on Good Times (which was a minor hit for Revere/Raiders when they covered it), the homesickness; line-up changes, the decline of Wright, management problems, debt, the foray towards more tripped-out music, the eventual break-up . . .
The Vanda-Young success story (they wrote and produced Love is in the Air for John Paul Young, another classic among many by them), that of the increasingly tragic life of Wright (whose '99 biography by Jack Marx was entitled Sorry: The Wretched Tale of Little Stevie Wright) and so on is well documented.
For me though -- who only ever loved them for those distinctive singles which blasted out of radio and my small speakers -- the Easybeats will always just be like a golden moment frozen in amber.
Even now, when I play their songs, eeeeasyfeeeever is very, very hard to shake off.
You can hear a free stream of the Easybeats' hits (with some Stevie Wright solo material at the end) here.