Graham Reid | | 3 min read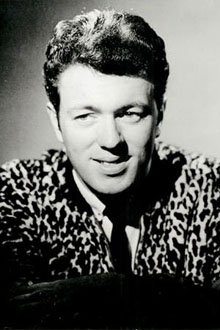 Johnny Devlin was New Zealand's original rock'n'roll star. Johnny Cooper aka The Maori Cowboy might have recorded the country's first rock'n'roll song – a somewhat limp cover of Rock Around the Clock – but Cooper was a country singer and the new music of rock'n'roll was . . . Well, just too new.
Cooper didn't quite get it, but Devlin – who fell in love with Elvis' image and style and music – certainly did.
Cooper recognised Devlin's natural talent and suggested he make the move to the big smoke (Auckland) from his home in Wanganui.
He did, hit the clubs, made his name and was called The Wanganui Elvis.
His story is well told elsewhere, notably in Chris Bourke's indispensable book Blue Smoke; The Lost Dawn of New Zealand Popular Music 1918 - 1964 and also at audioculture.co.nz.
But around the time he was going to be inducted into the New Zealand Music Hall of Fame (and the same year he had been awarded the New Zealand Order of Merit) the 69-year old whose debut single Lawdy Miss Clawdy was New Zealand's first gold record, had lived in Australia since the turn of the Sixties and opened for the Beatles in Australia in '64 answered some questions about those early days and influences.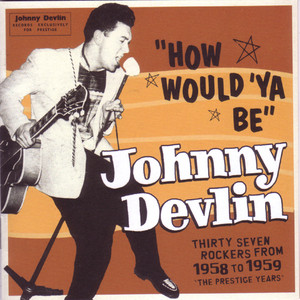 Who were the artists whose music you heard and just kind of got back in the rock'n'roll era?
Buddy Holly was one of my favourite American rockers, I rank him alongside Elvis Presley, Roy Orbison, Little Richard and Jerry Lee Lewis. My favourite Holly record was Rave On. I liked it so much I decided to record it myself in New Zealand in 1959 on the Prestige label.
It's currently out on Ode Records on my How Would Ya Be album. Long may the music of Buddy Holly live on.
When and how did you hear his music back then?
It could very well have been on 1YA, if I recorded Rave On in 1959 it was when mainstream rock'n'roll artists from America were getting airplay.
He was a big deal to me because he was bringing out hit after hit and was a real threat to people like Elvis. Roy Orbison was also bring out a string of hits. Buddy Holly was right up there with them.
I listened to people whose vocal style I enjoyed and they were Elvis, Buddy, Roy, Little Richard and Jerry Lee Lewis. I liked their music because it was exciting, you could understand the lyrics and the tunes were catchy.
Before rock'n'roll came on the scene I was singing country music like [songs by] Slim Dusty and Tex Morton and singing with my brothers who were called the River City Ramblers. We were singing all the modern pop that was coming over the radio like Guy Mitchell and Johnny Ray.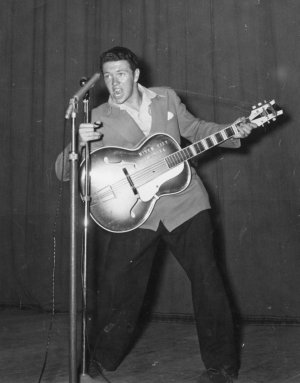 The times changed very quickly, didn't they?
Oh yes. When I toured New Zealand in 1959 there was no television and when I came to Australia it had just started and there were two pop shows, Bandstand hosted by a Kiwi called Brian Henderson and the other was Six O'Clock Rock hosted by Johnny O'Keefe.
When the Devils and I came over, we came to do the Everly Brothers stadium shows and we came for one week but got such a fantastic reception -- they thought we were international artists from England because we weren't known -- that we got offers to do TV from Johnny O'Keefe and Col Joy who were both on the Everly Brothers show.
So we ended up as regulars on those early TV shows, every second week, and that's what made us successful over here.
In order to make a living, because of our reception on the Everly Brothers tour, we met up with a guy who asked us if we wanted to appear at Chequers nightclub in Sydney which where people like Liza Minnelli performed.
That was incredible. We appeared there for about 10 weeks playing every night except Sunday in the supper club whilst doing the TV. Then we got a manager and started running teenage dances.
We had the biggest teenage dance in Sydney, we were getting over 1000 teenagers every week.
And you also toured?
Yes, I toured with artists like Ricky Nelson, Conway Twitty, Del Shannon . . .
Lloyd Price wrote my biggest hit Lawdy Miss Clawdy and whoever would have believed I would ever play his support act and thank him for that. He also wrote Personality.
It's absolutely amazing how my life has been.