Graham Reid | | 4 min read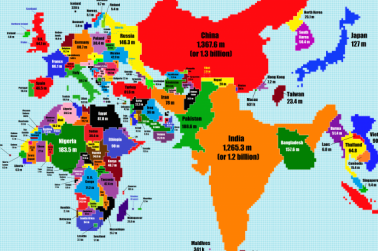 Here's a thought which rarely occurs to native speakers of English: What does this language sound like to people who don't speak it?
It's just a jumble of odd sounding syllables and vowels, most of which have no equivalent in their language.
That may account for something like the woman in the clip attempting to sing a song she knows by Mariah Carey. It is written by Pete Ham and Tom Evans of Badfinger and was made famous by Harry Nilsson. (We have that story here)
It is Without You . . . but she thinks it is called Ken Lee because of the line "can't live . . . if living is without you".
It is hilarious (mostly because she's just a bloody awful singer) but you can understand her confusion, she's a Carey fan and is phonetically trying to do lyrics she doesn't comprehend.
So put yourself on the flipside of this and listen to music in languages you don't understand and then try to sing them.
It isn't easy and your default position might just be as bad as "ken leeee".
Two recent compilations invite you to have a go.
The Essential Chinese Pop and Essential Bollywood double discs (through Sony) may or may not have actual "essential" songs in these idioms (although big names appear on both) and they are all drawn from Sony's licensing . . . but they allow ear-sight (if not an insight) into popular music from outside the wellsprings of the US and UK. And very rarely do these songs have lyrics in English.
Up for the challenge?
The Chinese Pop collection – 36 songs in all – opens with those strings-soaked ballads (cheap synth-strings too) which sound very familiar if you've been listening tot he music in your local yum cha restaurant. It's all very sentimental, soaring vocals and string, big piano in the foreground . . .
But then voices and songs pop out: Romance Strikes by Elva Hsiao is decent slice of slightly synth-pop, Karen Mok really nails the increasingly widescreen and melodic ballad Ru Guo Mei You Ni in a powerfully restrained emotional quiver; there's rap on Back Home by Allen Su (with a Fifties-sounding horn section) and So I Left by Alex Chou designed for the dancefloor; Gong nail down the whole Beiber-pop thing on Your Body and a standout is the wall-shaking voice of Eve Ai on Jessica Mauboy's Never Be the Same. I'd vote for her in an Idol contest.
Name of the collection goes to Shady Gan (who delivers a delicate bossa-lite Xiao Gua over acoustic guitar). It's lovely and Shady Gan is a name to remember . . . and this is one where you can try to memorise some lines and sing along with "mush-ish-shay . . ."
Or something.
The second disc offers a similarly diverse collection, juggling those piano'n'string ballads with hip-hop stylings (CoCo Lee on Dow Ma Den which is part pop/part slippery hip-hop).
Mostly absent is guitar-driven pop (although Misha Ip weighs in with the chunky-funky Gu Dan De Bei Duo Fen) but the most unusual voice across the collection is the deep and dark Kowen Ko on the brooding, almost spoken-word Goodbye and Goodnight. He whispers in a throaty intimacy and you have no doubt there is sad stuff troubling him.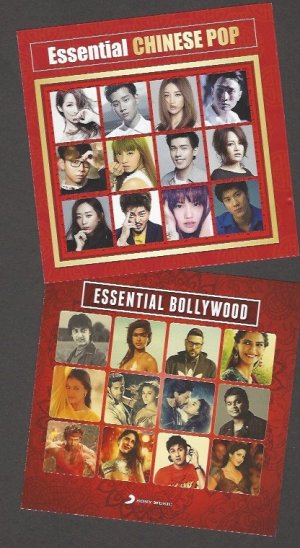 There's some bouncy dance-pop from Jolin Tsai on Ai Qing 36 Ji (yep, that's the title) and . . . yes, plenty of Eighties-sounding synth-pop. I take Leehom Wang to be from a boy band influenced by Phil Collins.
So, what have we learned? That Chinese pop can be as vacuous or as enjoyable as our own (which is hardly surprising, it's just pop)? And that by most of us being excluded because of the unfamiliar language we are obliged to listen more closely to voices, arrangements and melodies?
This is a good thing, your responses are now framed by factors other than the words.
The same of course applies to the Essential Bollywood collection – 31 songs – but Bollywood dance-pop has infiltrated Western pop more effectively than Canto-pop. You knew it had "arrived" when Madonna briefly adopted the tropes.
The Bollywood collection has some big names too: Vishal and Shekhar, the ubiquitous AR Rahman, Shankar Ehsaan Loy . . .
In part because Bollywood manufactures films and music at such an astonishing rate, many of the same names appear on the soundtracks, although the great Asha Bhosle only appears once here (a song from the soundtrack to Lagaan) and her sister Lata Mangeshkar not at all.
That's a real surprise given how much of the Bollywood market they cornered . . . but a pleasant one because you are confronted by the less familiar, if not the complete "no idea at all".
There's no comparison with the Chinese Pop collection because Bollywood composers are so much more innovative in their sound, among these tracks are rap and dance-pop but also odd sonic effects, unexpected choral parts, melodramatic strings, unusual percussion, exotic wind instruments . . .
And they aren't averse to banging prog-rock with roughhouse guitars, check out Zinda by Shankar Ehsaan Loy and Siddharth Mahadevan.
Zinda, by Shankar Ehsaan Loy and Siddharth Mahadevan
And, in the meltdown of so many Indian and Western styles, these composers are true post-modernists, liberal in their appropriations.
So here is pure pop, allusions to dub reggae and rock, traditional instruments and styles, rap and ballads, ethereally high or sensual female voices and aggressive chant-downs, music which looks back to Thirties dance orchestras or Sixties beat-pop . . .
Bollywood music is often as enjoyable for the unexpected arrangements and sudden stylistic shifts as it for the songs.
Of these two collections it is the one which is the most immediately engrossing, but give the Chinese Pop collection time and it throws up small gems everywhere.
And maybe best of al you can make up your own phonetic approximations of the lyrics.
Everybody sing, "Ken leeee . . ."
Elsewhere invites you spend 15 minutes and listen to this short broadcast of Western pop in other languages. We've also profiled this Japanese artist, written about Bollywood music here and of course our World Music pages are ful of artists for whom English is not their first language.
We are unapologetic in our love of this clip also.